New user registrations have been disabled until further notice. If you would like to create an account, please message
Generasia on Facebook
. Thank you!
Oshio Manabu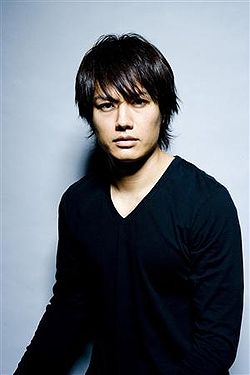 Oshio Manabu (押尾学) is a Japanese pop singer and actor. For his singing career, he credits himself as LIV.
Profile
Name: Oshio Manabu (押尾学)
Birthday: May 6th, 1978
Blood Type: B
Height: 184cm
Weight: 80kg
Information
Oshio Manabu debuted as an actor in the drama Ai, Tokidoki Uso in 1998. On October 4th, 2005, he announced that he will quit acting and Satomi Hakkenden was his last drama. He's also the lead singer of pop band LIV which Oshio is the only member. The band made its major debut in 2002 under Universal Music Japan with the single "Without You". However, Oshio left Universal Music in 2005. In May 2008, it was announced that Oshio transferred to avex trax to have more support for his career. In 2009, it was announced that he will return acting in 2010 with the movie Dakara Oretachi wa, Asa wo Matteita.
Raised in United States from the age of 4 to 12 before moving back to Japan, Oshio is fluent in English. He usually writes his lyrics in both English and Japanese, sometime in Chinese. He married actress Yada Akiko in 2006 and they had a son in 2008. On Monday August 3rd, 2009, he was arrested for drug use after a woman was found dead in an apartment, Avex Management Inc also terminated a contract with him on the same day[1]. His wife, actress Yada Akiko also filled a divorce after his arrest.
Discography
Albums
Singles
DVD
Others
Filmography
Drama
[1998] Ai, Tokidoki Uso (愛、ときどき嘘)
[1998] Kagayakeru Shunkan (輝ける瞬間)
[1998] Nanamagarisho Sousa Ichigakari '99 (七曲署捜査一係 '99)
[2000] Hatachi no Kekkon (20歳の結婚)
[2000] Kinyou Entertainment Alibi no Yukue ni (金曜エンタテイメント アリバイの彼方に)
[2000] Yamato Nadeshiko (やまとなでしこ)
[2001] 2001 Nen no Otoko Un (2001年のおとこ運)
[2001] Love Revolution (ラブ・レボリューション)
[2001] Tayou ni Hoero! (太陽にほえろ!)
[2002] Double Score (ダブルスコア)
[2002] HaruRanman (春ランマン)
[2002] Kyuumei Byoutou 24-ji Shinshun Special (救命病棟24時 新春スペシャル)
[2003] Kunimitsu no Matsuri (クニミツの政)
[2005] Yume de Aimashou (夢で逢いましょう)
[2006] Satomi Hakkenden (里見八犬伝)
Movie
[1999] Jitsuroku Gaiden Butouha Kuroshakai (実録外伝 武闘派黒社会)
[2000] Pinch Runner (ピンチランナー)
[2004] Ichigo no Hahen (苺の破片)
[2005] KARAOKE -Jinsei Kamihitoe- (KARAOKE -人生紙一重-)
[2010] Dakara Oretachi wa, Asa wo Matteita (だから俺たちは、朝を待っていた)
Voice Role
Game
Anime
References
External Links