Welcome to the
new Generasia
, now with new features and a mobile-friendly browsing experience. Be sure to check out our
Facebook page
for the latest changes and to interact with thousands of fans worldwide just like you!
Alo Hello! C-ute Photoboook
From generasia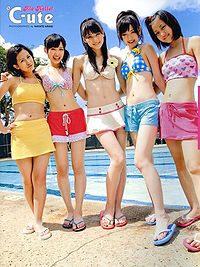 Alo Hello! is °C-ute's first photobook on Hawaii. Next to it a DVD called Alo Hello! (or AloHalo). Which is a serie of photobooks Hello! Project members shooted in Hawaii.
Publishing Information
Released: 2010-10-28
Publisher: Wanibooks
Price: ¥2,800 [~US$34,42]
Purchase