Welcome to the
new Generasia
, now with new features and a mobile-friendly browsing experience. Be sure to check out our
Facebook page
for the latest changes and to interact with thousands of fans worldwide just like you!
Calling (Fukuyama Masaharu album)
From generasia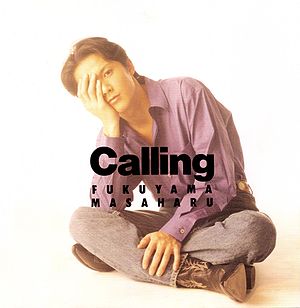 Artist

Album

Calling

Released

1993.10.21

Catalog Number

BVCR-638

Price

¥3,059

Tracklist
Information
Calling is Fukuyama Masaharu's fifth album. First press editions included an 8cm bonus disc with the song SORRY BABY. This album reached #1 on the Oricon charts and sold 451,520 copies, becoming the #34 album of 1993. It also sold 392,720 copies in 1994, becoming the #38 album of the year. It charted for 41 weeks and sold a total of 853,010 copies.
Oricon Chart Positions
| Week | Week Rank | Sales | Total Sales |
| --- | --- | --- | --- |
| 1 | 1 | 211,630 | 211,630 |
| 2 | 3 | 83,120 | 294,750 |
| 3 | 4 | 78,670 | 373,420 |
| 4 | 7 | 43,540 | 416,960 |
| 5 | 12 | 34,560 | 451,520 |
| 6 | 12 | 33,260 | 484,780 |
| 7 | 13 | 26,690 | 511,470 |
| 8 | 16 | 23,210 | 534,680 |
| 9 | 22 | 15,740 | 550,420 |
| 10 | 21 | 16,320 | 566,740 |
| 11+12 | 14 | 57,380 | 624,120 |
| 13 | 10 | 20,590 | 644,710 |
| 14 | 17 | 13,650 | 658,360 |
| 15 | 18 | 13,190 | 671,550 |
| 16 | 13 | 12,660 | 684,210 |
| 17 | 21 | 10,120 | 694,330 |
| 18 | 29 | 8,870 | 703,200 |
| 19 | 34 | 9,010 | 712,210 |
| 20 | 49 | 7,520 | 719,730 |
| 21 | 54 | 6,780 | 726,510 |
| 22 | 66 | 5,310 | 731,820 |
| 23 | 81 | 4,330 | 736,150 |
| 24 | 63 | 5,760 | 741,910 |
| 25 | 57 | 6,150 | 748,060 |
| 26 | 42 | 7,380 | 755,440 |
| 27 | 51 | 6,720 | 762,160 |
| 28 | 53 | 6,600 | 768,760 |
| 29 | 39 | 8,000 | 776,760 |
| 30 | 34 | 7,780 | 784,540 |
| 31 | 32 | 8,280 | 792,820 |
| 32 | 43 | 7,980 | 800,800 |
| 33 | 36 | 8,490 | 809,290 |
| 34 | 28 | 9,120 | 818,410 |
| 35 | 40 | 8,130 | 826,540 |
| 36 | 68 | 5,820 | 832,360 |
| 37 | 83 | 4,140 | 836,500 |
| 38 | 84 | 4,110 | 840,610 |
| 39 | 85 | 3,630 | 844,240 |
| 40 | 80 | 5,050 | 849,290 |
| 41 | 92 | 3,720 | 853,010 |
Total Reported Sales: 853,010
External Links