New user registrations outside of OpenID have been disabled pending a review of a recent influx of spam accounts. Apologies for any inconvenience this may have caused.
H.O.T.
From generasia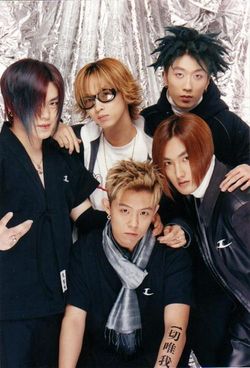 H.O.T. was a Korean Pop boyband considered as one of the most popular Korean groups during the late 90's. The group debuted in 1996 under SM Entertainment. H.O.T. consisted of five members and the lineup was the same throughout the whole history of the group. In May 2001, the group officially disbanded due to conflicts with their management agency, SM Entertainment. Years after the group disbanded, H.O.T. still remains very popular which each member busy pursuing separate careers as individual artists.
H.O.T. was an acronym for "High-Five of Teenagers".
Members
Information
H.O.T's impact on the industry can only be described as immense as they started a revival in pop music. Icon-wise, many consider them to be one of the most legendary names in Korean pop music, second only to Seo Taiji & Boys. H.O.T. also marked the beginning of a large influx of boyband groups, with acts such as Sechskies, Shinhwa, TaeSaJa, and a long line of imitators following in their footsteps. During the late 90's, H.O.T. was the gem of the SM Entertainment roster, not only with record sales and huge fanbase, but also numerous product endorsements in everything from clothing lines to having their own soft drink.
Fans were also truly fanatics, sparking much news and controversy. There were reports of H.O.T. fans attacking fans of other rival boygroups, and falling ill or doing ridiculous acts upon hearing any bad news involving the members of H.O.T.
Musically, H.O.T. was able to do what few groups were given the opportunity to do, experimenting with many different styles of music. While at times, they may have been following popular trends themselves, they can also be credited with starting trends as well. Although there has been mixed reception to their changes in musical styles, their fanbase has consistently remained strong. This allowed H.O.T. to perform everything from pure "bubble gum" pop, to darker rock and hip hop tracks.
Controversy
It should be noted that there have been several instances where H.O.T. has been accused of plagiarizing or illegally sampling the works of others. One clear example would be the instrumentation and beat used for the song "Korean Pride", written by Tony Ahn. Upon comparing the track with the song "Speed" by American Hip-Hop artist DJ Quik, it is clear that the songs share very strong similarities.
Trivia
Official Fanclub: Club H.O.T. (fans referred as White Angels)
Official Color: White
Discography
Albums
Other Albums
VCD/VHS/DVD
Others
[1999.12.12] Christmas in SMTOWN.com (#1 Jingle Bell, #2 Saranghaneun Saramege, #3 Joreop (Graduation), #4 Gomawo Mianhae (Together Forever), #5 Wedding Christmas, #11 Jingle Bell)
[2000.12.12] Winter Vacation in SMTOWN.com (#2 Silver Bell, #9 Goyohan Bam Geudaewa Nan (The Day 1030))