New user registrations outside of OpenID have been disabled pending a review of a recent influx of spam accounts. Apologies for any inconvenience this may have caused.
Hinata Megumi
From generasia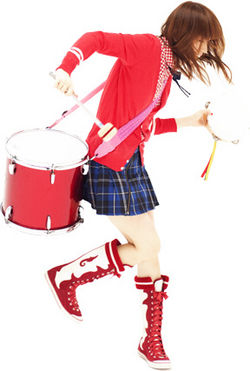 Hinata Megumi (日向めぐみ) is a Japanese pop singer, lyricist, and composer. She has also gone under the stagenames meg rock, *mgrck, and was formerly known as gmi (グミ) and g.e.m.. She has worked as a lyricist, composer, or chorus for artists such as Tamaki Nami, Nakagawa Shoko, Kawabe Chieco, Hirano Aya, Athena & Robikerottsu, Hayashibara Megumi, Shintani Ryoko, and SHIPS.
Profile
Stage Name: meg rock, *mgrck, gmi (グミ), g.e.m.
Real Name: Hinata Megumi (日向めぐみ)
Nickname: Rock-chan (ロックちゃん)
Height: 164cm
Information
Hinata Megumi started learning the piano at the age of four, though her musical interests started during her second half of elementary school. At this time she was residing in the United States. In 1997, she returned to Japan where she started composing songs.
In April 1998, she released her first single under the stage name gmi (グミ). "Catch You Catch Me" was used as theme song for the anime Card Captor Sakura. Later that year she recorded two more songs: "picnic" and "super duper love love days", which were released as part of Card Captor Sakura compilation albums. Thanks to these releases Hinata's fame quickly rose.
In 1999, she participated as vocal guest on Fukuyama Masaharu's album Rendezvous 1.
In July 2000, Hinata became the vocalist of Honma Akimitsu's project g.e.m., releasing the single "c/w you.", and in 2001 g.e.m.'s first full album was released. Additionally, "c/w you." single and g.e.m. album, were released not only nationwide but in other Asian countries. She also started her first tour this year. It was at this time when Hinata started thinking about the meg rock concept.
In 2002 along with Okazaki Ritsuko, Hinata formed the project Melocure, which suddenly stopped all activity in 2004 due to Okazaki's death. In 2003 she participated as a guest vocalist on MI:LAGRO's album and performed live with the band.
In September 2004, Hinata releaseed her first self-produced mini-album, Lovebo, under the stage name of meg rock. In 2005, meg rock released her two first singles under the Mellow Head record label: "Baby Low Tension" (used as the Peach Girl anime opening theme) and "clover". This same year she also started her first radio program "1. 2. 3. 4. GO! Rock!".
In May 2006, she released her third single as meg rock, "incl." and in October started the internet radio program "Moba RO!". In 2007 she participated as a guest vocalist on Ogata Megumi's anime album and performed at her 15th anniversary concert. In 2008 Hinata released her first full-length album as meg rock, mighty roller coaster.
Discography
Note: All releases are credited to meg rock unless noted otherwise.
Albums
Mini-Albums
Singles
Compilations/Others
Credits
Marble (lyrics, music, chorus arrangement & chorus)
Save (lyrics, music, chorus arrangement & chorus)
External Links