Miyata Toshiya
From generasia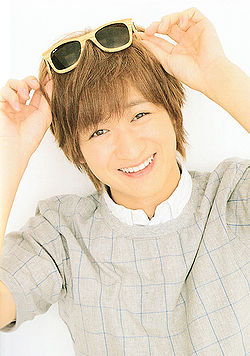 Miyata Toshiya is a member of Johnny's Entertainment group Kis-My-Ft.2.
Profile
Name: Miyata Toshiya (宮田俊哉)
Nicknames: Mitsuchi, Mii-kun, Miyacchi
Birthdate: September 14, 1988
Birthplace: Kanagawa Prefecture, Japan
Blood Type: A
Height: 173cm
Weight: 54kg
Hobbies: Playing the guitar, harmonica, piano and violin
Strong Point: Happy person
Weak Point: Can't sense the atmosphere properly
Special Ability: Never worries about things
Favourite Sport: Soccer
Favourite Food: Meat
Treasures the most: Peaceful world
Entered Johnnys: February 4th 2001
Filmography
Drama
Movie
Publications
[2011.09.xx] LOOK at STAR! November 2011 Issue (Feature)
Trivia
He is the most optimistic member and adult-like among the junior members of the unit.
He is hardworking and serious about everything.
He always skips out on meals with the rest of Kisumai and has yet to be on a outting with them. He says its because they always plan outings when he has school work to finish.
He is always daydreaming or in fantasy land according to Tamamori Yuta.
Kitayama Hiromitsu calls him the Neighbourhood Ojisan.
He was called the juniors #1 in walking fast by Nikaido Takashi.
He finds magazine interviews fun and enjoyable.
He never worries about anything, a trait he is admired for.
He has the most trouble during practises, but enjoys dancing thoroughly.
He is the 'M' in Kis-My-Ft2.
He can play the guitar, harmonica, piano and violin.
He is considered as the kindest in the group. Everyone in the group will readily defend him for his kindness and the way he always looks after the other members.
He loves Animes and Manga (Japanese comics). He and Kitayama Hiromitsu can talk about Animes for hours according to Fujigaya Taisuke.
He is also known as the stingy one in the group, with the others joking that when he loans you money he calculates interest rates for it on-the-spot.
He attended and graduated from Kokushikan University.