Be sure to check out our
Facebook page
for the latest site updates and to meet thousands of fans like you from across the globe!
Mizuki Nana
From generasia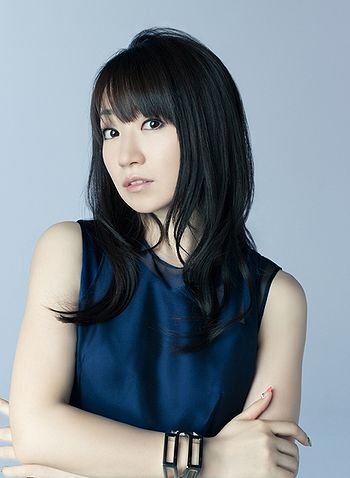 Mizuki Nana (水樹奈々) is a Japanese pop singer and a popular anime seiyuu under the KING RECORDS label. She was the winner of "Best Musical Performance" in the first annual Seiyuu Awards. She is also the record-holder for the highest ranking seiyuu album and single on the weekly Oricon chart, the first seiyuu to put two singles in the Oricon weekly top3 simultaneously and the first seiyuu to hold a concert at Tokyo Dome.
Profile
Stage Name: Mizuki Nana (水樹奈々)
Birth Name: Kondo Nana (近藤奈々)
Nickname: Nana-chan (奈々ちゃん), Nana-sama (奈々様), Banana (バナナ)
Birth Date: January 21, 1980
Birth Place: Niihama, Ehime Prefecture, Japan
Blood Type: O
Height: 153 cm
Family: Kondo Mika (DaisyxDaisy) (Younger sister)
Pet: K-tan (けぇたん) (Chihuahua)
Education: Yoyogi Animation Gakuin (Seiyuu-Talent Department) March 1997.
Favorite Artists: Ishikawa Sayuri, Sakamoto Fuyumi, Misora Hibari
Favorite Country: France
Favorite Colors: White and Blue
Groups:
Biography
Kondo Nana was born on January 21, 1980 in Niihama. Kondo first began singing at the age of five when she started taking Enka singing lessons and she started participating in several local singing contests. In 1993 she won one of them and record a single called "Tsugazakura" under the name of birth name. She later graduated from Tokyo Horikoshi High School, along with Domoto Tsuyoshi of KinKi Kids, whom was in her class.
After graduating in 1997, Kondo decided that she wanted to pursue a career as an Enka singer, but her teachers advised her to to instead become a seiyuu. Kondo had been a big fan of both manga and anime since childhood and decided to try and become a seiyuu. She audition for a role in the video game NOëL ~La neige~, and was granted the role of Kadokura Chisato. With the role she took on the stage name Mizuki Nana and she released two character singles and one mini-album: "Girl's Age", "NOëL ~La neige~ Rendez-vous", and "départ Chisato×Nana".
In 2000, Mizuki signed a record deal with KING RECORDS, and made her official singing debut in December with the single "Omoi". The single did not chart on the weekly Oricon chart. In 2001, Mizuki released two more singles, both of which also failed to chart on the Oricon. Her debut album however, "supersonic girl" peaked on the Oricon at #60. Her fourth single, "LOVE & HISTORY" was her first single to chart, peaking at #46.
On October 2005, her 12th single "ETERNAL BLAZE" reach #2 on the Oricon weekly chart and this period will be the first seiyuu to achieve this.
In 2006, her 14th single "Justice to Believe" ranked 4th on the Oricon and allows her to win in 2007 at the first seiyuu awards ceremony, the award for best musical performance. That same year she released her 15th single "Secret Ambition" which will rank for the 2nd time #2, will also be a turning point in her musical style since then incorporates more rock sound and it will be the same for its 6th original album "GREAT ACTIVITY" and for her 18th single "Trickster" who will place second.
The year 2009 started well with her 19th single will be her fourth single to be ranked #2 on the Oricon.
In June 2009, she released her seventh original album ULTIMATE DIAMOND, she become the first seiyuu since the establishment of the Oricon in 1968 to be ranked number 1, it will be the 85th best selling album in Japan in 2009. At the end of the year she will be invited to the show's most-watched in Japan, Kōhaku Uta Gassen it's the first seiyuu to achieve this feat.
In January 2010 she released two singles in two months, the first "PHANTOM MINDS" will serve as opening for the movie Mahou Shoujo Lyrical Nanoha The Movie 1st, it will rank number 1 in the Oricon, confirming her title, it will sell at 93,759, it's currently her best selling single the second "Silent Bible" ranked number 3 will be her 10th single to be ranked in the top 5 on the charts.
She won the prize "Kei Tomiyama" for the seiyuu most relevant to the animation industry in the 4th Seiyuu Awards ceremony. Her last album "IMPACT EXCITER" was released July 7, 2010 it reaches the second position with 124,514, is now her best selling album.
On January 21, 2011, her 31st birthday, Mizuki released her first autobiography, named Shin'ai, to commemorate 10th year anniversary of her singing career.
Mizuki won Top Pop Artists award in Billboard Japan Music Awards 2010 on February 6, 2011 along with 4 other artists: AKB48, Nishino Kana, SID and EXILE. She performed two of her big hits, PHANTOM MINDS and Shin'ai, in the award ceremony.
On April 13th, 2011, Mizuki released two singles, SCARLET KNIGHT and POP MASTER in the same week. Those singles ranked #2 and #3 on the weekly Oricon chart for April 25th. Thus, she became the first seiyuu and fourth female solo artist to put two singles in the Oricon weekly top 3 simultaneously after Hamasaki Ayumi, Matsuda Seiko and Fuji Keiko.
Mizuki had two-day concert called "Nana Mizuki Live Castle 2011 Queen's Night & King's Night" at Tokyo Dome between December 3rd - 4th, 2011. She became the first voice actress and 8th female solo artists to hold a concert at Japan's largest concert hall.
Mizuki won Animation Artist of the Year 2011 award in Billboard Japan Music Awards 2011 on March 3, 2012.
On December 30, 2013, Mizuki won Project Award in 55th Japan Record Awards from Preserved Roses and Kakumei Dualism, her two collaborations with T.M.Revolution.
Discography
Studio Albums
Best Albums
Singles
Split Singles
Video Releases
Compilations / Other
Voice Acting
TV Series
Anime Series
Anime Movies
OVAs
Web Anime
Games
Japanese Dub
Publications
Photobooks
Score Book
[2008.03.29] Artist Score Book: Sing Forever
Books
[2011.01.21] Shin'ai (Self-written Autobiography)
Magazines
[2010.07.xx] B.L.T. (Cover & Feature)
[2011.09.xx] Seiyu Grand Prix October 2011 Issue (Feature)
[2011.09.xx] Seiyu PARADISE Vol.7 (Feature)
[2011.10.xx] Seiyu Grand Prix November 2011 Issue (Feature)
[2011.10.xx] Seiyu Animedia November 2011 Issue (Feature)
Awards
Music Related Awards
[1995] 1st prize (National Karaoke Singing Contest : Enka)
[2007] Best Musical Performance Award (1st Seiyuu Awards)
[2011] Top Pop Artists (Billboard Japan Music Awards 2010)
[2012] Animation Artist of the Year 2011 (Billboard Japan Music Awards 2011)
[2012] Animation Artist of the Year 2012 (Billboard Japan Music Awards 2012)
[2013] Project Award - "Kakumei Dualism" Mizuki Nana × T.M.Revolution, "Preserved Roses" T.M.Revolution × Mizuki Nana (55th Japan Record Awards)
Non-Music Related Awards
[2010] Kei Tomiyama Memorial Award (4th Seiyuu Awards)
External Links