It is thanks to users like YOU that Generasia exists today. To all of our contributors and visitors alike, Thank You!! Be sure to like us on Facebook for the latest updates and to meet others who also enjoy Asian media!
Namie Amuro Live Style 2016-2017
From generasia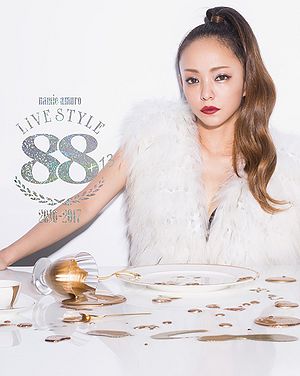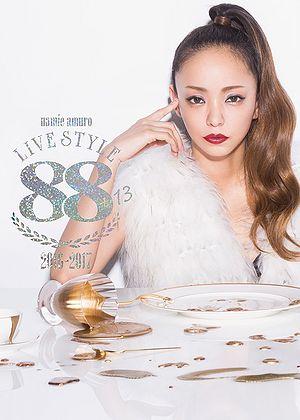 Artist

Video Release

namie amuro LIVE STYLE 2016-2017

Released

2017.05.03 (Japan)
2017.05.26 (Taiwan)

Catalog Number

AVXN-99048 (Blu-ray)
AVBN-99046/7 (DVD)

Price

¥6,264 (Blu-ray)
¥5,184 (DVD)
Tracklist
-Halloween Ver. Encore-
-Christmas Ver. Encore-
Information
namie amuro LIVE STYLE 2016-2017 is the 20th video released by Amuro Namie, and her 16th concert video. It was certified Gold by the Recording Industry Association of Japan for shipments of over 100,000 copies.
Tour Information & Schedule
This concert video was filmed as part of her "namie amuro LIVE STYLE 2016-2017" national tour, which spanned 100 dates within 9 months, her most extensive tour. It was also her last hall-exclusive tour and last Japan-only tour.
Date
City
Venue
2016.08.19
Yokosuka
Yokosuka Art Theater
2016.08.23
Aomori
Link Station Hall Aomori (Aomori Civic Cultural Hall)
2016.08.24
2016.08.27
Shizuoka
Shizuoka Civic Cultural Hall, Great Hall
2016.08.28
2016.08.31
Saitama
Saitama City Cultural Center, Great Hall
2016.09.01
2016.09.05
Osaka
Osaka Festival Hall
2016.09.06
2016.09.08
2016.09.13
Nagoya
Nagoya International Convention Center, Century Hall
2016.09.14
2016.09.17
Tokyo
Tokyo International Forum, Hall A
2016.09.18
2016.09.22
Okayama
Kurashiki Civic Hall
2016.09.24
Otsu
Shiga Prefecture Performing Arts Theater, Biwako Hall, Great Hall
2016.09.25
2016.09.29
Osaka
Osaka Festival Hall
2016.09.30
2016.10.02
Takamatsu
Rexxam Hall (Kagawa Civic Hall)
2016.10.05
Kobe
Kobe International Hall, International Hall
2016.10.06
2016.10.10
Nagaragawa
Nagaragawa International Convention Center
2016.10.12
Nagoya
Nagoya International Convention Center, Century Hall
2016.10.13
2016.10.18
Hiroshima
Hiroshima Cultural Academy, HBG Hall (Hiroshima Cultural Exchange Hall)
2016.10.19
2016.10.21
Tottori
Torigin Cultural Hall, Rika Hall
2016.10.25
Fukuoka
Fukuoka Sun Palace
2016.10.26
2016.10.28
Oita
iichiko Grand Theater
2016.11.02
Nagano
Hokuto Culture Hall (Nagano Civic Cultural Hall)
2016.11.08
Tokyo
Tokyo International Forum, Hall A
2016.11.09
2016.11.11
Kyoto
Rome Theater Kyoto, Main Hall
2016.11.17
Tokyo
Tokyo International Forum, Hall A
2016.11.18
2016.11.20
Kanazawa
Honda no Mori Hall
2016.11.24
Niigata
Niigata Civic Hall
2016.11.25
2016.11.27
Toyama
Toyama Aubade Hall
2016.12.01
Sapporo
Nitori Cultural Hall
2016.12.03
2016.12.04
2016.12.08
Morioka
Morioka Civic Cultural Hall
2016.12.10
Koriyama
Koriyama Civic Cultural Hall
2016.12.15
Tokyo
Tokyo International Forum, Hall A
2016.12.16
2016.12.19
Kobe
Kobe International Hall, International Hall
2016.12.20
2016.12.23
Osaka
Osaka Festival Hall
2016.12.24
2017.01.07
Fukuoka
Fukuoka Sun Palace
2017.01.08
2017.01.10
Kyoto
Rome Theater Kyoto, Main Hall
2017.01.14
Nagoya
Nagoya International Convention Center, Century Hall
2017.01.15
2017.01.17
Mie
Mie Prefecture Cultural Hall, Great Hall
2017.01.22
Ichikawa
Ichikawa Cultural Hall, Great Hall
2017.01.24
Sendai
Sendai Sun Palace Hall
2017.01.25
2017.01.28
Tokyo
Tokyo International Forum, Hall A
2017.01.29
2017.02.02
Yokohama
Pacifico Yokohama, National Great Hall
2017.02.02
2017.02.07
Tokyo
Tokyo International Forum, Hall A
2017.02.08
2017.02.11
Kagoshima
Kagoshima Civic Cultural Hall
2017.02.12
2017.02.15
Ginowan
Okinawa Convention Theater
2017.02.17
2017.02.18
2017.02.25
Osaka
Osaka Festival Hall
2017.02.26
2017.02.28
2017.03.05
Saga
Saga Cultural Hall
2017.03.06
Sasebo
Arkas Sasebo, Great Hall
2017.03.08
Matsuyama
Matsuyama Civic Hall
2017.03.13
Osaka
Osaka Festival Hall
2017.03.14
2017.03.18
Fukuoka
Fukuoka Sun Palace
2017.03.19
2017.03.21
Miyazaki
Miyazaki Civic Cultural Hall
2017.03.25
Nagoya
Nagoya International Convention Center, Century Hall
2017.03.26
2017.03.30
Tokyo
Tokyo International Forum, Hall A
2017.03.31
2017.04.03
Tokyo
Olympus Hall Hachioji
2017.04.04
2017.04.08
Kofu
Colony Culture Hall, Main Hall
2017.04.09
2017.04.13
Kiryu
Kiryu City Performing Arts Center
2017.04.14
Utsunomiya
Utsunomiya Civic Cultural Hall, Great Hall
2017.04.17
Kyoto
Rome Theater Kyoto, Main Hall
2017.04.18
2017.04.25
Hamamatsu
Act City Hamamatsu, Great Hall
2017.04.27
Fukuyama
Fukuyama Hall of Art & Culture (Reed & Rose)
2017.04.28
Shunnan
Shunnan Civic Cultural Hall
2017.05.02
Osaka
Osaka Orix Theater
2017.05.03
External Links