Be sure to check out our
Facebook page
for the latest changes and to interact with thousands of fans worldwide just like you!
Amuro Namie
From generasia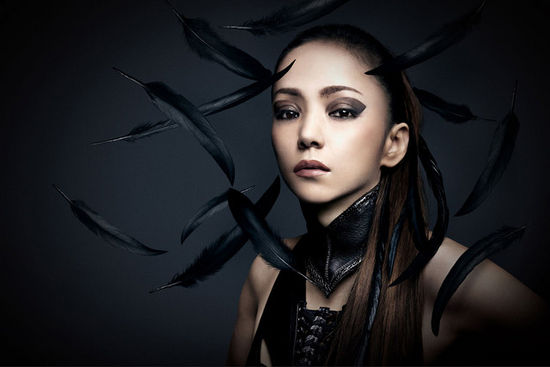 Amuro Namie (安室奈美恵) is a Japanese "Hip-Pop" (Hip-Hop-Pop) artist from Okinawa. She debuted in an eurobeat group called the SUPER MONKEYS comprised of her and her classmates from the Okinawa Actors' School in 1992 with the single "Koi no Cute Beat / Mister U.S.A.". Amuro became the leader of the group, and found success after their cover of "TRY ME ~Watashi wo Shinjite~", which peaked at #8. In 1996, Amuro switched to avex trax and debuted with the single "Body Feels EXIT", with her first avex album selling over 3.3 million copies. Her biggest single, the ballad "CAN YOU CELEBRATE?", was the top single of 1997. After marriage and personal tragedy, Amuro continued to adopt a more R&B / Hip-Hop based style of music. Amuro has approximately sold 35,000,000 copies in Japan. Since her FEEL release, she is the first artist to sign under the avex trax established sub-label Dimension Point.
Profile
Name: Amuro Namie (安室奈美恵)
Birthday: September 20, 1977
Birthplace: Naha, Okinawa Prefecture, Japan
Blood Type: O
Family: Parents (divorced), mother (deceased), two sisters, one brother, one son
Height: 158cm (5'2")
Weight: 40kg (88 lbs)
Measurements: B75 W58 H84
Ethnicity: 75% Japanese, 25% Italian
Tattoos: Two on her left arm, two on her right wrist
Bands / Groups:
Labels:
Information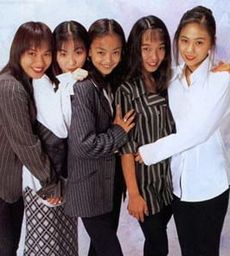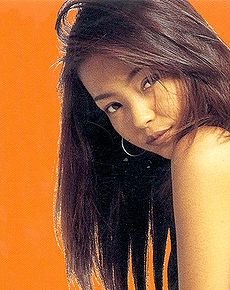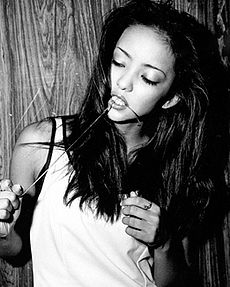 Amuro Namie comes from the island of Okinawa, below Japan. Her mother is half-Italian and she has three siblings. When Amuro was four, her mother divorced her father and brought up three children as a solo mother. Amuro was influenced by Janet Jackson when she was young and wanted to dance and sing. To fulfill this dream, Amuro tried to enter the prestigious Okinawa Actors' School. However, she did not have enough money at the time to enter the school, so she made a request to the principal of the school, Makino Masayuki, who granted her a scholarship to attend. Amuro faced a commute time of one and a half hours to get to school.
Amuro was made a part of an idol group alongside several of her classmates from the school and formed the group SUPER MONKEYS. The group debuted in February 1992 under the label Toshiba EMI with the single "Koi no Cute Beat / Mister U.S.A.". One member, Makino Anna, was even the principal's daughter. After Makino left, Amuro became the leader of the group; slowly growing in prominence. This is most illustrated by the group changing their name to Amuro Namie with SUPER MONKEYS. The group did not see real success until their cover of "TRY ME ~Watashi wo Shinjite~", which peaked at #8. By the release of "Taiyou no SEASON", the other members' roles were so small that Amuro was solely credited with the song and the other members acted as back-up singers for her.
Avex - Marriage
In 1995 Amuro and her bandmates switched labels from Toshiba EMI to avex trax after meeting with Komuro Tetsuya and Max Matsuura. However, the SUPER MONKEYS were dissolved in favor of two acts: Amuro now has a solo project and the other members form a new group called MAX. Amuro debuted with the single "Body Feels EXIT", followed two months later with her first #1 single, "Chase the Chance".
Her further singles "Don't wanna cry" and "You're my sunshine" (both #1 singles) solidified her success, accumulating in her debut album under avex, entitled SWEET 19 BLUES, as it not only reached #1 but going on to sell over 3.3 million copies. Due to Amuro's success and image, she soon became a fashion leader in Japan. Followers of her style were labeled as 'Amura' (a pun on her name). The stereotypical 'Amura' had long hair dyed brown, wore short mini-skirts, had thin eyebrows and wore "atsuzoko" thick-soled boots.
Amuro found the greatest success in her career in 1997 with the single "CAN YOU CELEBRATE?". This ballad single was used as the dorama Virgin Road's theme song, and became the #1 single of 1997 due to its massive popularity. Amuro's success during this pine period also resulted in a massive increase in interest for Okinawan artists.
On October 22nd 1997, Amuro shocked fans and members of the press with the announcement that she had married label-mate SAM, a member of the avex dance group TRF. Furthermore, she announced that she was three months pregnant and went on a one year hiatus to concentrate on her son. In the meantime, two Amuro products were released: a re-issue of her "CAN YOU CELEBRATE?" single featuring a 'wedding' arrangement (which reached #1 again) and also her first best-of collection, entitled 181920. On May 19th 1998, her son, Haruto (温大), was born.
Return to Industry - Tragedy
Amuro returned to the music scene in December 1998 with the single "I HAVE NEVER SEEN", used as the dorama Yonige-ya Honpo's theme song, which reached #1 on the charts. Three months later, Amuro released a second single, a ballad "RESPECT the POWER OF LOVE", on March 17th 1999. However, tragedy struck when on the day of the single's release: her mother Taira Emiko (平良恵美子) was brutally murdered by Amuro's step-uncle Taira Kenji. According to press statements, Taira Emiko was walking with her husband (second marriage - not Amuro's father) when Taira Kenji repeatedly ran over the couple and also assaulted them with an axe. While Amuro's step-father survived the ordeal, Taira Kenji later committed suicide after the event.
After taking another break from the industry (Amuro later left a message to her fans in January 2000 stating that she had been seriously thinking of retiring, however was convinced not to by the kind words from her fans), Amuro returned with the singles "toi et moi" (Pokémon: The Movie 2000's ending theme song) and "SOMETHING 'BOUT THE KISS". "SOMETHING 'BOUT THE KISS" was Amuro's first real step towards an R&B oriented career: the song was the first of hers to be produced by US producer Dallas Austin.
Amuro's sales had declined significantly since her peak in 1997, however she had a hit single in 2000 with "NEVER END", which sold over 640,000 copies. In 2001, Amuro released her first song, "say the word", that featured direct input from herself as it features lyrics by Amuro herself.
In late 2001 Amuro started working as part of a collaborative R&B project called SUITE CHIC in which she was the vocalist. After releasing a special single written for her fans, "I WILL", Amuro's second best-of collection LOVE ENHANCED♥ single collection was released.
On July 10, news came that Amuro had divorced her husband who had received parental rights over their son. However, later in 2005, Amuro received these rights back from him.
2002 saw two more activities from Amuro: the release of "Wishing On The Same Star" (film Inochi's theme song and written by hit-producer Diane Warren) and her debut SUITE CHIC release, "GOOD LIFE / Just Say So". This single did not chart anywhere near where Amuro had charted for the last eight years (only peaking at #35)
Discography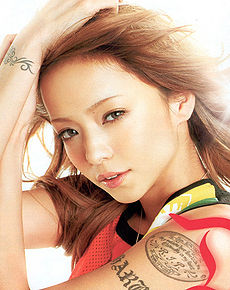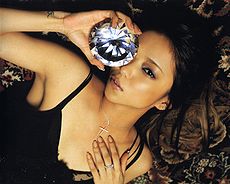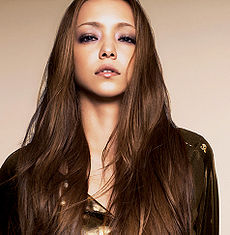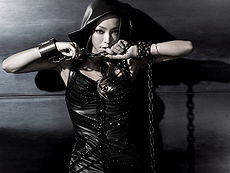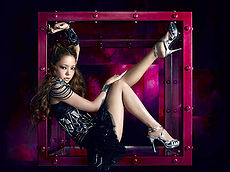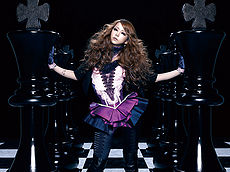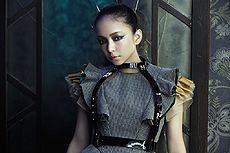 Studio Albums
Best Albums
Live Albums
Singles
Digital Singles
Vinyls
Video Releases
Compilations / Other
[1996.10.30] m.c.A・T - "Thunder Party" (#2 "Joy" feat. Amuro Namie)
[1997.01.01] TK FAMILY - "YOU ARE THE ONE"
[2002.03.06] song+nation 2 trance (#4 "lovin' it (tatsumaki remix)")
[2002.09.19] Inochi: Original Soundtrack (#9 "Wishing On The Same Star (Movie Version)", #10 "Wishing On The Same Star (Movie Version Instrumental)")
[2003.09.18] ZEEBRA - TOKYO'S FINEST (#12 "AFTER PARTY" feat. Amuro Namie)
[2005.01.19] ZEEBRA - THE LIVE ANIMAL'03 - TOKYO'S FINEST (#16 "AFTER PARTY" feat. Amuro Namie)
[2005.03.24] JHETT aka YAKKO for AQUARIUS - JHETT (#3 "Do or Die" feat. Amuro Namie)
[2005.03.30] SUPER EURO GROOVE (#15 "J-EURO MEGA-MIX")
[2005.08.24] JHETT aka YAKKO for AQUARIUS - JHETT BLACK EDITION (#2 "Do or Die [BACH LOGIC Remix feat. NORISHAM-X]" feat. Amuro Namie)
[2006.02.15] ZEEBRA - The New Beginning (#15 "Do What U Gotta Do" feat. AI, Amuro Namie & Mummy-D)
[2007.03.28] m-flo - COSMICOLOR (#3 "Luvotomy" loves Amuro Namie)
[2007.09.19] ZEEBRA - ZEEBRA Japan Tour Final "The Live Animal '06 -The New Beginning-" (#19 "Do What U Gotta Do" feat. AI, Amuro Namie & Mummy-D)
[2007.09.27] m-flo - electriCOLOR -COMPLETE REMIX- (#4 "Luvotomy -Camp Three-o-three remix-" loves Amuro Namie)
[2007.10.31] m-flo - m-flo Tour 2007 "Cosmicolor" @ Yokohama Arena (#26 "Luvotomy" loves Amuro Namie)
[2008.05.xx] DOUBLE x Amuro Namie - "BLACK DIAMOND"
[2008.05.28] DOUBLE - THE BEST COLLABORATIONS (#1 "BLACK DIAMOND")
[2008.08.06] House Nation Best Gig (#3 "What a Feeling (Shinichi Osawa Remix)")
[2008.09.17] ZEEBRA - The Anthology (Disc 2 #12 "Do What U Gotta Do" feat. AI, Amuro Namie & Mummy-D)
[2008.10.29] DJ KAORI - DJ KAORI'S JMIX II (#1 "Baby Don't Cry")
[2009.01.29] .LOVE (#9 "CAN YOU CELEBRATE?")
[2009.02.18] Best Hit! Nittere 55 (#7 "I HAVE NEVER SEEN")
[2009.02.25] Karaage!! (#6 "Baby Don't Cry")
[2009.03.04] Pikachu The Movie Song Best 1998-2008 (#8 "toi et moi")
[2009.03.04] 20years 200hits Complete Best + a LOVE HiQualityCD EditionBOX (#12 "Body Feels EXIT", #23 "CAN YOU CELEBRATE?", #37 "RESPECT the POWER OF LOVE", #46 "NEVER END", #92 "ALL FOR YOU", #103 "WANT ME, WANT ME", #118 "CAN'T SLEEP, CAN'T EAT, I'M SICK", #135 "Baby Don't Cry")
[2009.09.02] DJ Caroline D'Amore - J-Girls' Celebrity Mix (#1 "What a Feeling [J-GIRLS' CELEBRITY MIX VER.]")
[2009.11.04] .LOVE more (#14 "Baby Don't Cry")
[2009.11.25] DJ KAORI - DJ KAORI'S JMIX III (#6 "WHAT A FEELING")
[2009.11.25] Hit Songs ~Yasashii Hikari / Unmei no Hito~ Hit Songs orgel collection (#12 "Baby Don't Cry")
[2010.03.17] Mune Kyun 90's ~Hitori de Kikitai Koi no Uta~ (Disc 2 #1 "SWEET 19 BLUES")
[2010.03.24] Inuyasha Best Song History (Disc 1 #13 "Come")
[2010.04.21] DJ HASEBE - Woofin Presents "CANDYMAN" Mixed by DJ HASEBE (#24 "Ups & Downs" duet with Nao'ymt)
[2010.07.21] Suzuki Ami - BLOOMING (#6 ROCK U feat. Amuro Namie)
[2010.12.01] AI - THE LAST A.I. (#1 "FAKE" feat. Amuro Namie)
[2012.01.11] .LOVE tender (#9 "ALL FOR YOU")
[2012.03.07] Dramatic Tunes (Disc 2 #1 "Baby Don't Cry")
[2012.10.17] MILLION ~BEST OF 90's J-POP~ BLUE (#1 "CAN YOU CELEBRATE?")
[2013.06.12] TLC - "Waterfalls (20th Anniversary Version)"
[2013.06.19] TLC - TLC 20 ~20th Anniversary Hits~ (#1 "Watterfalls" with Namie Amuro)
[2013.09.25] Komuro Tetsuya - DEBF EDM 2013 SUMMER (#8 "You're my sunshine (2013 SUMMER)")
[2014.05.28] DOUBLE - SINGLE BEST (Disc 2 #10 "BLACK DIAMOND")
[2014.11.15] Jolin Tsai - PLAY (#5 "I'm Not Yours" feat. Amuro Namie)
[2015.07.01] David Guetta - "What I Did for Love" feat. Amuro Namie
[2015.09.16] Crystal Kay - "REVOLUTION" feat. Amuro Namie
[2015.12.16] Crystal Kay - Shine (#5 "REVOLUTION" feat. Amuro Name)
[2016.11.02] AI - THE FEAT. BEST (Disc 2 - #4 "Wonder Woman" feat. AI & Tsuchiya Anna / Amuro Namie, #7 "FAKE [BACHLOGIC Remix]" feat. Amuro Namie)
Filmography
Dramas
Publications
Books

Photobooks

Band Scores

Magazines
[2011.07.23] SPRiNG September 2011 Issue (Feature)
[2011.08.xx] Sweet (Cover & Feature)
Video Games
External Links