New user registrations outside of OpenID have been disabled pending a review of a recent influx of spam accounts. Apologies for any inconvenience this may have caused.
Finally (Amuro Namie album)
From generasia
Artist

Album

Finally

Released

2017.11.08

Catalog Number

AVCN-99049~51/B (3CD+DVD)
AVCN-99052~4/B (3CD+Blu-ray)
AVCN-99055~7 (3CD)

Price

¥5,184 (3CD+Blu-ray)
¥4,644 (3CD+DVD)
¥3,780 (3CD)
CD Tracklist
Video Tracklist
Information
Finally is the sixth compilation album released by Amuro Namie. It was released in three versions: a 3CD+DVD edition, a 3CD+Blu-ray edition, and a 3CD edition. The album is a 25 year career retrospective, starting with her first recordings with SUPER MONKEYS; All the songs from "Mister U.S.A." up to "TSUKI" have been re-recorded for the album, some of them with slightly different arrangements. In September 2017, Amuro issued a press release stating that she would be retiring from the music industry, effective on September 16th 2018, and she announced the release of Finally. The album comes with six new songs. The song "Showtime" was used as theme song for the TBS drama Princess Princess; "Hope" was used as the 20th opening theme for the anime ONE PIECE; "Do It For Love" was used as a CM song for Hulu; "Finally" was used as theme song for the Japanese TV show NEWS ZERO; "How do you feel now?" was used as theme song for the NTT docomo 25th Anniversary CM.
As of December 2017, Finally has been certified for 2 Million by the Recording Industry Association of Japan. It was the #1 best selling musical release of 2017.
Oricon Chart Positions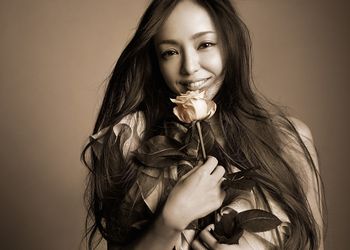 The album reached #1 on the weekly Oricon chart, and is Amuro's first album since her 1996 solo debut SWEET 19 BLUES to sell over a million copies in its first week. Finally sold a total of 1,777,850 copies for Oricon's 2017 chart, making it the #1 album of the year.
| Mon | Tue | Wed | Thu | Fri | Sat | Sun | Week Rank | Sales |
| --- | --- | --- | --- | --- | --- | --- | --- | --- |
| - | 1 | 1 | 1 | 1 | 1 | 1 | 1 | 1,113,291 |
| 1 | 1 | 1 | 1 | 1 | 1 | 1 | 1 | 321,956 |
| 1 | 3 | 1 | 1 | 1 | 1 | 1 | 1 | 158,984 |
| 1 | 3 | 2 | 2 | 1 | 2 | 1 | 2 | 93,589 |
| 1 | 6 | 2 | 1 | 2 | 2 | 1 | 2 | 90,030 |
| 2 | 7 | 3 | 2 | 1 | 1 | 1 | 2 | 54,004 |
| 1 | 7 | 2 | 2 | 1 | 1 | 1 | 2 | 54,506 |
| 1 | 8 | 5 | 5 | 2 | 1 | 2 | 5 | 47,121 |
| 2 | 2 | 2 | 1 | 1 | 1 | 1 | 2 | 69,078 |
| 1 | 6 | 3 | 3 | 2 | 1 | 1 | 3 | 43,314 |
| 2 | 6 | 4 | 3 | 4 | 3 | 2 | 3 | 25,512 |
| 3 | 10 | 8 | 5 | 6 | 4 | 2 | 5 | 15,352 |
| 2 | 13 | 4 | 4 | 4 | 3 | 2 | 6 | 12,784 |
| 2 | 10 | 5 | 4 | 5 | 2 | 2 | 6 | 9,317 |
| 1 | 20 | 9 | 3 | 3 | 2 | 2 | 4 | 14,348 |
| 2 | 7 | 4 | 5 | 4 | 3 | 2 | 5 | 15,188 |
| 3 | 10 | 6 | 8 | 7 | 6 | 3 | 8 | 11,719 |
| 3 | 21 | 13 | 9 | 5 | 5 | 4 | 10 | 7,066 |
| 4 | 25 | 10 | 8 | 9 | 7 | 6 | 12 | 6,160 |
| 6 | 38 | 16 | 12 | 12 | 7 | 8 | 12 | 4,871 |
| 7 | - | 30 | 22 | 18 | 16 | 12 | 28 | 4,168 |
| 10 | - | 17 | 9 | 13 | 10 | 9 | 17 | 3,646 |
| 7 | 26 | 18 | 14 | 15 | 13 | 11 | 23 | 3,514 |
| 8 | 19 | 16 | 16 | 14 | 3 | 4 | 8 | 6,388 |
| 10 | - | 8 | 4 | 11 | 10 | 16 | 10 | 6,799 |
| 8 | 12 | 3 | 3 | 8 | 3 | 4 | 5 | 10,861 |
| 8 | 27 | 18 | 15 | 21 | 14 | 5 | 17 | 3,449 |
| 11 | - | 19 | 16 | 21 | 16 | 16 | 20 | 2,583 |
| 16 | - | 24 | 26 | 24 | 18 | 15 | 24 | 2,938 |
| 14 | 27 | 22 | 15 | 14 | 4 | 3 | 8 | 7,706 |
| 5 | 21 | 13 | 15 | 11 | 10 | 6 | 15 | 6,331 |
| 7 | 16 | 8 | 8 | 8 | 6 | 6 | 10 | 5,849 |
| 4 | 24 | 15 | 10 | 10 | 9 | 9 | 9 | 4,012 |
| 7 | - | 26 | 23 | 19 | | | | |
| Year | Month | Rank | Sales |
| --- | --- | --- | --- |
| 2017 | November | 1 | 1,687,820 |
| 2017 | December | 1 | 245,661 |
| 2018 | January | 3 | 166,040 |
| 2018 | February | 4 | 50,572 |
| 2018 | March | 13 | 25,911 |
| 2018 | April | 10 | 27,562 |
| 2018 | May | 18 | 16,767 |
Total Reported Sales: 2,220,333*
External Links