Welcome to the
new Generasia
, now with new features and a mobile-friendly browsing experience. Be sure to check out our
Facebook page
for the latest changes and to interact with thousands of fans worldwide just like you!
Shiraishi Mako
From generasia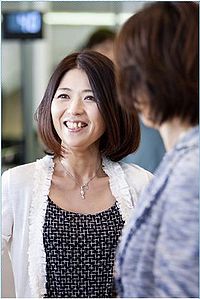 Shiraishi Mako (白石麻子) was member #22 of the idol group Onyanko Club.
Profile
Information
Shiraishi Mako got her start in show business when she joined the idol group Onyanko Club after winning the Yuuyake Nyan Nyan-sponsored contest in July 1985. Shiraishi became lead vocals for many of the group's and soloist's songs by 1986. That same year, she joined the group Nyangilas with other members, releasing two singles and one album before disbanding.
After Onyanko Club broke up, Shiraishi went to junior college and then work for the car company Jaguar Japan. She married in 1992 and gave birth to three sons and one daughter. She continues to participate in various reunions, including the 2002 and 2010 reunions.
Trivia
External Links