It is thanks to users like YOU that Generasia exists today. To all of our contributors and visitors alike, Thank You!! Be sure to like us on Facebook for the latest updates and to meet others who also enjoy Asian media!
T-ARA Japan Tour 2013 ~Treasure Box~
From generasia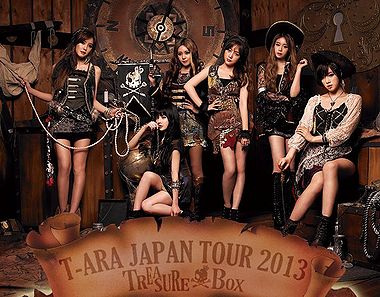 T-ARA JAPAN TOUR 2013 ~TREASURE BOX~ is the third concert tour in Japan by T-ARA. The tour was to promote T-ARA's second Japanese album TREASURE BOX. The Tokyo Nippon Budokon concert was recorded and later released on DVD as T-ARA JAPAN TOUR 2012 ~TREASURE BOX~ LIVE IN BUDOKAN.
Artist
Regular Setlist
~OPENING VTR~
~MC~
~VTR~
Shabondama no Yukue (シャボン玉のゆくえ; Bubble's Whereabouts) (Boram, Qri Unit)
Dangerous Love (Ji Yeon, Eun Jung, Hyo Min Unit)
Kaze no You ni (風のように; Like The Wind) (QBS)
~VTR~
Bunny Style! (バニスタ!)
Wae Ireoni (ウェイロニ)
Daijobu (大丈夫; I'm Okay)
Hajimete no You ni (Japanese ver.) (初めてのように; Like The First Time)
~MC~
~VTR~
Do We Do We (Qri solo)
Two As One (Eun Jung solo)
LOVE ME! ~Anata no Sei de Kurui Sou (Japanese ver.) (あなたのせいで狂いそう; Because You're So Crazy)
~MC~
~VTR~
Tokyo 26th Setlist
~OPENING VTR~
~MC~
Shabondama no Yukue (シャボン玉のゆくえ; Bubble's Whereabouts) (Boram, Qri Unit)
Dangerous Love (Ji Yeon, Eun Jung, Hyo Min Unit)
Kaze no You ni (風のように; Like The Wind) (QBS)
Bunny Style! (バニスタ!)
Wae Ireoni (ウェイロニ)
~MC~
Daijobu (大丈夫; I'm Okay)
Hajimete no You ni (Japanese ver.) (初めてのように; Like The First Time)
Do We Do We (Qri Solo)
Maybe Maybe (Boram solo)
~MC~
LOVE ME! ~Anata no Sei de Kurui Sou (Japanese ver.) (あなたのせいで狂いそう; Because You're So Crazy)
Encore

~VTR~
~MC~
~END MC~
Tokyo 27th Setlist
~OPENING VTR~
~MC~
Shabondama no Yukue (シャボン玉のゆくえ; Bubble's Whereabouts) (Boram, Qri Unit)
Dangerous Love (Ji Yeon, Eun Jung, Hyo Min Unit)
Kaze no You ni (風のように; Like The Wind) (QBS)
Bunny Style! (バニスタ!)
Wae Ireoni (ウェイロニ)
~MC~
Daijobu (大丈夫; I'm Okay)
Hajimete no You ni (Japanese ver.) (初めてのように; Like The First Time)
Love Suggestion (Hyo Min solo)
Two As One (Eun Jung solo)
~MC~
LOVE ME! ~Anata no Sei de Kurui Sou (Japanese ver.) (あなたのせいで狂いそう; Because You're So Crazy)
Encore

~VTR~
~MC~
~END MC~
Tour Schedule
Date
Place
Venue
September 04, 2013
Fukuoka, Japan
Sun Palace Hotel & Hall
September 05, 2013
September 07, 2013
Kobe, Japan
World Memorial Hall
September 08, 2013
September 10, 2013
Sapporo, Japan
Nitori Cultural Hall
September 11, 2013
September 15, 2013
Nagoya, Japan
Congress Center Century Hall
September 26, 2013
Tokyo, Japan
Nippon Budokan
September 27, 2013
External Links