It is thanks to users like YOU that Generasia exists today. To all of our contributors and visitors alike, Thank You!! Be sure to like us on Facebook for the latest updates and to meet others who also enjoy Asian media!
The Best of BIGBANG 2006-2014
From generasia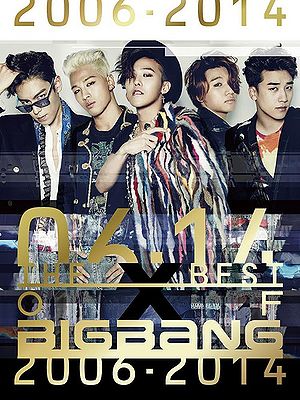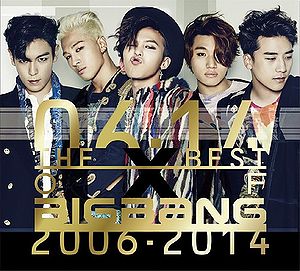 Artist

Album

THE BEST OF BIGBANG 2006-2014

Released

2014.11.26

Catalog Number

AVCY-58270/2/B/C (3CD+2DVD)
AVCY-58273/5 (3CD)

Price

¥6,480 (3CD+2DVD)
¥3,780 (3CD)

CD Tracklist
DVD Tracklist
DISC 2

a-nation stadium fes. 2014 in Jelly Stage Movie
Information
THE BEST OF BIGBANG 2006-2014 is BIGBANG's sixth Japanese best album. It came in two versions: a 3CD+2DVD version and a 3CD only version. There were also released seven MUSIC CARDS with each member on one MUSIC CARD, two of them are all member covered MUSIC CARDS. People who bought all seven MUSIC CARDS could attend their "The Dome Rehearsal" (the price of all MUSIC CARDS together was ¥5,555). A limited number of people received a clockset as extra.
The album is certified Gold for shipment of 100,000 copies.
Oricon Chart Positions
Mon
Tue
Wed
Thu
Fri
Sat
Sun
Week Rank
Sales
-
1
1
1
1
1
3
1
120,442
2
15
10
9
9
7
5
10
13,059
5
21
11
12
11
12
13
14
7,326
8
-
18
14
15
14
11
17
5,755
20
21
15
15
13
13
6
17
6,391
11
12
12
10
10
12
17
13
4,338
10
19
18
15
15
20
26
19
2,603
17
-
28
25
26
30
11
21
2,718
14
-
-
-
-
-
-
45
1,994
30
-
-
-
-
-
-
53
1,786
41
-
-
-
-
-
-
66
1,048
46
-
-
-
-
-
-
37
1,888
-
-
-
-
-
-
-
101
798
-
-
-
-
-
-
-
125
774
-
-
-
-
-
-
-
144
677
-
-
-
-
-
-
-
116
645
-
-
-
-
-
-
-
129
609
-
-
-
-
-
-
-
148
645
-
-
-
-
-
-
-
122
612
-
-
-
-
-
-
-
147
494
-
-
-
-
-
-
-
143
475
-
-
-
-
-
-
-
190
430
-
-
-
-
-
-
-
158
459
-
-
-
-
-
-
-
113
501
-
-
-
-
-
-
-
165
344
-
-
-
-
-
-
-
172
332
-
-
-
-
-
-
-
192
379
-
-
-
-
-
-
-
152
374
-
-
-
-
-
-
-
129
408
-
-
-
-
-
-
-
155
401
-
-
-
-
-
-
-
195
403
-
-
-
-
-
-
-
185
365
-
-
-
-
-
-
-
159
399
-
-
-
-
-
-
-
172
337
-
-
-
-
-
-
-
216
338
-
-
-
-
-
-
-
226
336
-
-
-
-
-
-
-
224
314
-
-
-
-
-
-
-
151
411
-
-
-
-
-
-
-
171
358
-
-
-
-
-
-
-
222
368
-
-
-
-
-
-
-
209
340
-
-
-
-
-
-
-
214
305
-
-
-
-
-
-
-
238
322
-
-
-
-
-
-
-
276
268
-
-
-
-
-
-
-
271
292
-
-
-
-
-
-
-
267
237
-
-
-
-
-
-
-
230
269
-
-
-
-
-
-
-
271
284
-
-
-
-
-
-
-
261
292
-
-
-
-
-
-
-
225
297
-
-
-
-
-
-
-
166
404
-
-
-
-
-
-
-
165
429
-
-
-
-
-
-
-
194
457
-
-
-
-
-
-
-
177
448
-
-
-
-
-
-
-
154
501
-
-
-
-
-
-
-
201
437
-
-
-
-
-
-
-
199
502
-
-
-
-
-
-
-
170
422
-
-
-
-
-
-
-
178
377
-
-
-
-
-
-
-
190
352
-
-
-
-
-
-
-
241
291
-
-
-
-
-
-
-
277
307
-
-
-
-
-
-
-
103
767
-
-
-
-
-
-
-
44
1,436
-
-
-
-
-
-
-
61
1,117
-
-
-
-
-
-
-
74
1,148
-
-
-
-
-
-
-
66
1,097
-
-
-
-
-
-
-
76
887
-
-
-
-
-
-
-
79
769
-
-
-
-
-
-
-
107
735
-
-
-
-
-
-
-
110
652
-
-
-
-
-
-
-
91
623
-
-
-
-
-
-
-
98
533
-
-
-
-
-
-
-
127
505
-
-
-
-
-
-
-
141
610
-
-
-
-
-
-
-
87
670
-
-
-
-
-
-
-
140
459
-
-
-
-
-
-
-
142
443
-
-
-
-
-
-
-
174
456
-
-
-
-
-
-
-
154
379
-
-
-
-
-
-
-
152
422
-
-
-
-
-
-
-
179
363
-
-
-
-
-
-
-
202
370
-
-
-
-
-
-
-
173
400
-
-
-
-
-
-
-
178
398
-
-
-
-
-
-
-
170
379
-
-
-
-
-
-
-
185
387
-
-
-
-
-
-
-
191
391
-
-
-
-
-
-
-
119
493
-
-
-
-
-
-
-
122
459
-
-
-
-
-
-
-
131
472
-
-
-
-
-
-
-
165
369
-
-
-
-
-
-
-
137
354
-
-
-
-
-
-
-
203
310
-
-
-
-
-
-
-
170
326
-
-
-
-
-
-
-
188
358
-
-
-
-
-
-
-
238
303
-
-
-
-
-
-
-
208
300
-
-
-
-
-
-
-
195
285
-
-
-
-
-
-
-
230
271
-
-
-
-
-
-
-
out for one week
-
-
-
-
-
-
-
232
276
-
-
-
-
-
-
-
175
327
-
-
-
-
-
-
-
194
325
-
-
-
-
-
-
-
171
430
-
-
-
-
-
-
-
169
381
-
-
-
-
-
-
-
164
464
-
-
-
-
-
-
-
144
488
-
-
-
-
-
-
-
191
562
-
-
-
-
-
-
-
91
669
-
-
-
-
-
-
-
103
557
-
-
-
-
-
-
-
151
397
-
-
-
-
-
-
-
197
303
-
-
-
-
-
-
-
243
287
-
-
-
-
-
-
-
199
288
-
-
-
-
-
-
-
235
241
-
-
-
-
-
-
-
174
346
-
-
-
-
-
-
-
246
310
-
-
-
-
-
-
-
222
260
-
-
-
-
-
-
-
270
229
-
-
-
-
-
-
-
268
238
-
-
-
-
-
-
-
out for one week
-
-
-
-
-
-
-
269
245
-
-
-
-
-
-
-
282
219
-
-
-
-
-
-
-
281
192
-
-
-
-
-
-
-
out for two weeks
-
-
-
-
-
-
-
263
244
-
-
-
-
-
-
-
281
178

Total Reported Sales: 219,319*
Total Sales of 2014: 133,501 (#32 album of 2014)
Total Sales of 2015: 53,978 (#85 album of 2015)
Total Sales of 2016: 25,076
Total Sales of 2017: 6,253*
External Links