The Peanuts
From generasia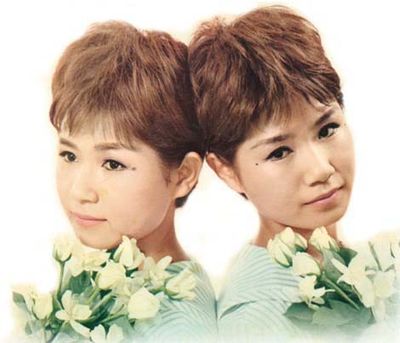 The Peanuts (ザ・ピーナッツ) were a Japanese duo of twins from Aichi, Japan that are often credited with starting the genre of "J-Pop". Their records were very popular in Japan from 1959 to 1975 They have appeared in several films including Mothra and Godzilla, which has been really popular in America. The duo retired from performing in 1975.
Members
Information
After leaving their Aichi high school, twin sisters Ito Emi and Yumi were hired to Watanabe Pro. At this time they were performing as "Ito Sisters" (伊藤シスターズ) at many resturants. They also recieved many voice lessons with Hamamura Jun at the time to prepped them for their singing debut.
The Peanuts debuted in April 1959 with their single "Kawaii Hana" on the television show 2nd Annual Chorus Parade. From June 17th, 1959 to March 31st, 1970, they were regulars on the television show The Hit Parade. The two also acted as the main chairwomen for the variety program Shabondama Holiday from June 4th, 1961 to October 1st, 1972.
The duo became known even outside of Japan for appearing on The Ed Sullivan Show and the variety program Catherina Yekaterina Show in Germany. They made the music genre Japanese pop very popular among the outside world by appearing on these foreign shows.
After considering retirement for three years, the duo finally ended their long-lasting run on February 18th, 1975. On March 31st of that year, the public said their goodbye with a special, "Goodbye Peanuts", on the television show Yoru no Hit Studio. Their final performance was on April 5th of the same year in NHK Hall. Ito Emi would later on marry baseball player for The Tigers Sawada Kenji, have one son, and later divorce him in 1987.
Their songs have been covered by several bands and groups in recent years, including GO!GO!7188 and W.
Discography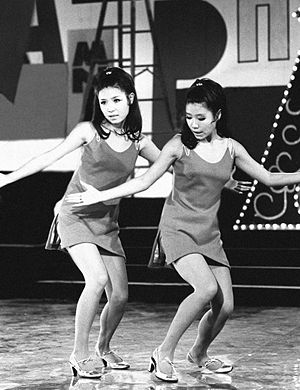 Albums
Singles
External Links
---
This article is a stub. You can help generasia by expanding it.