Generasia would not be what it is today without the countless contributions by both staff and members alike! Thank you for all that you do!!
AYA (singer)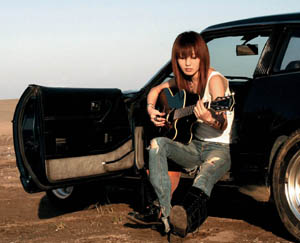 AYA (亜矢) is a Japanese rock artist under the Ariola Japan record label. Her sound is heavily influenced by early 90's Grunge-rock (also referred to as the "Seatle Sound"). Besides writing and singing her own songs, AYA is also an experienced composer and arranger. She made her major debut under BMG FUNHOUSE with the single "HANDS".
Profile
Biography
AYA was born in Hokkaido, the northernmost island of Japan, in a small town with a population of 2000. AYA spent most of her childhood doodling while listening to her parents' oldies, though she wasn't introduced to rock music until Junior High; where she first heard the electric guitar during a concert.
From then on, she devoted herself to hard rock/punk, and joined a girl band right after getting a long-yearned for electric guitar - doing Sex Pistols covers and so on. Feeling bored with school and having few friends, she missed half of the term and dropped out of school at age 15. She then encountered an album that was to change her life forever - Nirvana's Nevermind. Leaving home, she wandered around various cities in Hokkaido before ending up in Tokyo. AYA was singing at bars to make a living when she was invited to audition at a pop vocal contest. She successfully won, however things went awry when the songwriter in her band passed away, shortly before the band's debut. AYA considered giving up her pursuit of becoming a professional artist. However, she was pleasantly surprised when she discovered how easily songwriting came to her. The first song she wrote, would later become her debut single, "HANDS".
AYA then focused on making demo tracks. Using an 8-track multi tape recorder, Aya arranged and played guitar, bass, and a drum machine all by herself. Though a large amount of her time was spent making demo tapes, she also managed to sharpen her skills by performing on American army bases and on the streets of Shibuya. Finally, she scored a contract with BMG JAPAN and already had 30 tracks under her belt, each one finely crafted and ready for production.
American rock producer, Adam Kasper (producer of Soundgarden, Foo Fighters, Pearl Jam) heard AYA's demo tape and was greatly impressed, immediately agreeing to produce her. In December 2000, AYA journeyed to Seattle to record 3 single tracks at "Studio X" - well-known for its association with '90s trademark bands Pearl Jam, Soundgarden, Alice in Chains and Nirvana. Kasper invited top Seattle musicians to create the "ideal" sound for AYA. Included in this line-up was one of rock's finest drummers, Matt Cameron (ex Soundgarden, currently with Pearl Jam), Kim Thayil (ex Soundgarden), John McBain (ex Monster Magnet), and Glenn Slater (ex Walkabouts). Each one, just like Adam, was instantly impressed by AYA's music.
In June 2001, they all met up again when AYA re-visited Seattle to complete her debut album, though included that time was Krist Novoselic, the bass player from Nirvana whom AYA had worshiped for a very long time.
In 2002, "Senjou no Hana" made its debut and was received with glowing praise from Japanese rock circles and also from the German press. To promote the album AYA spent most of the year concentrating on live activities - without doing much press. Soon after her debut she was invited to play at "Summer Sonic Festival"- one of Japan's biggest rock festivals; her wild and aggressive performance was indeed one of the highlights of the 2-day festival. AYA also demonstrated a confidence unseen in a newcomer, working a crowd of 50,000+ when she opened for grizzled Japanese rocker, Eikichi Yazawa's 30th anniversary stadium gig.
In the spring of 2003, AYA decided to release a 7-track mini-album, Kinjirareta Uta, a release that projected her worldview in a more direct and straightforward manner. As an artist that had always preferred working in the environment of a band, she also felt uncomfortable having two different sets of musicians - one for recordings, and another for live performances. AYA also needed to prove that she could create the "AYA" sound by herself, thus she discarded the glamorous Seattle support musicians by recording with the three musicians who had backed her on stage since her debut. What resulted was a much tighter album than the first, with a more solid rock feel in general. This mini-album allowed AYA to secure a far more rabid fan base at home. Japanese rock critics hailed the album when they stated "AYA reveals her true feelings and intentions with tremendous strength and purity in this landmark album".
Following a sell-out Japanese club tour, AYA went to work on her 2nd full album, BAGHDAD SKY in 2003 and 2004. BAGHDAD SKY was the album that AYA had been seeking throughout her career. The album overall had a much grander sound to it, and could truly be said to be AYA's first "complete" work.
In 2005, Aya continued to do live shows and is supposedly active, working on new material.
Discography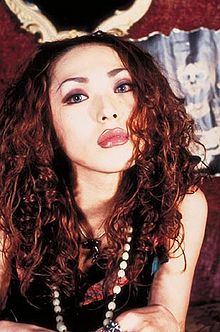 Albums
Mini-Albums
Singles
Special Releases
Compilations / Others
External Links