User registrations have now been re-enabled. If you previously had an account and logged in via OpenID, please create a new account. Thank you!
Akikawa Masafumi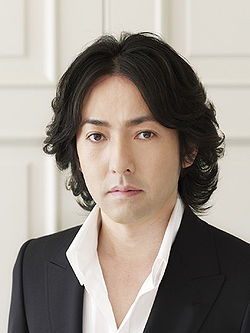 Akikawa Masafumi (秋川雅史) is Japanese tenor singer under Teichiku Records. He is known for his performance of the song "Sen no Kaze ni Natte" which was extremely popular in 2007 in Japan.
Profile
Birth Name: Akikawa Masafumi (秋川雅史)
Date of Birth: October 11, 1967
Blood Type: A
Information
Akikawa Masafumi made his debut in 2001 with the album Passione ~Fukkatsu no Utagoe~. He released his first single "Sen no Kaze ni Natte" on May 24th, 2007. The song is a cover of Arai Man's song of the same name with lyrics translated from Mary Elizabeth Frye's popular poem "Do not stand at my grave and weep". The single only sold a few copies in 2006 but Akikawa got his invitation to the 57th NHK Kouhaku Uta Gassen. After his performance at the show, the song became extremely popular in Japan and the single also reached #1[1] on the Oricon weekly charts. It sold 1,115,499 copies in 2007 and was the best selling single of the year. The single also sold 111,040 more copies in 2008, making it the 65th best selling single of 2008.
Follow the success of "Sen no Kaze ni Natte", Akikawa released his fourth album Sen no Kaze ni Natte ~Ichigo Ichie~ which reached #12 on the weekly Oricon charts, selling 70,890 copies. He then released his second single "Negai", TBS drama Honjitsu mo Hare. Ijo Nashi's theme song in February 2009.
Discography
Albums
Singles
DVDs
References
External Links