New user registrations have been disabled until further notice. If you would like to create an account, please message
Generasia on Facebook
. Thank you!
BOOWY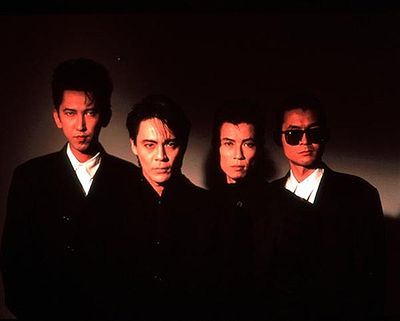 BOØWY is a rock band that reached legendary status in Japan during the 80's. Their style of play varied from punk to pop rock and they had fans of all ages. The 90's band movement was credited to BOØWY as they made being in a band look cool. Musical instrument sales hit an all time high during the 90's and the record companies signed and debuted 80 bands during the 90's in hopes of finding a new BOØWY.
Members
Former Members
History
In 1979 Himuro Kyosuke was in a band called "Death Penalty". He won a band contest that was being held in his hometown of Takasaki in Gunma Prefecture. In the same contest was Hotei Tomoyasu's band "Blue Film" which came in 2nd place. After the contest Himuro signs with the record company "Being" and goes to Tokyo. Things don't go as well as he expected and the band breaks up. Himuro joins another band called "Spinach Power" as their vocal but he has problems with them and decides to form another band after seeing an RC Succession concert in 1980.
Around the same time, Hotei was in Tokyo after being expelled from high school. He was expelled for saying "Jesus had long hair" when his teacher warned him about his hair being too long. He receives a phone call from Himuro and even though they don't really know each other they decide to start a band called "暴威"; Bōi in romaji. They recruit Matsui Tsunematsu on the bass and Moroboshi Atsushi on the guitar from "Death Penalty"; Fukazawa Matsuaki on the saxaphone from "Blue Film"; and Kimura Mamoru on the drums from "Spinach Power".
They land a gig once a month at the Shinjuku live house "Loft" but it doesn't pay the bills. To earn a living they start working part-time jobs and send demo tapes to various record companies. They finally sign with the record company Victor.
In 1981 Kimura says he wants to leave "Bōi". He joined the band on a temporary basis so they look for another drummer. Takahashi Makoto is brought to the "Loft" by a friend to watch "Bōi" perform. He's impressed and tries out for the band when he hears they need a new drummer. During the summer that year he replaces Kimura on the drums and "Bōi" goes on to become the most popular band at the "Loft".
In 1982 they change their name to BOØWY and on March 21st they release their first album "MORAL". At this time they were taking advantage of the punk movement in Japan and they were a punk type band. For their concert in Shibuya on September 9 Hotei wanted to take a different approach to their music and become more pop but the fans didn't like the change. Fukazawa and Moroboshi mirrored the opinions of the fans and finally on October 9th after their performance at the "Loft" they leave the band and BOØWY becomes a 4 member band.
In 1983 they cut ties with their production company and formed their own company "Ø-connection" with Tsuchiya Mamoru former member of "Blue Film" as their manager. At the time this was unheard of and frowned upon in the music industry so the record company stopped promoting them and people started to forget BOØWY existed. Tsuchiya faced an uphill battle in promoting BOØWY. With no funds he gathered hand-made flyers, posters, character goods, the musical instruments and the band in an old Hi-Ace van with no AC and went on a trip around Japan looking for places to perform.
In 1984 they continued touring live houses in Japan for more exposure. Eventually it paid off and they started getting offers from different record companies. Not wanting to go through the same hardship they faced in 1983 they decide to sign with the production company "Yui". Which later signs them up with Toshiba EMI. In preparation for their debut with this record company they take a 6 month break from touring.
Time goes by and BOØWY becomes Japans #1 rock band. In 1987 Christmas Eve during the last concert of the tour they announce they are breaking up. There are many rumors concerning the break up but the most popular is the rift between Hotei and Himuro. An indication of the band's stature at the time is that at their farewell gigs; two nights at the newly opened Tokyo Dome in 1988; they sold out all 95,000 tickets in ten minutes. Scalpers were looking for 500,000 yen a piece for the tickets.
Discography
Singles
Original Albums
Best Albums
Live Albums
Remix Albums
Other Albums
External Links