Welcome to the
new Generasia
, now with new features and a mobile-friendly browsing experience. Be sure to check out our
Facebook page
for the latest changes and to interact with thousands of fans worldwide just like you!
BOW WOW
From generasia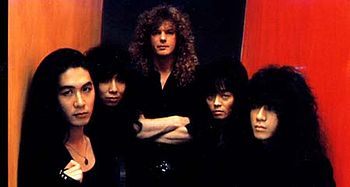 BOW WOW is a Japanese heavy metal band formed in 1975. In 1984 they changed name to VOW WOW and relocated to the United Kingdom in 1987. Band disbanded in 1990, when vocalist Genki Hitomi wanted to start a family.
Yamamoto Kyoji and Niimi Toshihiro in 1995 reunited as BOW WOW and continue to perform.
Members
Former Members
Discography
Albums
EPs
Live Albums
Other Albums
Singles
Compilations
VHS
DVDs
External Links