User registrations have now been re-enabled. If you previously had an account and logged in via OpenID, please create a new account. Thank you!
Denkishiki Karen Ongaku Shuudan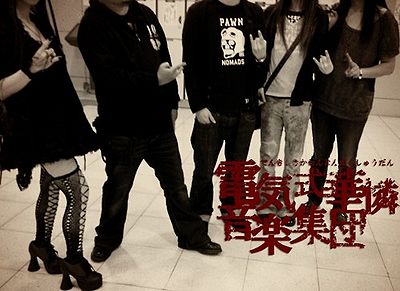 Denkishiki Karen Ongaku Shuudan (電気式華憐音楽集団), more commonly known as DenKare (電華), is a female-fronted Japanese gothic metal band formed in 2001, in Tokyo, Japan. They are relatively unknown because most of their songs are produced for hentai games, most often for guro-themed ones by the company Black Cyc. Recently they produced their first independent songs not related to games.
Denkishiki Karen Ongaku Shuudan means Electric-type Karen Music Group, where Karen refers to the female vocalist. Although official biographic sources keep her real name and birth year a secret, Karen is strongly believed to be another stage persona of Itsuki Yui, who is the vocalist and frontwoman of the gothic metal/electronic band Yousei Teikoku under the stage name Yousei Yui, literally Fairy Yui. Both bands are part of the Team Fairithm musical project, and Yousei Teikoku occasionally does covers of DenKare songs when performing live.
Members
Musical style and image
DenKare's musical style is primarily fast-paced metal with a gothic style, but their work contains undertones of electronic and classical music. Lyrical themes often include negative emotions and suffering in line with the guro-themed games they are used in. They referred to their musical style as "New Wave of Death Neko Metal" (neko means cat).
Their album covers are usually anime-styled drawings, often featuring characters from the respective games.
Discography
OST Albums
Singles
Best Albums
Live Albums
Compilations
See also
External links