User registrations have now been re-enabled. If you previously had an account and logged in via OpenID, please create a new account. Thank you!
Hikawa Kiyoshi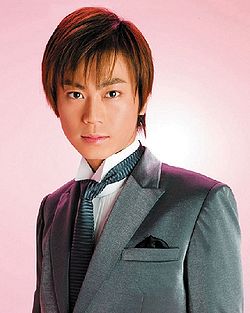 Hikawa Kiyoshi (氷川 きよし) is a popular Japanese Enka singer under Nippon Columbia. He debuted in 2000 and was given his stage name by Kitano Takeshi, otherwise known as "Beat Takeshi" of the comedic duo, Two Beat. The Japanese film director, comedian, and television personality was also one of Kiyoshi Hikawa's early supporters.
Profile
Information
Hikawa Kiyoshi is one of the most popular male Japanese Enka singers in Japan. He is also known as the "Prince of Enka" because of his young age. Unlike most Enka singers, he rarely performs while wearing a kimono. Instead he usually sings dressed in Western clothing. He appeals to a variety of age groups and is popular among people in their twenties who don't usually listen to Enka.
Hikawa Kiyoshi is a semi-regular guest on many Enka-oriented shows, including NHK Song Concert and the annual NHK Kouhaku Uta Gassen. He also records pop music under the name KIYOSHI.
Discography
Albums
Mini-Albums
Singles
DVDs
TV Shows
External Links