New user registrations have been disabled until further notice. If you would like to create an account, please message
Generasia on Facebook
. Thank you!
Ishikawa Hitomi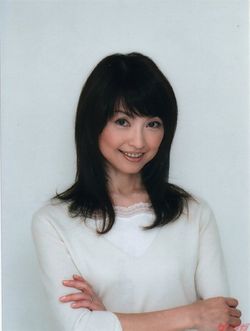 Ishikawa Hitomi (石川ひとみ) is a Japanese singer.
Profile
Married Name: Yamada Hitomi (山田ひとみ)
Nickname: Hicchan (ひっちゃん)
Birthdate: September 20, 1959
Birthplace: Miwa, Aichi Prefecture
Information
Ishikawa Hitomi started her music career when she won the Fuji TV audition "Kimi Koso Star da!" when she was in her second year of high school. She debuted two years later in 1978 on the Pony Canyon sublabel NAV with the single "Migi Muke Migi". Her biggest hit came in 1981 when she released a cover of Miki Seiko's song "Machibuse". During about the same time, she debuted as a voice actress in the anime Purin Purin Monogatari.
In 1987, Ishikawa decided to take a break from a show business for a little while because she contracted Hepatitis B. She would later come back a year later without her former agency Minayo Production. Later on, she would go onto marry musician Yamada Naoki in 1993 and appear regularly on the NHK television show Mother and Kid's Television Time. She has become a regular on various television and variety shows since her comeback in the late 1980s.
Discography
Albums
Singles
Videos
[1983] Tenderly
[1984] Romancing Mystery Ishikawa Hitomi -Hitomi no Naka no Onnatachi (Romancing Mystery 石川ひとみ -瞳の中の女たち)
Photobooks
[1978] Yousei no Tabidachi (妖精の旅立ち)
[1980] Kokoro Hikaerete ~Yasashii Kaze no Kuchizuke~ (こころ魅かれて~やさしい風のくちづけ~)
[1982] Je t'aime
[1984] Kokorogawari... Hitomi no Naka no Onnatachi (心変わり...瞳の中の女たち)
[1993.11.20] Issho ni Ogou yo -Ai ga Sasaeta B Kata Kanen Kokufuku Ki (いっしょに泳ごうよ―愛が支えたB型肝炎克服記)
External Links