New user registrations have been disabled until further notice. If you would like to create an account, please message
Generasia on Facebook
. Thank you!
MOON KANA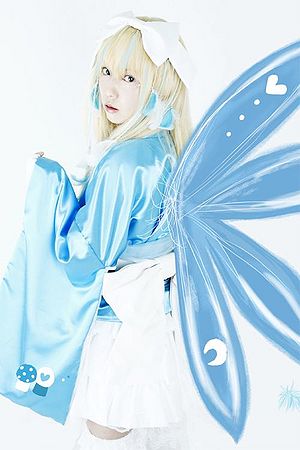 MOON KANA (ムーン香奈) is an indie Japanese rock singer-songwriter known for her unique voice. She is also a a stuffed toy designer and manufacturer, illustrator, fashion designer (and manufacturer), and a established model with her many appearances in the Gothic & Lolita Bible. MOON KANA publishes her music on her own indies label ichigo-SHA, and is also known for her widely different look for each release.
Profile
Names: MOON KANA, MOON-香奈-kana-, Kana (香奈)
Birth Date: January 26, 1982
Height: 156cm (5'1")
Shoe Size: 22cm
Blood Type: A
Hobbies: Taking Photographs, Drawing using a Computer
Favourite Food: Peaches
Favourite Animal: Cat
Favourite Colour: Pink, White, Black
Favourite Flower: Lily of the Valley
Favourite Artist: Madonna
Information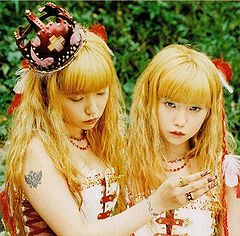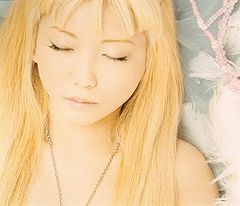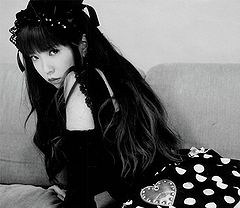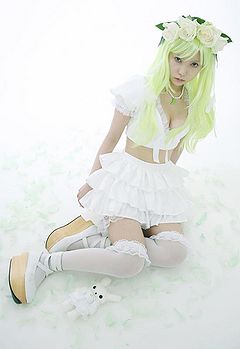 Kana showed an early interest in music at a young age. She began her career as a model for the Gothic & Lolita Bible magazine, and still appears in the magazine regularly as the magazine exposed many new people to Kana, and increased her popularity. In 1996, she ventured into music seriously by singing for an electronic band called Starblues, However, Kana was quickly replaced, due to disagreements between the band members. When she was sixteen she held her first live solo concert; from there took two years for her talent to be recognized.
Kana was offered a deal, accepted, and then signed with the indie label Teichiku Entertainment. Kana released her first single, "Hebi Ichigo". She shocked her listeners with her unusual voice that is often described as "a dying cat".
She then followed with her second single "Chimame". The lyrics to Chimame were written by Kana when she was only seventeen, while she was in one of her classes. Three months later she released her third single, "Kuuchuu Buranko". Exactly a year from her debut single's release date Kana released her debut album, "Doubutsu-teki Ningen".
Only two months after the albums release Kana bounced back with her fourth single, "Niku", which was written in celebration about her graduating from high school.
Kana was unheard from musically for almost a year until November of 2002. On November 24th she had her first double release: the release of her fifth single "Anzen Pin", and the release of her first PV collection, "Kokoro no Mori". The song "Anzen Pin", much like Niku" is a celebration song, but this time it is about Kana turing twenty.
Two months later came the release of her second album, "Kikai-teki Ningen". The album ended up being Kana's last release with Teichiku Entertainment. She then signed to Globule Music Publishers for a short while. Nearly another year passed before any releases from Kana until her first mini-album, "Ningen-teki Ningen". The album covered more types of material then Kana's previous releases. Kana then left the Globule Music Publishers label after the album's release.
Kana then went on another unofficial hiatus. During this time Kana was featured in a film by Otsuki Kenji called "Natsumi-san". (It was later stated by Kana that the film was never released[1]). Two years passed before the release of Kana's third album "Spade" in 2005, which was Kana's first release on her own label Ichigo-SHA. All the lyrics and music on the album were written by Kana and arranged by Sakaide Masami.
Not much was heard from Kana until late 2006 when she announced her European tour. She headlined shows in France, Sweden, Finland, and Germany. The tour started on October 8th at "GLAZ' ART" in Paris, France. The tour went well into mid 2007.
Around April Kana started posting in her blog that she had begun writing new songs and would release a new album in July. Through her blog she kept fans well-updated with news of the release. The album was finished on June 12th 2007 and titled "Tsuki no Usagi", with a total of ten tracks. "Tsuki no Usagi" was available for pre-order on June 25th through Kana's official site and distributed later to retailers on July 3rd.
Discography
Albums
Mini-Albums
Singles
VHS
References
External Links