Generasia would not be what it is today without the countless contributions by both staff and members alike! Thank you for all that you do!!
RURUTIA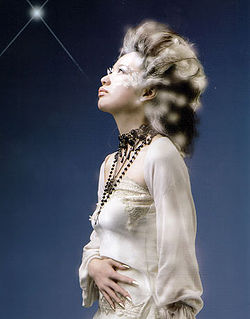 RURUTIA is a Japanese pop singer signed to Phoenix Records. Her real name and age are unknown. Her stage name is derived from the Tahitian word for "blissful rain".
She debuted in 2001 with her maxi-single Itoshigo yo. She has so far released 10 singles, 7 albums and 4 mini-albums. Most of her music is very soothing and calm. She has deep and serious lyrics (some of which present feelings of loss and recovering), and emphasizes strongly on the melody of her songs as well.
Career
Rise of RURUTIA
All that is known about RURUTIA are the statistics of her current career. In 2001, on a deal with Toshiba-EMI, she released her first single Itoshigo yo on October 6th. The single did fairly well due to a music video, and was followed soon after with Lost Butterfly, which would become her best-selling single. With two hit songs under her belt, RURUTIA released her first album R° on March 6th, 2002.
Even with only two released singles from the album, R° did extremely well in the Japanese music market. RURUTIA quickly released her third single, Yuruginai Utsukushii Mono on June 26th, 2002. Three months after this, she released Suzaku no Sora, a more rock oriented song for her style, featured on the CD single was a short film directed and written by RURUTIA. In January 2003, RURUTIA released Shine, which was soon followed by her second full length album, Water Forest. Ten months after the release of Water Forest, the single Träumerei hit the market and wass the only single from Water Forest. After a ten month, RURUTIA released a new single, Primary, followed closely by her next album, Meme.
With the help of arranger Satoh Taka, RURUTIA and Satoh collaborate on Umezu Kazuo Gekijou RURUTIA Tracks, a musical soundtrack for a Japanese short horror film, featuring RURUTIA songs redone and remixed.
Departure from Toshiba-EMI
In mid 2005, RURUTIA made the decision to leave Toshiba-EMI for a lesser known record company, Phoenix Records, due to creative differences and lack of control. Her first single on the new label, Spinel, was released November 11th, 2005, to an anxious fanbase. After two other singles, Hohoemi no Maria and Reirei Tenohira, RURUTIA released her first album under her new company, Chorion. This album had more promotion than her releases under Toshiba-EMI. Not only did she promote using her first photobook, but she also did her first interview. In addition to the three singles released previously, this album included six new tracks in addition to five instrumental versions, which included RURUTIA's previous singles Spinel and Hohoemi no Maria and three songs from the album.
In June 2007, RURUTIA released her first mini-album, Opus, which contained three new songs, Opus, Ryuukou, and Hoshi to Hane, as well as ballad versions of Mizugeshiki Hoshi Moyou, Itoshigo yo, and Arabesque. The mini-album also included music box versions of two of the new songs, Opus and Ryuukou. On April 30th, 2008 she released her second mini-album, Hyousa. It features two new songs, Hyousa and Muyuuka, as well as music box versions of the two songs and ballad versions of Opus, Gin no Honoo, Hoshi no Tamashii, and Reirei Tenohira. She released her first full album for three years in February 2009, Seirios, containing the two songs Opus and Hyousa, from her mini-albums. This album would follow on the ethereal style used in Water Forest.
It has also been reported that she contributed to the soundtrack for the horror movie Kuchisake Onna 2, the prequel to Kuchisake Onna.
RURUTIA maintains her mystery by doing no TV interviews, very few photoshoots, and limited music videos. This intrigues her fans and keep people guessing for what is coming next.
Discography
Albums
Mini-Albums
Singles
Digital Singles
Compilations / Other
External Links