Due to an influx of spam accounts getting through and joining the site, user registrations have once again been disabled until further notice as we work on a different solution.
Soroban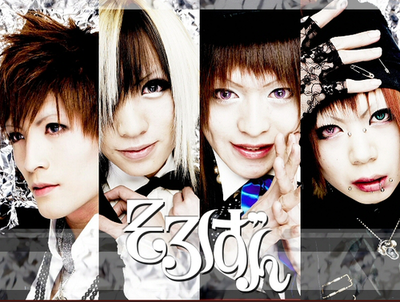 Soroban (そろばん; Abacus) was an indies oshare-kei rock band. They started in April of 2004, having changed their name from Primrose, and played their first live as Soroban on June 17th at Ikebukuro CYBER. During this live they distributed the single "Shirokuro Radio" for free. Soroban ended activities on August 2nd, 2006 after their concert at Shibuya ga Taihen.
Members
Biography
The members of Soroban started making music when they were in their early teens. They began learning how to play instruments during their pre-teen phases, and through school activities (classes, music clubs, etc.) they got to know each other. In the beginning of 2002 Yumehito, the guitarist and the leader, decided to form a band called Primrose together with vocalist Ryuuji, bassist Tatsuhi, and drummer Yuuya. The bands first live was on June 6th at NAGOYA MUSIC FARM.
Despite their young ages (between the ages of 14-16), they had managed to achieve a bit of success. Their first and only single, "Shingetsu -Yami-", was released on November 15th but was available only through mail-order and lives. Yumehito wrote all the lyrics and music for Primrose, and throughout their career they had seven songs. The band was live-orientated (they performed a lot); in the beginning they performed at teenaged talent shows and such, but later on they performed in bigger events.
Two years later since the formation of Primrose, they changed their name to Soroban in April of 2004. As Primrose they had only participated in small events and didn't appear in any magazines. But as Soroban they seemed determined to make it big. With a new name, a new look and with new songs, they had started all over again.
Soroban's first live was on June 17th at Ikebukuro CYBER, during which they distributed 100 copies of the single "Shirokuro Radio". The next day the band performed at Takadanobaba CLUB PHASE where they again distributed "Shirokuro Radio", but only 30 copies. The single was produced by Shun of DuelJewel.
During the next three months the band played lives at various venues, and on October 6th Soroban played their first one-man at Akasaka LAN. This free one-man was reserved completely through pre-orders. A month later on November 1st, they released their first 'real' single "-RAM- / Orange Tegami". It ranked #7 on the indies Oricon chart, and sold out quickly. On Decmeber 12th, a second pressing was made and released.
During the year of 2005, Soroban mainly performed lives. Some notable dates are: March 20th the band distributed the single "Momoiro Ichigo" during the Meguro Rock-may-kan one-man live, May 11th the band sold the MD single "Char", June 17th the band sold the MD single "Charlie" (both MD singles were also available by mail-order), and on August 5th the band distributed the single "Misui" at the Takadanobaba AREA one-man live. After the released of those four live/mail-order only singles, Soroban released a normal single again on August 24th, "Sora ni Hanabi".
In late 2005 they joined the record label DANGER CRUE RECORDS, where they created their own sub-label SKY CRUE RECORDS. Starting in January of 2006, Soroban started releasing a lot of new material on their own label. It started with the mini-album "Gekisai Chapel" released on the 11th, and it included re-recorded and re-arranged songs from their previous releases. After that was three singles released in the consecutive months, "Koudo Gestalt" (January), "Ginrei Hydration" (Febraury), and "Kinmei Nouzenharen" (March). They were all promoted with many one-man concerts.
In July of 2006 the band announced on their official website that they would disband in August, and cited 'musical differences' as the reason. After a little more than two years as Soroban, they had their last concert on August 2nd at Shibuya ga Taihen.
Since the disbandment, Yumehito briefly became the support guitarist and then a full-fledged member of Ayabie. Ryuuji and Tatsuhi formed a new band called Zoro, which Yuuya soon joined.
Discography
Mini-Albums
Singles
Other / Distributed Singles
Compilations
External Links