It is thanks to each and every one of you that has made Generasia the largest resource for Asian media info. To our wonderful contributors, thank you!
Tata Young
From generasia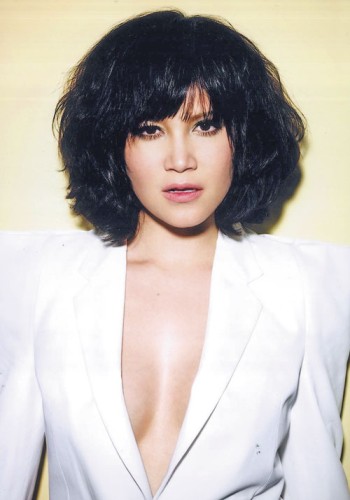 Tata Young is a String (Thai Pop) singer and actress. She won a national singing contest at 11 years old which helped her get her first professional recording contract at 14. She makes music in both Thai and English. She is also voted as one of the Top Ten most influtiential Thai. Her song "Sexy, Naughty, Bitchy" was changed into "Sexy, Naughty, Cheeky" in Malaysia.
Most recently, her song "Zoom" was rerecorded in Simlish for an expansion pack of the computer game The Sims 2.
Profile
Name: Tata Young
Birth Name: Amita Marie Young
Birthday: December 14, 1980
Hair: Dark Brown
Ethnicity: Half Thai, half American
Label: GMM Grammy (1995-2000) - TERO Records (2001-2003) - Sony Music (2004-present)
Thai Discography
Studio Albums
Split Albums
Compilation Albums
Soundtrack & Collaboration Albums
Remix Albums
Singles
1995 : โอ๊ะ…โอ๊ย
1995 : พรุ่งนี้ไม่สาย
1995 : รบกวนมารักกัน
1995 : ขอได้ไหม
1997 : ซักกะนิด
1997 : ขอถามสักหน่อย
1997 : รักเธอได้ไหม
2001 : ช็อต
2001 : อา-โบ-เด-เบ
2003 : Super แฟน (Super Man)
2003 : อยากเก็บเธอไว้ทั้งสองคน (I Need the Both of You)
2003 : อย่าถือสา
2003 : อีกนิดนะ
2003 : ผิดไหมที่ฉันไม่กลับไปรักเธอ
2005 : Dangerous (feat. Thaitanium)
2005 : Shinning (เธอคือ) (feat. Nop Pornchamni)
2005 : Completely (ยอม)
2005 : Hey Ma Ma Say
2008 : One Love
2008 : Cause of Sadness (ต้นเหตุแห่งความเศร้า)
2008 : Living Creature... Without a Heart (สิ่งมีชีวิต...ไม่มีหัวใจ)
2008 : I'll Be Your First, Your Last, Your Everything
2012 : Tinh Ve Noi Dau (Tình Về Nơi Đâu; Where Do We Go)
Video Releases
Japanese Discography
Albums
DVDs
English Discography
Studio Albums
Extended Plays
Remix Albums
Singles
Filmography
1997 : The Red Bike Story (จักรยานสีแดง)
1998 : O-Negative
2002 : ปลายเทียน (The Candle) (Television)
2009 : Bitter/Sweet
External Links
Tata Young
Songs · Images
Thai Studio Albums
Thai Mini-Albums
Thai Compilation Albums
Thai Soundtrack & Collaboration Albums
Thai Remix Albums
English Studio Albums
Other English Albums
Video Releases
Official Website