New user registrations have been disabled until further notice. If you would like to create an account, please message
Generasia on Facebook
. Thank you!
Ujuleul Julge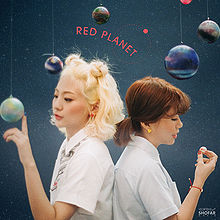 Artist

Song

Ujuleul Julge (우주를 줄게; Galaxy)

Lyrics

Music

Other Information

Arrangement: Vanilla Man
Acoustic Guitar: Vanilla Man
Electric Guitar: Lee Seung Yeop
Bass: Lee Dong Hyung
Information
"Ujuleul Julge" is a song recorded by Bolbbalgan4. It can be found as track #1 on their first studio album RED PLANET.
Gaon Chart Positions
Digital Chart
Based on download, streaming and BGM charts.
| Year | Week | Rank |
| --- | --- | --- |
| 2016 | 36 | 20 |
| 2016 | 37 | 26 |
| 2016 | 38 | 12 |
| 2016 | 39 | 3 |
| 2016 | 40 | 2 |
| 2016 | 41 | 3 |
| 2016 | 42 | 4 |
| 2016 | 43 | 5 |
| 2016 | 44 | 4 |
| 2016 | 45 | 7 |
| 2016 | 46 | 8 |

| Year | Week | Rank |
| --- | --- | --- |
| 2016 | 47 | 7 |
| 2016 | 48 | 8 |
| 2016 | 49 | 14 |
| 2016 | 50 | 12 |
| 2016 | 51 | 18 |
| 2016 | 52 | 14 |
| 2016 | 53 | 15 |
| 2017 | 1 | 27 |
| 2017 | 2 | 24 |
| 2017 | 3 | 25 |
| 2017 | 4 | 27 |

| Year | Week | Rank |
| --- | --- | --- |
| 2017 | 5 | 29 |
| 2017 | 6 | 22 |
| 2017 | 7 | 24 |
| 2017 | 8 | 22 |
| 2017 | 9 | 24 |
| 2017 | 10 | 23 |
| 2017 | 11 | 24 |
| 2017 | 12 | 23 |
| 2017 | 13 | 19 |
| 2017 | 14 | 26 |
| 2017 | 15 | 30 |

| Year | Week | Rank |
| --- | --- | --- |
| 2017 | 16 | 33 |
| 2017 | 17 | 38 |
| 2017 | 18 | 34 |
| 2017 | 19 | 37 |
| 2017 | 20 | 41 |
| 2017 | 21 | 40 |
| 2017 | 22 | 50 |
| 2017 | 23 | 47 |
| 2017 | 24 | 44 |
| 2017 | 25 | 45 |
| 2017 | 26 | 44 |

| Year | Week | Rank |
| --- | --- | --- |
| 2017 | 27 | 44 |
| 2017 | 28 | 48 |
| 2017 | 29 | 52 |
| 2017 | 30 | 48 |
| 2017 | 31 | 59 |
| 2017 | 32 | 57 |
| 2017 | 33 | 64 |
| Year | Month | Rank |
| --- | --- | --- |
| 2016 | August | - |
| 2016 | September | 5 |
| 2016 | October | 2 |
| 2016 | November | 5 |
| 2016 | December | 17 |

| Year | Month | Rank |
| --- | --- | --- |
| 2017 | January | 23 |
| 2017 | February | 22 |
| 2017 | March | 21 |
| 2017 | April | 33 |
| 2017 | May | 36 |

| Year | Month | Rank |
| --- | --- | --- |
| 2017 | June | 47 |
| 2017 | July | 46 |
Download Chart
| Year | Week | Rank | Sales |
| --- | --- | --- | --- |
| 2016 | 36 | 5 | 84,544 |
| 2016 | 37 | 20 | 51,493 |
| 2016 | 38 | 8 | 63,269 |
| 2016 | 39 | 2 | 116,197 |
| 2016 | 40 | 3 | 137,831 |
| 2016 | 41 | 6 | 102,383 |
| 2016 | 42 | 9 | 88,284 |
| 2016 | 43 | 6 | 76,243 |
| 2016 | 44 | 4 | 70,365 |
| 2016 | 45 | 18 | 61,958 |
| 2016 | 46 | 13 | 56,344 |

| Year | Week | Rank | Sales |
| --- | --- | --- | --- |
| 2016 | 47 | 8 | 52,468 |
| 2016 | 48 | 14 | 50,341 |
| 2016 | 49 | 20 | 48,251 |
| 2016 | 50 | 19 | 43,078 |
| 2016 | 51 | 22 | 42,579 |
| 2016 | 52 | 20 | 48,496 |
| 2016 | 53 | 18 | 43,794 |
| 2017 | 1 | 32 | 42,807 |
| 2017 | 2 | 29 | 39,100 |
| 2017 | 3 | 31 | 36,550 |
| 2017 | 4 | 27 | 39,118 |

| Year | Week | Rank | Sales |
| --- | --- | --- | --- |
| 2017 | 5 | 29 | 38,158 |
| 2017 | 6 | 21 | 37,973 |
| 2017 | 7 | 23 | 37,789 |
| 2017 | 8 | 27 | 37,866 |
| 2017 | 9 | 32 | 40,591 |
| 2017 | 10 | 25 | 34,591 |
| 2017 | 11 | 25 | 33,796 |
| 2017 | 12 | 32 | 33,116 |
| 2017 | 13 | 23 | 32,892 |
| 2017 | 14 | 31 | 34,484 |
| 2017 | 15 | 27 | 32,439 |

| Year | Week | Rank | Sales |
| --- | --- | --- | --- |
| 2017 | 16 | 33 | 32,036 |
| 2017 | 17 | 45 | 31,495 |
| 2017 | 18 | 33 | 33,393 |
| 2017 | 19 | 40 | 29,078 |
| 2017 | 20 | 44 | 30,205 |
| 2017 | 21 | 37 | 30,351 |
| 2017 | 22 | 54 | 29,203 |
| 2017 | 23 | 46 | 27,762 |
| 2017 | 24 | 45 | 28,228 |
| 2017 | 25 | 45 | 28,262 |
| 2017 | 26 | 46 | 28,301 |

| Year | Week | Rank | Sales |
| --- | --- | --- | --- |
| 2017 | 27 | 41 | 26,488 |
| 2017 | 28 | 47 | 25,918 |
| 2017 | 29 | 46 | 26,232 |
| 2017 | 30 | 44 | 26,272 |
| 2017 | 31 | 58 | 26,351 |
| 2017 | 32 | 51 | 25,752 |
| 2017 | 33 | 62 | 24,491 |
| Year | Month | Rank | Sales |
| --- | --- | --- | --- |
| 2016 | August | 101 | x |
| 2016 | September | 4 | 379,389 |
| 2016 | October | 4 | 371,641 |
| 2016 | November | 11 | 230,280 |
| 2016 | December | 20 | 198,116 |

| Year | Month | Rank | Sales |
| --- | --- | --- | --- |
| 2017 | January | 33 | 173,326 |
| 2017 | February | 22 | 153,014 |
| 2017 | March | 22 | 153,099 |
| 2017 | April | 35 | 140,515 |
| 2017 | May | 39 | 134,479 |

| Year | Month | Rank | Sales |
| --- | --- | --- | --- |
| 2017 | June | 50 | 121,084 |
| 2017 | July | 42 | 116,508 |
Total Reported Sales: 2,299,006*
Total Reported Sales of 2016: 1,237,970 (#23 of 2016)