Generasia would not be what it is today without the countless contributions by both staff and members alike! Thank you for all that you do!!
Yamaguchi Momoe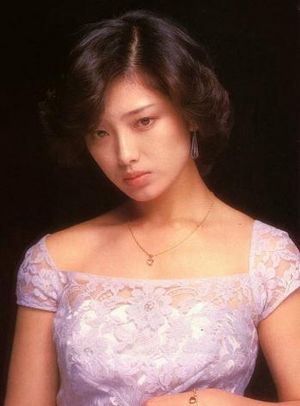 Yamaguchi Momoe (山口百恵) is a former Japanese kayokyoku singer, actress and idol whose career lasted from 1972 to 1980. She is one of the most notable singers in Japanese music history with several songs that are frequently covered to this day. She is also notable as an actress in the Akai drama series. Yamaguchi secured her legacy by bowing out of the entertainment business at the peak of her career to marry her frequent costar, fellow actor Miura Tomokazu. Even to this day, almost 30 years after her retirement, she still commands public interest with constant inquiries about her coming back.
Profile
Information
Yamaguchi was born in Tokyo, Japan in 1959. Around the time she was born, she was left in the care of her maternal grandparents, of which she has said she has many fond memories. Around 4-years-old, she was returned to her parents and the family then moved to Yokohama. At an early age, her father left her mother as a single parent to her two daughters, Yamaguchi and her little sister Toshie. The family moved once again to Yokosuka, where they would stay until Yamaguchi rose to stardom. It is the place she considers home, shown in one of her most popular album tracks, "I CAME FROM Yokosuka", from her 11th album, Momoe Hakusho.
Yamaguchi appeared on the idol talent search television show Star Tanjou at the age of 13. She sung the children's song "Kaiten Mokuba". Though she only came in second place, she still received several deals, and chose a record contract releasing under CBS/Sony.
Her first single titled "Toshigoro", coupled with her first movie of the same name, did not fare very well, peaking at a low #37 on the Oricon weekly chart. It wasn't until her second single, "Aoi Kajitsu", that she really became popular. That single broke the top 10 and peaked at number 9. Yamaguchi fans and Japanese pop culture historians alike have accredited the suggestive lyrics of the song to its success. A rough summary of the chorus goes, "You can do what ever you want with me, it's okay if rumors spread that I'm a bad girl", all of this coming from a 13-year-old Yamaguchi. This trend carried on in her career for quite a while. One of her biggest hits, and most memorable songs to this day is her fifth single, "Hito Natsu no Keiken", which includes lyrics like "I'll give you the most precious thing a girl has" and "Everyone does it at least once, the entrapment of temptation".
As time went on, Yamaguchi gained more and more control over her career and strayed away from the songs with suggestive lyrics and went for songs more about a woman being strong and ready to support herself. These changes produced some of her most popular and memorable hits, such as "Cosmos", "Ii Hi Tabidachi", and "Sayonara no Mukougawa", all of which are all covered frequently to this day. The most popular single she ever released was "Yokosuka Story" in 1976, which sold over 600,000 copies and peaked at number one on the charts.
With an ever-growing popularity in the music industry, she had the same result in film. Her second film, Izu no Odoriko, based on the novel by Kawabata Yasunari, introduced her to Miura Tomokazu. Though Yamaguchi at the time was just 14, and Miura 22, they hit it off and had great screen chemistry. They starred in a total of 14 of her 17 movies together, one every winter and summer.
Near the end of her career, Yamaguchi became very sophisticated in her music. Much like The Beatles' career in that they started out without much artistic experimentation and ending with influential musical production, Yamaguchi's later career possesses many changes which are not typical of pop idols. Because she wanted to make a rock song before she ended her career, "Rock 'n' Roll Widow" was brought out. It was a popular single, which was included on the concept album Moebius's Game. Her 21st album, Phoenix Densetsu, was in fact written as a rock opera. Her 12th and 18th albums, GOLDEN FLIGHT and L.A. Blue, which were both recorded overseas (London and Los Angeles respectively) include heavy influences of music of the country it was recorded in. The overall sound of her later songs and albums have a much more mature and complex sound than her early songs.
With constant on-screen romance between Yamaguchi and Miura, an off-screen romance grew. During a trip to Hawaii in early 1979, Miura proposed to Yamaguchi. She accepted, and she also said that she would retire from the entertainment industry to do so. Yamaguchi officially announced their relationship at a concert in October 1979, and the official announcement about their marriage date and her retirement was made in March 1980. Only eight months after the announcement, she had her farewell concert at Nippon Budokan on October 5, 1980, released her last album, This is my trial, on October 21, 1980, and released her last single, "Ichi E", on November 19, 1980.
On October 15, 1980, Yamaguchi officially retired from show business, and on November 19, 1980, Yamaguchi and Miura were married. Though rumors have been circulating since her retirement that she would come back, she has kept to being a housewife and a mother to two sons. Her eldest son, Miura Yutaro, is currently the vocalist and guitarist of the band Peaky SALT (under the name Yu), and her second son, Miura Takahiro, is an actor.
Discography
Albums
Singles
Filmography
Films
Dramas
External Links