New user registrations have been disabled until further notice. If you would like to create an account, please message
Generasia on Facebook
. Thank you!
You(=I)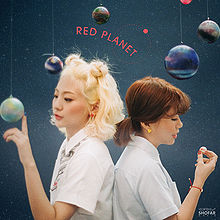 Artist

Song

You(=I)

Lyrics

Music

Other Information

Arrangement: Vanilla Man
Acoustic Guitar: Vanilla Man
Electric Guitar: Lee Seung Yeop
Chorus: Ahn Jiyoung, Vanilla Man
Information
"You(=I)" is a song recorded by Bolbbalgan4. It can be found as track #3 on their studio album RED PLANET.
Gaon Chart Positions
Digital Chart
Based on download, streaming and BGM charts.
| Year | Week | Rank |
| --- | --- | --- |
| 2016 | 36 | - |
| 2016 | 37 | - |
| 2016 | 38 | 110 |
| 2016 | 39 | 100 |
| 2016 | 40 | 53 |
| 2016 | 41 | 59 |
| 2016 | 42 | 70 |
| 2016 | 43 | 54 |
| 2016 | 44 | 50 |
| 2016 | 45 | 61 |
| 2016 | 46 | 49 |

| Year | Week | Rank |
| --- | --- | --- |
| 2016 | 47 | 49 |
| 2016 | 48 | 54 |
| 2016 | 49 | 63 |
| 2016 | 50 | 64 |
| 2016 | 51 | 63 |
| 2016 | 52 | 50 |
| 2016 | 53 | 40 |
| 2017 | 1 | 58 |
| 2017 | 2 | 55 |
| 2017 | 3 | 59 |
| 2017 | 4 | 51 |

| Year | Week | Rank |
| --- | --- | --- |
| 2017 | 5 | 56 |
| 2017 | 6 | 45 |
| 2017 | 7 | 44 |
| 2017 | 8 | 46 |
| 2017 | 9 | 55 |
| 2017 | 10 | 45 |
| 2017 | 11 | 42 |
| 2017 | 12 | 50 |
| 2017 | 13 | 43 |
| 2017 | 14 | 48 |
| 2017 | 15 | 52 |

| Year | Week | Rank |
| --- | --- | --- |
| 2017 | 16 | 64 |
| 2017 | 17 | 66 |
| 2017 | 18 | 63 |
| 2017 | 19 | 73 |
| 2017 | 20 | 73 |
| 2017 | 21 | 68 |
| 2017 | 22 | 78 |
| 2017 | 23 | 76 |
| 2017 | 24 | 75 |
| 2017 | 25 | 73 |
| 2017 | 26 | 82 |

| Year | Week | Rank |
| --- | --- | --- |
| 2017 | 27 | 83 |
| 2017 | 28 | 83 |
| 2017 | 29 | 83 |
| 2017 | 30 | x |
| Year | Month | Rank |
| --- | --- | --- |
| 2016 | August | - |
| 2016 | September | 103 |
| 2016 | October | 52 |
| 2016 | November | 54 |
| 2016 | December | 60 |

| Year | Month | Rank |
| --- | --- | --- |
| 2017 | January | 58 |
| 2017 | February | 44 |
| 2017 | March | 43 |
| 2017 | April | 61 |
| 2017 | May | 68 |

| Year | Month | Rank |
| --- | --- | --- |
| 2017 | June | 79 |
| 2017 | July | x |
Download Chart
| Year | Week | Rank | Sales |
| --- | --- | --- | --- |
| 2016 | 36 | 41 | 28,134 |
| 2016 | 37 | 122 | x |
| 2016 | 38 | 89 | 14,857 |
| 2016 | 39 | 69 | 19,166 |
| 2016 | 40 | 33 | 33,043 |
| 2016 | 41 | 54 | 31,003 |
| 2016 | 42 | 60 | 27,882 |
| 2016 | 43 | 47 | 26,822 |
| 2016 | 44 | 42 | 26,604 |
| 2016 | 45 | 57 | 25,199 |
| 2016 | 46 | 54 | 23,666 |

| Year | Week | Rank | Sales |
| --- | --- | --- | --- |
| 2016 | 47 | 45 | 23,202 |
| 2016 | 48 | 48 | 23,165 |
| 2016 | 49 | 64 | 23,329 |
| 2016 | 50 | 70 | 21,260 |
| 2016 | 51 | 69 | 21,891 |
| 2016 | 52 | 47 | 27,427 |
| 2016 | 53 | 47 | 26,132 |
| 2017 | 1 | 57 | 25,914 |
| 2017 | 2 | 62 | 24,006 |
| 2017 | 3 | 61 | 22,868 |
| 2017 | 4 | 54 | 24,317 |

| Year | Week | Rank | Sales |
| --- | --- | --- | --- |
| 2017 | 5 | 60 | 24,780 |
| 2017 | 6 | 40 | 27,468 |
| 2017 | 7 | 45 | 26,755 |
| 2017 | 8 | 44 | 28,425 |
| 2017 | 9 | 51 | 28,960 |
| 2017 | 10 | 47 | 24,714 |
| 2017 | 11 | 45 | 24,677 |
| 2017 | 12 | 53 | 24,421 |
| 2017 | 13 | 48 | 24,554 |
| 2017 | 14 | 52 | 25,710 |
| 2017 | 15 | 54 | 24,084 |

| Year | Week | Rank | Sales |
| --- | --- | --- | --- |
| 2017 | 16 | 67 | 23,768 |
| 2017 | 17 | 74 | 22,987 |
| 2017 | 18 | 69 | 23,871 |
| 2017 | 19 | 73 | 20,974 |
| 2017 | 20 | 80 | 22,244 |
| 2017 | 21 | 76 | 22,673 |
| 2017 | 22 | 84 | 22,041 |
| 2017 | 23 | 81 | 20,562 |
| 2017 | 24 | 77 | 21,381 |
| 2017 | 25 | 78 | 21,500 |
| 2017 | 26 | 90 | 21,503 |

| Year | Week | Rank | Sales |
| --- | --- | --- | --- |
| 2017 | 27 | 83 | 20,155 |
| 2017 | 28 | 82 | 20,349 |
| 2017 | 29 | 78 | 20,766 |
| 2017 | 30 | x | x |
| Year | Month | Rank | Sales |
| --- | --- | --- | --- |
| 2016 | August | - | - |
| 2016 | September | 70 | 83,591 |
| 2016 | October | 38 | 124,592 |
| 2016 | November | 47 | 101,030 |
| 2016 | December | 54 | 106,561 |

| Year | Month | Rank | Sales |
| --- | --- | --- | --- |
| 2017 | January | 63 | 107,356 |
| 2017 | February | 42 | 109,512 |
| 2017 | March | 43 | 111,324 |
| 2017 | April | 63 | 103,925 |
| 2017 | May | 73 | 98,544 |

| Year | Month | Rank | Sales |
| --- | --- | --- | --- |
| 2017 | June | 79 | 91,390 |
| 2017 | July | x | x |
Total Reported Sales: 1,136,031*
Live Performances
External Links