It is thanks to each and every one of you that has made Generasia the largest resource for Asian media info. To our wonderful contributors, thank you!
Yumiko Cheng
From generasia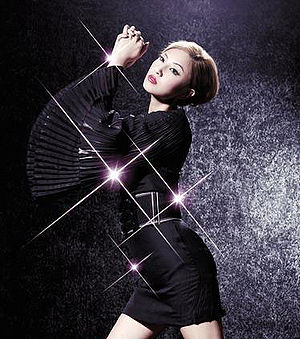 Yumiko Cheng Hei Yee (鄭希怡) is a popular Hong Kong Cantopop singer and actress. Yumiko is best known for her deep voice and for her "sexy yet innocent" style. Her musical style had always had a dance/hip-hop sound until the release of Yumiko's Space which had a heavy '80's influenced synth-pop sound.
Profile
Name: Yumiko Cheng Hei-yee (鄭希怡)
Birth Name: Lie Qiongzheng
Stage Name: Yumiko Cheng
Birth Date: September 9th 1981
Information
Early Life to EEG
Yumiko was born on September 6th 1981 as Lie Qiong Zheng. She moved to Hong Kong with her family when she was 11. When she was 13 she started taking singing lessons when she was 13 from pop singer Elisa Chan.
It was around this time when Yumiko was able to appear in a couple of films. This was because of her father, who worked for a movie and advertising compainy and often brought Yumiko with him to the film sets. Her first role was as the daughter of an court official who was assassinated in 1992's Dragin Inn and made a small appearance in Centre Stage the same year.
It wasn't until 200 when she got her big break when an excutive of EEG saw her while perfomring at the New Talent Compition. She soon signed with EEG and they gave her the name Yumiko (a Japanese name) as part of the promotion strategy. She was only cast in CM's and was featured as a quest performer at various events over the next two years.
3T to Solo Career
In 2002, Yumiko was a member of the new group 3T together with Mandy and Maggie. They released one album before Cheng emerged as a solo performer later that year with Yumiko the Debut Ep.
It was in June 2003, when she released her major hit second EP, Dance Dance Dance(舞舞舞). She followed up just five months later, with her first album, One2Thre3.
Apart from that, Yumiko has also been the cover girl for many various magazines. She has also become a well established actress. She has been several box office hits and has co-started along side of Joey Yung in the movie The Attractive One.
Although in 2004, Yumiko's appearances have decreased slightly due to health problems. During this time her record company repositioned their strategy, and she bounced back in summer 2005 with her second album, Yumiko's Space. The album was a musical change, it featured a very distinctive 80's synth-pop sound to it, similar to the sounds of Tommy february6. Her other releases had always been pop music with dance and hip-hop influences. The album also only contained one ballad, something that is rarely found in C-Pop.
In 2006 she released her third full-length album, Passion. The album was a mix of her previous albums. Half the tracks had a heavy hip-hop feel while a few still held onto the synth-pop sound from Yumiko's Space.
Only seven months after the release of her third album Yumiko announced her next release. The album would be entitled, New + Best Selection and be Yumiko's first compilation album. The albums booklet is made up of semi-nude photos takne of Yumiko.
Most recently On December 10th 2006, while performing a stunt for TVB's annual Charity Show, her pants were accidentally pulled off by Chin Ka Lok, showing her in her underwear. This event was devistating for Yumiko who has became the talk of the tablods. Some fans are blaming Chin Ka Lok for the incident saying he did it on purpose due to his recent break-up with Lee San San.
Cantonese Discography
Albums
Mini-Albums
Mandarin Discography
Albums