User registrations have now been re-enabled. If you previously had an account and logged in via OpenID, please create a new account. Thank you!
coldrain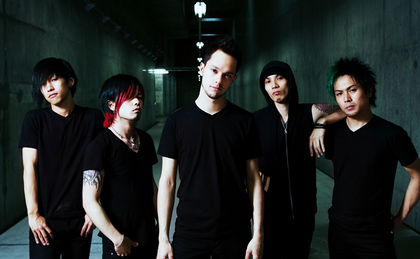 Coldrain are a post hardcore styled Japanese rock band formed in 2007 by all five members. Their music roots are grounded mainly in western rock and metal styles. Mixing hard edged screaming with soft melodic singing from frontman Masato and guitarwork from members Y.K.C, Sugi, RxYxO and the metalcore tinged drumming of Katsuma.
Members
History
Beginnings
The band was formed in 2007 by band members Masato, Y.K.C., Sugi, RxYxO and Katsuma. They play a wide range of western styles within their sound and the lyrics are in complete English and have so far played throughout many places in japan. They released their first single "FICTION" in November of 2008 which many publications termed "A shocking debut!", after which they began their first nationwide tour where they managed to sell out most of the dates throughout the tour playing at places such as CLUB UPSET (Nagoya) and many others. This then paved way to playing on the Japanese Taste of Chaos dates aswell rounding out the rest of the year.
Extended Popularity
The band played dates throughout the beginning of 2009 aswell appearing in a number of well-known rock magazines generating even more exposure for the band appearing as street icons. Summer came and they played at both the SUMMER SONIC09 in Osaka and throughout the Zepp events in Nagoya aswell. They released 2nd maxi-single "8AM" in May of 2009, which they then played 42 shows supporting the new release. Their live exposure seemed unstoppable which garnered even more attention from the band's new fans aswell. Their debut album Final Destination was released in October of '09.
Recent Events
Recently the band released their first Mini Album Nothing Lasts Forever which included 6 new tracks. The song "Die Tommorrow" was released as it's first single whereas "We're Not Alone" was used as the anime Rainbow - Nisha Rokubou no Shichinin opening theme. A new album is to be expected in 2011.
Discography
Albums
Mini Albums
Singles
Digital Singles
Split Singles
Video Releases
Compilations / Other
External Links