New user registrations outside of OpenID have been disabled pending a review of a recent influx of spam accounts. Apologies for any inconvenience this may have caused.
Brown Eyed Girls
From generasia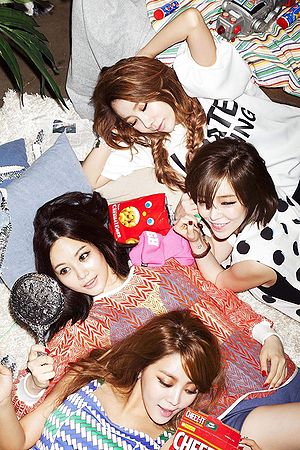 Brown Eyed Girls (브라운 아이드 걸스) is a Korean pop girl group formed by Nega Network, currently signed to the APOP Entertainment label. They have arisen to significant success, beginning with their 2008 hit song "L.O.V.E." and their 2009 mega smash hit "Abracadabra". The choreography for "Abracadabra", dubbed the "Saucy Hip Move", proved immensely popular amongst the public. The song was subsequently parodied by "Dirty Eyed Girls", a parody group formed by select members of 2PM and 2AM.
In Japan, they are signed under Sony Music Japan.
Members
Former Members
Sub-Units
Information
Pre-Debut
Brown Eyed Girls started with their first member JeA who was a member of the group 3point and have been singing OSTs. JeA got a phone call from Nega Network who asked if she wanted to start up a group. JeA is the one responsible of the group's creation and who selected other members, which the first one was Miryo. Miryo was known as a great rapper in well-known hip-hop group Honey Family. Narsha became a member of Brown Eyed Girls after a suggestion by JeA, who had been her friend since their high-school years. The last chosen was Gain she was noticed by Brown Eyed Girls after she was eliminated during auditions for the Korean reality series Let's Coke Play! Battle Shinhwa!. Gain, was seen crying in the bathroom after her failed audition. Ahn Jung Hoon, noticed her and asked her to join. Before debut their was a fifth member Yoari. She auditoned for the girl group Brown Eyed Girls, passed, and was going to debut with the group and be the 5th member of Brown Eyed Girls but Nega Network thought she had more of a rocker image and put her in Sprinkler.
The four members performed several small shows under the name "Crescendo" before officially debuting as Brown Eyed Girls in 2006.
Debut and Modest Success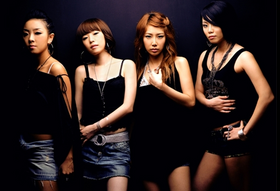 Brown Eyed Girls debuted in March 2006 with the album Your Story after 3 years of training. The album didn't sell as well as expected, but in August it was re-released including 5 new songs, one of them being "Hold The Line". This song samples Sugababes song "Push The Button" and Daft Punk's "Technologic". "Hold The Line", boost the group's popularity and even was included in the soundtrack for the video game Pump it Up.
After a break of almost one year, Brown Eyed Girls returned with their second digital single "Naega Yeoreumida Vol.1" in June 2007, and their second album Tteonara Ms. Kim in September.
Success and Japan Debut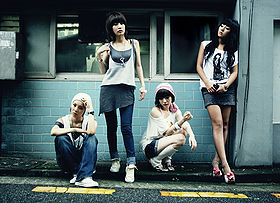 In January 2008, the group released their first mini-album With L.O.V.E. Brown Eyed Girls. The first song chosen to promote the mini-album was "L.O.V.E." which became a big hit Korea.
Brown Eyed Girls's second mini-album My Style was released in September 2008.
On July 20th, 2009, Brown Eyed Girls released their third full-length album Sound-G. In this album was included the song "Abracadabra" which marked a change in the style of the girls from more conservative to a provocative one. In October, a "repackage version" of Sound-G was released. This version was a mini-album featuring 5 songs not included in the original release (which was intended to be a triple CD album, although it was released in a 2-CD format).
At the end of 2009, the group won the award of "Best Female Group" at the Mnet Asian Music Awards. They also released a special mini-album Festa on Ice 2010 released for the music to be used as background music for Kim Yuna's figure skating TV-show Festa On Ice 2010.
They debuted in Japan with their album Sound-G containing the same tracks, plus remixed and a Japanese version of their hit song "Abracadabra".
Sixth Sense - Present
Brown Eyed Girls started promoting their song "Sixth Sense" hoping it will be as successful as their previous song "Abracadabra". Their wishes came true and the song won on both Inkigayo and Music Bank. They released the album of the same name of the lead track on September 27th, 2011.
Less then two months later they released the digital single "Cleansing Cream" with a more of a ballad sound different from their previous releases. Six days later they released a repackage of their album Sixth Sense Repackage.'
After a break of almost one year, Brown Eyed Girls returned with their seventh digital single "Brown Eyed Girls the Original" in July 2012. The group went back to basics and has a sound that their first two albums had.
They released their eighth digital single "Recipe", which was their first release in almost a year. They released their fifth album Black Box on July 29th, 2013.
In November 2013, it was announced that the group would have the first sub-unit, composed by members Miryo and Narsha. The unit is called M&N and debuted in November 11.
Trivia
Official Fanclub: Everlasting
Official Color: Yellow & Black
Korean Discography
Albums
Mini-Albums
Best Albums
Digital Singles
Collaboration Singles
Compilations/Others
Japanese Discography
Albums
Singles
DVDs
Awards
[2006.08.01] Cyworld Digital Music Awards: Song of the Month of July - Hold The Line (feat. Cho PD)
[2006.12.01] 16th Seoul Music Awards - Best Newcomer
[2008.02.22] KBS2 Music Bank K-Chart - L.O.V.E.
[2008.03.01] MBC Show! Music Core Mobile Ranking #1 - L.O.V.E.
[2008.03.02] SBS Inkigayo #1 - L.O.V.E.
[2008.03.09] SBS Inkigayo #1 - L.O.V.E.
[2008.12.10] 23rd Golden Disk Awards: Bongsang Digital - L.O.V.E.
[2009.01.16] Asia Model Festival Awards - Popular Singer Award
[2009.08.14] KBS2 Music Bank K-Chart Digital Ranking #1 - Abracadabra
[2009.08.16] SBS Inkigayo Mobile Ranking - Abracadabra
[2009.08.16] SBS Inkigayo #1 - Abracadabra
[2009.08.20] M.net M! Countdown #1 - Abracadabra
[2009.08.23] SBS Inkigayo #1 - Abracadabra
[2009.08.28] KBS2 Music Bank K-Chart Digital Ranking - Abracadabra
[2009.08.30] SBS Inkigayo Mobile Ranking - Abracadabra
[2009.09.01] Cyworld Digital Music Awards: Song of the Month of August - Abracadabra
[2009.09.01] MeOon Monthly Top 100 of August - Abracadabra
[2009.09.03] M.net M! Countdown #1 - Abracadabra
[2009.11.21] Mn.et Asian Music Awards - Best Girl Group
[2009.11.21] M.net Asian Music Awards: Best House & Electronic Song - Abracadabra
[2009.12.16] MelOn Music Awards - 2009 Top 10
External Links