New user registrations outside of OpenID have been disabled pending a review of a recent influx of spam accounts. Apologies for any inconvenience this may have caused.
Candies (group)
From generasia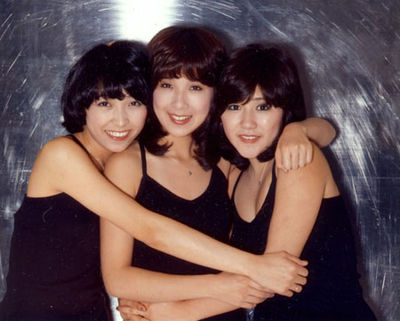 Candies (キャンディーズ) was a Japanese idol trio from 1973 to 1978.
Members
Information
Before Candies was formed, Sue, Ran, and Miki were all school mates at the same high school. They later appeared in 1972 as mascot girls and assistants to the show Kayou Grand Show when the producer spotted them and thought it was a good idea for a idol group. The group formed and got their name, Candies, when the producer thought they were cute enough to eat like candy. They began to appear regularly on various variety shows like Yoji Da yo! Zenin Shuugou starting in 1973. Later that year, the group debuted as a idol singing group with the single "Anata ni Muchuu" but it was not a hit. At first when the group was formed, the group was not thinking of starting a music career but record producers wanted them to have a music career after they spotted them and convinced them to do so with Suu on main vocals. They also started hosting concerts a year later at the Yamano Hall with only 800 concert goers.
Their big hit came two years later in 1975 with the single "Toshishita no Otoko no Ko", hitting the #1 position on the weekly Oricon charts. On the single, their manager thought it was a good idea to changed up the vocals and that let Ran to be on main vocals. Before the year was up, the group appeared on their first appearance on the end of the year program Kouhaku Uta Gassen. They kept on appearing on Kouhaku Uta Gassen years later with the singles "Haru Ichiban" (1976) and "Yasashii Akuma" (1977).
The group released their ninth single in 1977, titled "Haru Ichiban". The single went up to the #3 spot on the Oricon charts but became the theme song of the group. But also, the group faced major competition from a new idol group named Pink Lady starting in the same year. The group's member would be also compared and contrasted with Pink Lady often by the media. For example, the media would always compare Sue with Pink Lady's Kei with appearance and vocals skill. Even thought Candies released the popular singles "Shochuu Omimai Moushiagemasu" and "Yasashii Akuma", it wasn't enough to beat the newly successful Pink Lady.
Candies announced in the summer of 1977 that the group would be breaking up. Even though the group was suppose to break up by the beginning of 1978, the girls delayed the event because of so much outpouring support from fans about them breaking up. Their second final single, "Hohoemi Gaeshi", was their last #1 on the weekly Oricon charts. The group held their final concert during the summer of 1978 and released their final single, "Tsubasa", at the end of 1978. Tsubasa was the first to feature lyrics by Ran. After the band broke up, Ran would go onto becoming an actress and marrying singer Mizutani Yutaka. Sue and Miki went on to have a brief solo career.
The group's popularity grown so much over the years that at their final concert in 1978, there were 55,000 people attending. Thirty years later, they held their reunion concert at the JCB Hall with only 2,000 people attending. Also, many of their songs have covered by various artists like Koizumi Kyoko, C-ute, TAK MATSUMOTO, and Watanabe Misato.
On April 21, 2011, former member and actress, Sue (55) passed away due to breast cancer. She first found the breast cancer in 1992 a year after she got married to a business man, though she didn't reveal it to the public. Even after she received surgery to remove the tumor on her left chest, she still suffered relapses several times. However, she kept receiving treatment every time, and still continued her career as an actress.
On April 24, 2011, Candies members Ran and Miki reunited for Tanaka Yoshiko's funeral, that was held on April 25, 2011.
Discography
Studio Albums
Best Albums
Singles
DVDs
[2006.01.18] Candies Treasure ~Mikoukai Live Eizou~ (キャンディーズ・トレジャー~未公開ライブ映像~ )
[2006.10.25] CANDIES FOREVER
[2006.10.25] Candies Treasure (キャンディーズ・トレジャー)
External Links