Meitantei Conan
From generasia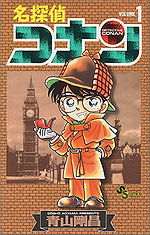 Meitantei Conan (名探偵コナン, Detective Conan, Case Closed), is a Japanese shonen manga written by Aoyama Gosho and published in the Shonen Sunday magazine. The manga is still running and currently has 64 volumes.
In 1996, the story was adapted into anime. It has been a very successful series and there are multiple movies that take place during and after the series.
In 2006, a special dorama was made starring Oguri Shun as Kudo Shinichi. A second episode followed in 2007.
The Story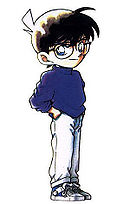 Successful young detective Kudo Shinichi is involved in a very bad situation: gangsters transform his body from 16-year-old high school pupil to a 9-year-old elementary school student. He still has his genious intelligence, which allows him to solve even the most difficult criminal cases.
Characters
Music
Due to Meitantei Conan's extremely long run, the anime has had many different theme songs. Most artists in this list are under the GIZA studio record label. These theme songs are:
Movies
Since 1997, a movie based on the series is screened during the Golden Week of Japan. Because of the series' general popularity in Japan, most of the movies are number one in box office rating at debut, if not for several weeks. The list of movies screened so far includes: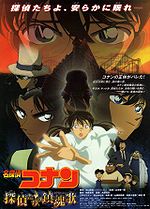 Original Soundtracks
External Links