Tamura Naomi
From generasia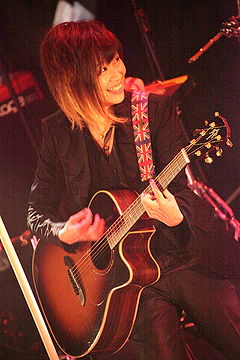 Tamura Naomi (田村直美) is a Japanese rock singer-songwriter, currently signed to Airy Music. She is best known for singing the theme songs for the Magical Knight Rayearth series.
Profile
Name: Tamura Naomi (田村直美)
Alias: SHO-TA
Birthdate: December 11, 1963
Birthplace: Nagoya, Aichi Prefecture
Information
Tamura Naomi first got into show business after her band STEP passed an audition for CBS Records after graduating from high school. The band would later rename itself as PEARL and release many albums. But all the member except Tamura would leave before the decade was up, allowing Tamura to start her solo career a year after in 1991 as PEARL.
She would first debut in 1994 with the single "Jiyuu no Hashi". But, it wasn't till her third single, "Eien no Ichibyou", that Tamura would become a hit singer. Her next single, "Yuzurenai Negai", was used in the anime Magical Knight Rayearth and became Tamura's first million copies seller. She would make her first appearance to the end of the year program Kouhaku Uta Gassen in 1995.
In 1997, her old band PEARL would see a revival and would bring new members to scene. Several years later in 2003, Naomi changed labels from Universal Music Japan to Crown Record. She would keep on jumping from record label to record label until she settle down with Airy Music in 2005. She would also formed the unit Mother with Ichiro and Grace.
In 2007, she released the best album tamuranaomi AKA sho-ta sho-ta AKA tamuranaomi to celebrate her 20 years in music. She also headed an anniversary tour, "LIVE A GO GO! 008 sho-ta a.k.a tamuranaomi tamuranaomi a.k.a sho-ta ~20th Anniversary special~", on the same day of the release of her best album. Two years later, Tamura would make her first American appearance at Otakon 2009.
Discography
Albums
Best Albums
Live Albums
Singles
Compliations / Others
VHS / DVD
External Links