Due to an influx of spam accounts getting through and joining the site, user registrations have once again been disabled until further notice as we work on a different solution.
Anzai Kalen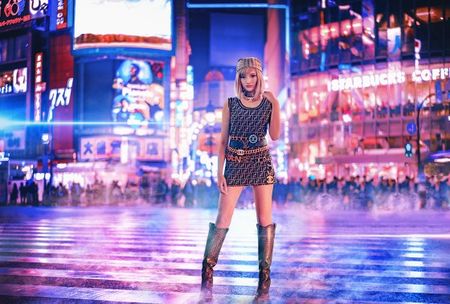 Anzai Kalen (安斉かれん) is a Japanese pop singer under avex trax.
Profile
Information
Debut, 'Immersive Society 3.0' Trilogy
Anzai was born in 1999 in Fujisawa, Kanagawa. She made her musical debut with record label avex trax in 2019. She worked as a fashion model for MAC cosmetics before being signed as a singer.
Throughout 2019, Anzai released three digital singles, each one featured in a music video dubbed the 'Immersive Society 3.0' trilogy. The last of these singles, "Jinsei wa Senjou da," was used as the ending theme for the third season of the anime Black Clover. Her music videos combined futurism, technology, and an early 2000s aesthetic, and each music video attracted over a million views before the end of the year. Special physical editions of her singles were distributed exclusively at TOWER RECORDS for free, in 8cm CD cases.
On October 24, 2019, Anzai gave her first live performance in Shibuya on the SHIBUYA DIVERSITY SESSION stage. The avant-garde performance featured a series of mirrors on stage, allowing the audience to only see Anzai's reflection as she sang. Anzai performed again at the LIVE TOKYO GIRLS COLLECTION teen 2019 Winter event, appearing behind screens and holograms, once again creating ambiguity. Between these ambiguous live performances, the futuristic, post-human themes present in her music videos, and the scarcity of candid pictures of Anzai, many have speculated as to whether or not she is real. In 2020, a reporter from Tokyo Sports met Anzai on the streets of Shibuya and confirmed that she was not a digital creation.
Many have drawn comparisons between Anzai and female soloists of the late 90s and early 2000s, such as Hamasaki Ayumi, Suzuki Ami, and Tamaki Nami. Both her fashion and musical stylings have been described as 'nostalgic' for this era of Japanese pop.
Acting Debut
In 2020, Anzai played Hamasaki Ayumi in the drama M Aisubeki Hito ga Ite, based on the novel of the same name. The drama served as her acting debut. Anzai acted opposite Miura Shohei, who played the role of avex CEO Max Matsuura. The drama required Anzai to recreate many of Hamasaki's well known performances, though Anzai did not provide her own vocals, instead lip-syncing to Hamasaki's songs.
Hamasaki has yet to comment on Anzai's portrayal.
Post-Trilogy Music Releases
2020 saw the release of four new singles: "FAKE NEWS REVOLUTION", "Bokura wa Tsuyoku Nareru.", "GAL-TRAP", and "Secret Love". While Anzai had contributed to the lyrics of her songs previously, "GAL-TRAP" marked the first time she would contribute to the music itself. The singles following the 'Immersive Society 3.0' trilogy saw Anzai exploring a wider range of musical genres.
At the end of August, Anzai performed at a-nation online 2020. She performed "Bokura wa Tsuyoku Nareru.", her most recent single at the time. Early 2021 saw the release of "Kimi to Boku no Uta", a new digital single and a more traditional Japanese ballad release. Anzai also released a short piano version of the single, available digitally.
Anzai continued to release a string of singles towards the end of the year and into 2022: "18 no Tokyo", "Yoru wa Mikansei", "Genjitsu Camera", "Isshume no Fuyu", and "Chanto Sekaisen". "Genjitsu Camera" was the product of a collaborative effort between Anzai and English pop star Charli XCX.
In April of 2022, Anzai announced an online concert, "Kalen Anzai First Online Live「Chanto Sekaisen」" that would be held on Instagram. A selection of 10 fans would be chosen to attend via a lottery system. She also announced an official fan club, to be launched in July 2022.
Discography
Albums
Compilation Albums
Singles
Digital Singles
Remix Singles
Compilations
Trivia
While working as a clerk at the popular shop "RELECT by RUNWAY CHANNEL Lab." in Shibuya, she appeared in many fashion media before her debut and eventually was adopted for storefront visuals for the cosmetic brand "M.A.C".
Her first live show was seeing The Rolling Stones.
She is a fan of Official HIGE DANdism.
External Links