Due to an influx of spam accounts getting through and joining the site, user registrations have once again been disabled until further notice as we work on a different solution.
BLOOD (band)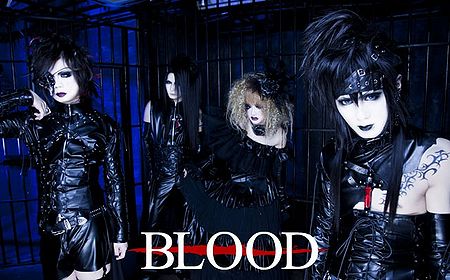 BLOOD is a visual kei/indies goth band that was founded in February 2002 in Osaka, Japan. The founding members were Kiwamu on guitar, kaede on bass and Taichi on guitars.
Members
Former Members
Guest Musicians
Labels
History
As already mentioned BLOOD was formed in February 2002 in Osaka, and since then they have released several demos, three maxi-singles, seven mini-albums, and three full-length compilation albums.
Their history up to now is divided into three periods. The first one began, as you might've guessed, in February 2002. During this Time Takeshi and Dai joined the band. On the 10th February 2003 the vocalist DAI was dismissed, which was the beginning of BLOOD's second period. During this time the mini-album BLOOD was created and they had their first live Concert in the USA at the Fanime 2003. Then, on the 29th February of 2004, Taichi and Takeshi left the band. Two days later Fu-ki, the current vocalist, joined the band, and thus the third period begins.
With Fu-ki, they began a new vampire concept and began to move their music in a more deathrock/goth direction. Their next series of albums would follow a vampire story much in the vein of Anne Rice's novels, with the story penned entirely by Fu-ki. In the winter of 2004, they released "Vengeance For BLOOD" and began to tour world wide, starting in Europe. Soon after, they made visual kei history by being one of the first bands interview on United States FM radio. The interview took place on the radio show Bad Transitions, on 91.7 WIXQ FM out of Millersville, Pennsylvania. The interview was a huge success and helped increase the band's popularity exponentially as the broadcast was heard world wide via WIXQ's internet webcast. Soon after, they became the first Visual Kei band to perform in Mexico. That summer (July 2005), they released "Vengeance For BLOOD 2" and another European and Mexican tour followed. During the Mexican tour, they filmed their first full-length live DVD "VENGEANCE for BLOOD LIVE in MEXICO". Early in 2006, they released the final chapter in their vampire concept, "Vengeance For BLOOD 3", which has been their largest success to date. 2,000 copies were pressed, and subsequently sold out 4 days after release. A month later, they did another interview on WIXQ FM, this time on the newly formed J-Rock show, Tainted Reality, hosted by former Bad Transitions host, Roger Shackelford. The following month (March 2006), they did their farewell to the vampire concept with a tour of Europe, and a special live event in Japan.
With the vampire concept finished, BLOOD was faced with a new beginning. They coninued in the goth rock direction and they started a new concept based on the poetry of French poet, Charles Baudelaire. They announced their first real USA Showcase Tour (a 3 stop or under tour) followed by a short Mexican tour. This US tour was to be organized by Tainted Reality, the radio show they had done their second USA radio interview with. The Mexican tour was to be organized by Nekosoft, who had just had a successful tour with The Pillows. The USA tour was a tremendous success, selling out at both stops in Los Angeles (Where they were opened by famed American goth band, The Last Dance, Secret Secret, and lo:lita) and New York City. However, the Mexican tour was a disaster as Nekosoft's owner abbandoned them in Mexico City, stealing their money. Their translator and others close to the band helped them by booking 2 emergency shows and putting up for their hotel. The band returned to Japan two days later and fired Nekosoft. Soon after, they modeled for the Gothic Lolita Bible. Two months later, they released their first mini-album of their new concept entitled "Spleen ~Despair~" to rave reviews. Another tour of Europe followed, as well as another interview with Tainted Reality and an annoucement of a US mini-tour for March 2007, organized by Tainted Reality.
Japanese Discography
Albums
Best Albums
Mini Albums
Singles
Other Singles
Demo Tapes
Video Releases
Compilations / Other
European Discography
Albums
Singles
Compilations / Other
Publications
Magazines
[2004.11.xx] Zy.[zi:] No.19 (Feature)
[2005.12.xx] Zy.[zi:] No.26 (Feature)
[2006.06.03] Astan Magazin 21 (Feature)
[2006.06.03] Astan Magazin 22 (Feature)
External Links