Due to an influx of spam accounts getting through and joining the site, user registrations have once again been disabled until further notice as we work on a different solution.
Betty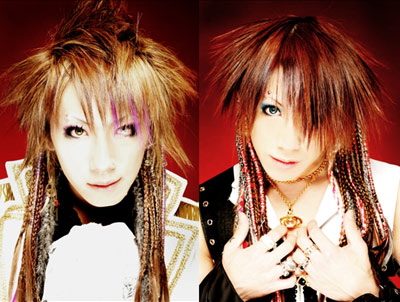 Betty (ベティ) was a short-lived Japanese rock duo of the oshare-kei variety. Formed in mid 2005, Betty only existed for a total of eight months. They had a handful of lives and one release, their debut single titled "Aka", which was put out in December 2005. The two are the predecessor of the band 176BIZ.
Members
Labels
Support Members
Biography
Betty was created in July of 2005 by former NEVER CRAZY vocalist Yuu and former Panic Channel bassist Tara. The two were the only official members, as they used two support members to fill in the missing roles in their line-up: Tsubasa (also ex-Panic Channel) as their guitarist and NANA (ex-MASK) as their drummer. Three months later, on October 21st, Betty opened their official website. They had also announced the release of their debut single, "Aka", and the date of their first live, both in December.
On December 2nd the group had performed their first live at Takadanobaba AREA called "Akairo ~Fuyuzora Hibiku Kyousoukyoku". The sold-out show had also acted as a CD release commemoration live and their first sponsored event. Twelve days later, "Aka" was released on schedule. Their first (and last) single was only allotted to 2,000 copies and is currently out of print. Betty's last activity of the year was their participation in the "Strange Deja Vu Vol.1" event at Nagoya E.L.L on December 22nd.
In January, the band took part in the first day of the New Year session band tournament at Takadanobaba AREA on the 4th. The last two lives of the months were a part of other companies organized events. At Y2K ROPPONGI on the 9th, Betty was at h'evn magazine's "2006-nen Start★hevn no Omatsuri★Yarasete Itadakimasu♪" event while on the 24th (at Shibuya O-WEST) they were in SPEED DISK's "Kakuritsu Hendou" event.
Betty started to advertize their first one-man concert in February for the middle of March, it was free of charge. The group had also announced that in the meantime they are evolving and people will see the changes at the live. The changes became apparent during their free concert on March 13th at Takadanobaba AREA because they played as Betty and a new band, 176BIZ. During March, in secret, three members joined the duo to make up the new band: their support guitarist Tsubasa (ex-Panic Channel; changed his name to "Toki" [刻]), former Karen guitarist Setsuki, and former Gimmick drummer Kasumi. Betty then disbanded, as they had evolved into a new band.
Discography
Singles
[2005.12.14] Aka (朱-アカ-; Red)