New user registrations have been disabled until further notice. If you would like to create an account, please message
Generasia on Facebook
. Thank you!
Boku, Unmei no Hito desu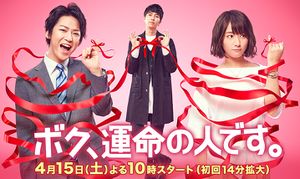 Boku, Unmei no Hito desu. (ボク、運命の人です。; I'm Your Destiny.) is an NTV TV dorama main-casting Kamenashi Kazuya and Kimura Fumino. It aired between April 15th and June 17th, 2017.
Synopsis
Masaki Makoto and Kogetsu Haruko are both 29 years old and single. Since they were children, they have passed each other at various places like on the beach and shrines. Yet, the two are not aware of each other at all. One day, a man appears in front of Makoto and introduces himself as God. He tells Makoto about his destined soulmate and that she works next door. When he faces Haruko, he tells her "I'm your destiny."
Cast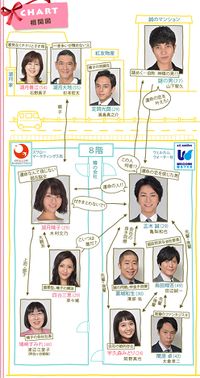 Main Staff
Screenwriter

Kaneko Shigeki

Director

Music

Hayashi Yuki

Producer

Nishi Norihiko, Fukui Yuta, Shimoyama Jun
Episodes
Episode
Japanese title
Airing date
Director
Rating
01
Kabegoshi no unmei. Mshiranu futari, kiseki no koi kaimaku
(壁越しの運命。見知らぬ二人、奇跡の恋開幕)
2017.04.15
Sakuma Noriyoshi
12.0%
02
Koi no rival kyuu sekkin shouri no tame ni kin kasege!?
(恋のライバル急接近 勝利の為に金稼げ!?)
2017.04.22
9.6%
03
Koigataki ga propose!? Kiseki yobu mahou no ongaku
(恋敵がプロポーズ!? 奇跡呼ぶ魔法の音楽)
2017.04.29
Komuro Naoko
9.2%
04
Koi no ninjin dai sakusen seikou-ritsu 0% no kokuhaku!?
(恋のニンジン大作戦 成功率0%の告白!?)
2017.05.06
Sakuma Noriyoshi
9.8%
05
Masaka no kyuu sekkin! Hatsu date & hatsu ○○…?
(まさかの急接近! 初デート&初○○…?)
2017.05.13
Komuro Naoko
9.1%
06
Futarikiri no heya. Namidasuru kanojo. Kare no ketsudan
(二人きりの部屋。涙する彼女。彼の決断)
2017.05.20
Sakuma Noriyoshi
9.5%
07
Okose surprise! Kiseki no yubiwa no watashi kata
(起こせサプライズ! 奇跡の指輪の渡し方)
2017.05.27
Inomata Ryuichi
8.6%
08
Kanojo no chichi ga dai gekido!? Mezase kekkon gyaku oute!
(彼女の父が大激怒!? 目指せ結婚逆王手!)
2017.06.03
Takahashi Tomohiro
8.2%
09
Sayonara kamisama…. Boku to kanojo no saishuu shiken
(さよなら神様…。僕と彼女の最終試験)
2017.06.10
Shin Hirano
9.2%
10
Subete no kiseki wa kono hi no tame ni! Unmei no ketsumatsu
(全ての奇跡はこの日の為に! 運命の結末)
2017.06.17
9.7%
Music
Theme song
Soundtrack
Releases
The dorama was released in a compiled box in both DVD and Blu-ray formats. It was released on April 20th, 2016.
Home-media Releases
Format
Release date
Catalog Number
Price
Oricon Charts
DVD
2017.10.04
VPBX-14637
¥20,900
#10 / 3 weeks
Blu-ray
VPXX-71546
¥26,400
#9 / 2 weeks
Recognition
External Links