Due to an influx of spam accounts getting through and joining the site, user registrations have once again been disabled until further notice as we work on a different solution.
Border: Hakanai
Artist

Single

BORDER: Hakanai (儚い; Ephemeral)

Released

2021.07.06

Catalog Number

TYCT-39158 (Limited Edition A)
TYCT-39159 (Limited Edition B)
TYCT-39160 (Regular/First Press Edition)
PDCV-5035 (UNIVERSAL MUSIC STORE Edition)
PDCV-5036 (JUNGWOON Ver.)
PDCV-5037 (HEESUNG Ver.)
PDCV-5038 (JAY Ver.)
PDCV-5039 (JAKE Ver.)
PDCV-5040 (SUNGHOON Ver.)
PDCV-5041 (SUNOO Ver.)
PDCV-5042 (NI-KI Ver.)

Price

¥1,980 (Limited Edition A)
¥1,760 (Limited Edition B)
¥1,430 (Regular/UNIVERSAL MUSIC STORE/Members Editions)

CD Tracklist
DVD Tracklist
Given Taken [Japanese Ver.] Music Video & Making of Music Video / Making of Jacket Photos
Information
"BORDER: Hakanai" is the first Japanese single released by ENHYPEN. It was released in 11 versions: a limited CD+DVD edition (A), a limited CD+Photobook edition (B), a Universal Music Store limited edition, seven limited editions for each of the band members and a regular CD edition. It has two Japanese versions of previously released songs as well as a new Japanese track.
Members Edition Covers
Oricon Chart Positions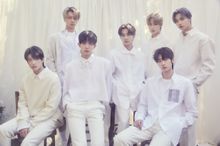 Mon
Tue
Wed
Thu
Fri
Sat
Sun
Week Rank
Sales
1
1
1
1
1
1
1
200,424
2
5
2
3
4
4
2
4
31,987
6
13
12
17
16
10
8
13
5,382
12
x
22
23
15
16
15
20
2,365
15
22
14
12
9
22
20
21
2,344
11
10
13
4
9
12
14
10
3,174
6
29
21
19
14
19
16
27
1,843
20
x
24
20
12
x
x
27
1,934
16
22
12
7
9
23
15
16
2,076
11
24
9
x
x
x
26
24
1,325
18
x
x
x
28
28
25
33
706
23
x
x
28
x
x
x
45
719
25
x
x
x
x
x
x
56
530
26
x
x
x
x
x
30
59
498
23
x
x
x
x
x
x
34
709
27
x
x
x
x
x
26
48
467
x
x
x
x
x
x
x
78
397
x
x
x
x
x
x
x
53
459
26
x
x
x
x
x
x
57
441
x
x
x
x
x
x
x
59
399
x
x
x
x
x
x
x
82
380
x
x
x
x
x
x
x
x
408
x
x
x
x
x
x
x
86
356
x
x
x
x
x
x
x
x
1,073
26
x
x
x
x
x
x
x
x
x
29
22
x
15
15
26
797
19
16
23
25
18
22
20
21
1,237
7
x
x
29
x
x
x
25
931
x
x
x
x
x
x
x
x
463
24
x
x
x
x
x
x
52
548
23
x
x
29
x
x
x
43
517
19
x
x
x
x
x
x
42
522
x
x
x
x
x
x
x
x
462
x
x
x
x
x
x
x
71
561
30
x
x
x
x
x
x
x
471
x
x
x
x
23
x
x
49
527
x
x
x
x
23
x
x
50
461
x
x
x
x
x
x
x
54
425
x
x
x
26
18
x
x
36
649
29
x
x
x
x
x
x
59
371
29
x
x
x
x
x
x
72
225
x
x
x
x
x
x
x
x
199
x
x
x
x
14
x
x
57
589
x
x
x
x
29
x
x
39
484
x
x
x
x
x
x
x
x
1,491
x
x
x
x
x
x
x
x
x
x
x
x
x
x
x
x
x
x
x
x
x
x
x
x
x
x
x
x
x
x
x
x
x
x
x
x
x
x
x
147
125
x
x
x
x
x
x
x
157
113
x
x
x
x
x
x
x
x
535
x
x
x
x
x
x
x
x
x
x
x
x
x
x
x
x
x
x
x
x
x
x
x
x
x
x
x
x
x
x
x
x
x
x
x
x
x
x
x
x
x
x
x
x
x
x
x
152
108
x
x
x
x
x
x
x
x
203
x
x
x
x
x
x
x
175
113
x
x
x
x
x
x
x
x
185
x
x
x
x
x
x
x
x
x
x
x
x
x
x
x
x
x
x
x
x
x
x
x
156
116
out for two weeks
x
x
x
x
x
x
x
193
88
x
x
x
x
x
x
x
x
1,960
x
x
x
x
x
x
x
x
x
x
x
x
x
x
x
x
x
x
x
x
x
x
x
x
x
x
x
x
x
x
x
x
x
x
x
x
x
x
x
x
x
x
x
x
x
x
x
x
x
x
x
x
x
x
x
x
x
x
x
x
x
x
x
x
x
x
x
x
x
x
x
x
x
x
x
x
x
x
x
x
x
x
x
x
x
x
x
x
x
x
x
x
x
x
x
x
x
x
x
x
x
x
x
x
x
x
x
x
x
x
x
x
x
x
x
x
x
x
x
x
x
x
x
x
x
x
x
x
x
x
x
x
x
x
x
x
x
x
x
x
x
x
x
171
122
Year
Month
Rank
Sales
2021
July
2
240,158
August
25
9,295
September
46
4,826
2022
January
49
3,976
Total Reported Sales: 273,802*
External Links