Due to an influx of spam accounts getting through and joining the site, user registrations have once again been disabled until further notice as we work on a different solution.
D-BOYS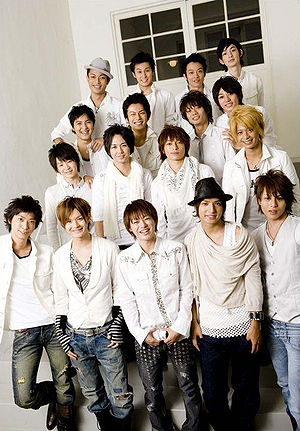 D-BOYS is a Japanese all-male acting troupe with Watanabe Entertainment. The D in their name stands for drama, dream, debut, discovery, and development.
Members of D-BOYS appear in all genres of dramas, but their participation is seen most often in tokusatsu series and the Tennis no Ouji-sama musicals.
Members
Former Members
History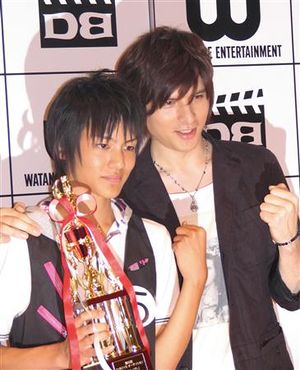 D-BOYS formed around 2003 or 2004 with their founding three members, Endou Yuuya, Ichitaro, and Yanagi Kotaro. In July 2004 an audition was held for more members, with Nakamura Yuuichi winning the main Grand Prix Award and Igarashi Shunji and Nakamura Katsuki winning the Semi-Grand Prix Award. Additionally, Wada Masato won the Judge's Special Award. Five other prize winners (including Shirota Yuu) of the audition were inducted in October along with the four main winners, and another two let in in December. A second audition was held the following year in July 2005; Kumai Kouhei took Grand Prix, Seto Koji took Semi-Grand Prix, and Nakagawa Shingo won the Judge's Special Award.
Their first variety program, DD-BOYS, launched in April of 2006 and aired until September 2006. DVDs were released within weeks of its end. The third audition was held three weeks before the program's end date with Yanagishita Tomo winning Grand Prix and Makita Tetsuya winning Semi-Grand Prix, but only Yanagishita was let in as a member. (Makita officially joined in July 2007 along with Nakamura Masaya.) The fourth audition in May 2007 saw Usui Masahiro and Mikami Masashi winning Grand Prix and Semi-Grand Prix, respectfully, and both officially joined the troupe December of that year.
The fifth audition in June 2008 brought the most applicants D-BOYS had ever seen with approximately 22000 prospective actors. Three won; one of the winners was 12-year-old Nishii Yukito, who was the youngest audition winner in D-BOYS history. He later became part of D2, the "brother" group of D-BOYS. Throughout the next year more members were let in, including Takahashi Ryuuki and Hashimoto Taito. The sixth audition in September 2009 saw even more applicants than the previous, with approximately 24215 applicants. Akutsu Shintaro won the Grand Prix, Ikeoka Ryousuke Semi-Grand Prix, and Oumi Yoichiro and Tanigawa Ryuuichi winning the Judge's Special Awards. With Tanigawa 10-years-old, the record of youngest winner was broken once more. None of the aforementioned four members have been officially inducted into D-BOYS.
Additionally, a summer festival was held in 2009 with the D-BOYS and D2 members, and Shirota, who had graduated the previous summer, came back as a participating artist on the subsequent CD release, credited as "D-BOYS (+ Shirota Yuu!)." Shirota continues to earn promotion through the troupe despite his graduation; he was present at Akutsu's awards announcement.
In March 2010, a special unit was announced to commemorate Watanabe Entertainment's ten year anniversary. While the unit's name has not been decided on, a contest is currently being held to decide the name. Members include Araki Hirofumi, Igarashi, Nakamura Yuuichi, Seto, and a fifth member will be decided from the "D-BOYS Special Unit Audition" being held.1
D2
D2 is considered the "brother" group of D-BOYS and includes Arai Atsushi, Jinnai Shou, Kamitsuru Tooru, Mitsuya Ryou, Nishii Yukito, and Yamaguchi Kenki. Despite some of the members passing the D-BOYS auditions, they are not considered part of the main group but are still with Watanabe Entertainment and appear at D-BOYS events.
Works
Note: This only contains sections put out by D-BOYS as a group or with multiple members. For individual works, please visit the actor pages above.
DVDs
Photobooks
CDs
External Links