Due to an influx of spam accounts getting through and joining the site, user registrations have once again been disabled until further notice as we work on a different solution.
DJ OZMA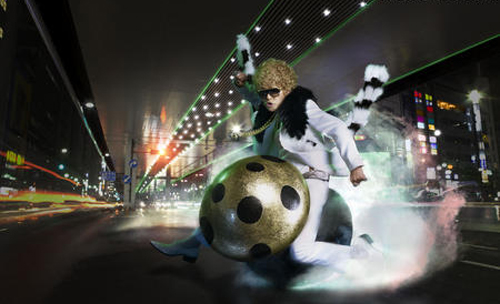 DJ OZMA (ディージェイ オズマ) is a Japanese pop singer/group debuted on 2006 under avex trax. Their are known for their comical/eccentric appearance.
Members
DJ OZMA
OZ-MAX
AYAMI, MIKI, MARIKO, YUKKO, CHIHARU
OZ-MATE
TSURU-G, MAMORU, HIROKI, KOCHI, MINE, Choleste
OZ-MANIACS
MC KOREA, So What? Brothers, TAKUYA NORO, ODAWARA JOE
Information
The DJ OZMA 's big family features DJ OZMA (singer), an alter-ego of rock band Kishidan's leader Ayanocozey Show, Hoshikuzu Teruya from Kishidan's backup dancers Binetsu DANJI as Yaoh "KING" Junichi and Saotome Hikaru also from Kishidan as PANCHO. The group also counts with the OZ-MAX, five female vocals and dancers, the OZ-MATE, six male dancers, and the OZ-MANIACS (Chorus, MCs, back dancers...).
DJ OZMA is most known for his hit song "Age♂Age♂EVERY☆Night". It was performed at the 2006 Kouhaku Uta Gassen TV show, accompanied by dancers dressed in a "naked suit" and resulting in a huge and angry uproar. On the next year, DJ OZMA refused to perform on the show.
At the end of 2007 DJ OZMA created the club ROYALE, a mobile "show pub" in the form of a host club. The hosts are the male part of the "DJ OZMA's big family" with the inclusion of new members, like Matsu (Shiratori Showchikubai) and Yukki (Shiratori Yukinojoe) of Kishidan. With the club ROYALE already formed, DJ OZMA released a single featuring the club's crew (including the Kishidan's members), "Ninkimono de Ikou!", which was used as the movie Crayon Shin-chan: Chou Arashi wo Yobu Kinpoko no Yuusha theme song.
In 2008, after giving concerts in various locals in Japan, the club ROYALE moved to Macau for a special event in The Venetian Macao-Resort-Hotel and was established as CASINO ROYALE.
In September 1, 2008, DJ OZMA announced his transfer from EMI Music Japan to avex trax. In November 2008, it was announced that Maki Seigo, his friend "whom he first met when they worked together part-time at a video store in Suginami", would succeed him as the second generation of DJ OZMA, in a "pure, correct and beautiful" way. DJ OZMA held his , what was called at the time, last concert as DJ OZMA on December 13th, 2008 at Yokohama Arena.
In 2011, at the same time that Kishidan released their 10th anniversary single "MY WAY", it was announced the "resurrection" of DJ OZMA. And on the same date as "MY WAY"'s release DJ OZMA released the single "Chinkonka".
Discography
Albums
Singles
DVDs
Box Set
Collaborations
Books
[2008.07.31] DJ OZMA Sekinin Henshuu (Mayonaka no Arukikata) (DJ OZMA責任編集 「真夜中の歩き方」)
[2009.04.01] DJ OZMA IS DEAD ~Kieta Okubyou na Terrorist~ (消えた臆病なテロリスト)
External Links