It is thanks to each and every one of you that has made Generasia the largest resource for Asian media info. To our wonderful contributors, thank you!
Dangan NO LIMIT
From generasia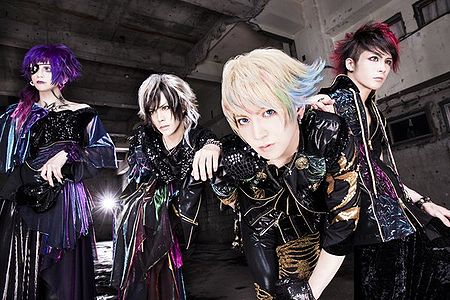 Dangan NO LIMIT (弾丸 NO LIMIT) is a Japanese four member visual-kei band that was formed in January of 2014.
Members
Former Members
Guitar: Ren (蓮) (2014.01.05 - 2015.08.21)
Biography
Dangan NO LIMIT was formed by ex-FERNIL members, Miyuu, Chika and Ren. The band held their first live on January 5, 2014 at Akasaka BLITZ. Following their first performance, the band held lives at Ikebukuro EDGE on January 20, Tsutaya O-WEST on February 1st, Shinjuku RUIDO K4 on February 9th, Takadanobaba AREA on February 28th, Ikebukuro EDGE on March 6th alongside other bands such as, the LEM, xTRiPx, LANDZ and more. The band continued their live schedule at Shibuya REX on March 14th and finally, Ikebukuro EDGE on March 21st with other supporting bands such as, HOSHI NO HOUSE, Emu., Silver Linings, DEEP RAVE, LucaRia and others.
In April of the same year, Dangan NO LIMIT participated in a tour held by Sibile Bashir which featured other bands as-well. The dates include April 7th at Osaka Ruido, April 8th at Nagoya ell.SIZE, May 1st at Holiday Next Nagoya and May 2nd at Osaka Ruido. They were also part of an anniversary event held by THE BLACK SWAN featuring others such as, MeteoroiD, Airish, Arlequin and others on May 11th at Shibuya REX entitled, HEY! HEY! HEY!, sponsored by GOEMAN RECORDS. The group also held a one day visual kei event alongside heidi. on May 27th.
The band released their debut single, "Fukanzen na Boku no..." the next day which was released in two editions. Following the release of their single, the band held several in-store events for fans and went on to do more than twenty lives. The same day the band held a fan meet and greet/handshake at, Jishuban Kurabu, June 15th at little HEARTS store in Sendai, Japan. June 29th at Like An Edison in Tokyo and July 12th at Like an Edison in Osaka, 13th at Nagoya fiveStars and the 21st at little HEARTS in Shinjuku. On June 15th at Sendai darwin the band participated in DIV's sponsored tour entitled, MY little HEARTS. Tour Edition vol.5 alongside, THE KIDDIE, MEJIBRAY, DOG inThe PWO and LOTS ASH. July 12th with FEST VAINQUEUR, MEJIBRAY, Yeti and THE KIDDIE at Osaka BIG CAT. July 13th at Nagoya E.L.L. and July 20th at Tsutaya O-East. The beginning of their lives started on May 31st at Okaya IMAGE and ended on August 25th at Ikebukuro EDGE. Various lives were held at places such as, Kyoto MUSE on June 8, June 21 at Fukuoka DRUM BE-1, June 15 at Kanazawa AZ on July 5, July 7 at Birth Shinjuku and August 22 at OSAKA MUSE.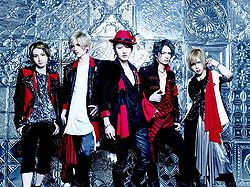 Finishing up their tours and lives, Dangan NO LIMIT released their first mini-album, Black Positive on October 15 of the same year which was released in the same two formats as their debut single, CD only and CD plus DVD content. Visual-kei band, LOUD GRAPE joined the same label that the band is on, Riostar Records on the 18th. Dangan NO LIMIT held in-store handshakes and meet and greet events in stores such as Like An Edison in locations such as Nagoya, Tokyo and Osaka on October 18th and 25th. This event was active from October 14th through November 24th which finished at little HEARTS. in Shinjuku in which fans were able to ask questions to band members. There were no other activities for the rest of the year.
To start off the new year, Dangan NO LIMIT participated in a tour held by ALIVE on February 1st of 2015 at Shibuya REX alongside, SPELLBOX, Purple Stone, Zillapark, ViV and Shounenki.
Dangan NO LIMIT also participated in a two-man event entitled, Juusatsuon February 28th at Shimokitazawa MOSAiC alongside, zonbi. Near the end of May, the band released their second single, "Fiction Allergy" and held seven in store events at places such as Brand X on June 27th and Jishuban club on July 11th, various little HEARTS. and Like An Edison locations. Guitarist Ren announced that he could leave the band due to "Different career paths." with his last playing on August 21, Dangan NO LIMIT would also go on to continue as a four member band.
On August 10th Dangan NO LIMIT would go on to join a wide variety of bands ranging from,
NOCTURNAL BLOODLUST
,
ALDEBARAN
,
Lycaon
,
BugLug
,
MEJIBRAY
,
Far East Dizain
,
Matenrou Opera
and over twenty more at
[beauty;tricker]
which is a
visual-kei
music fest normally held in Shibuya which was active from 2006 until 2011 excluding the return this year.
Discography
Mini-Albums
Singles
Compilations
External Links