Due to an influx of spam accounts getting through and joining the site, user registrations have once again been disabled until further notice as we work on a different solution.
Dragon Ash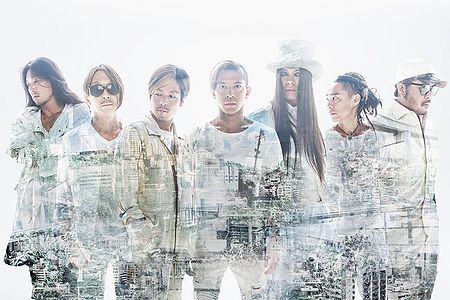 Dragon Ash (ドラゴンアッシュ) is a Japanese Hip-Hop and rock fusion group under MOB SQUAD label. They are an icon in Japan and were one of the first groups to create Japanese Hip-Hop. They brought a western flavor to Japanese music and helped to turn rap music into a mixture of reggae, rap, rap-rock, punk, Spanish and R&B influences.
Members
Former Members
Information
The group was originally formed by high school friends Furuya Kenji and Sakurai Makoto. They held auditions for band members, and hired on bassist Ikuzo Baba who was 29 at the time and had some experience in the music business. Dragon Ash began playing live in 1996, and in 1997 signed on with Victor Entertainment. They added another high school friend, DJ BOTS, which led their sound away from punk to more "mixture-kei" (punk combined with hip-hop). Their debut album, Mustang! did well, and was particularly popular in indie-alternative circles. They became more popular after the releases of "Grateful Days" and "I ♥ HIP HOP" in 1999. Dragon Ash use various samples from many American rock bands, inluding The Smashing Pupkins and The Arrows. They became even more popular outside Japan when their song "Shizuka na Hibi no Kaidan wo" was chosen to be the ending theme for the popular Japanese movie, Battle Royale. With VIVA LA REVOLUTION album the band won more fans who grew up with rock and hip-hop sounds. It was heard everywhere, and was one of the most popular albums in 1999. In 2001 they released Lily of da valley and did nearly as well. It contained a somewhat harder and powerful sound.
During 2003, Dragon Ash surprised many by announcing a new line-up, which included three new members, Hiroki on guitar, and dancers DRI-V and ATSUSHI. Some fans and critics didn't like the change, feeling that Dragon Ash being a serious band did not need "back dancers". On July 23, 2003 after over two years without a new album, Dragon Ash finally released HARVEST, which further pushed the envelope, and as a result received somewhat mixed reviews. While Dragon Ash may no longer be the sensation that they were in 1999, the group remains widely respected, and their new releases much anticipated. They already won two MTV Awards: one for "Best Rock Video" with "Fantasista" in 2002 and another for Best buzzASIA Japan with "Ivory" in 2007.
Baba Ikuzo, has suddenly passed away at the age of 46. An announcement on the group's official website on Tuesday night revealed that IKUZONE died of acute heart failure on the night of April 21st. IKUZONE had collapsed in his home studio and was discovered by his family. He was quickly taken to a hospital, where his death was confirmed at 10:55pm. Dragon Ash was scheduled to perform at the Okuma Beach Fest 2012 event in Okinawa on April 28, but due to IKUZONE's death, they have canceled their appearance.
IKUZONE was one of Dragon Ash's founding members in 1996, along with Kj and Sakurai Makoto.
Discography
Studio Albums
Best Albums
Remix Albums
Mini-Albums
Singles
Digital Singles
Vinyls
Video Releases
External Links