It is thanks to each and every one of you that has made Generasia the largest resource for Asian media info. To our wonderful contributors, thank you!
Hirosue Ryoko
From generasia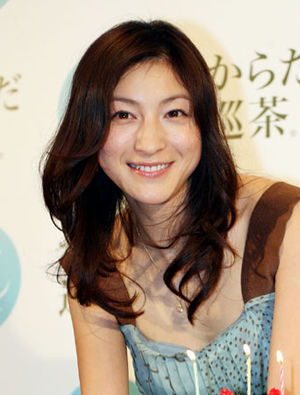 Ryoko Hirosue is a Japanese actress and pop star, best known in the West for her role in the Luc Besson-produced Wasabi.
Profile
Stage Name: Hirosue Ryouko (広末涼子)
Married Name: Okazawa Ryouko (岡沢涼子)
Maiden Name: Hirosue Ryouko (廣末涼子)
Date of Birth: July 19, 1980
Birthplace: Kochi, Kochi Prefecture, Japan
Blood Type: O
Zodiac Sign: Cancer
Height: 161 cm
Shoe Size: 23.5cm
Hobbies: Listening to music, collecting stickers, karaoke, watching movies, electronic organ
Spouse: Okazawa Takahiro
Children: 1 son
About Her Name: Although in Japanese her name is written as 広末涼子 (Hirosue Ryoko), with Roman characters it is usually written Ryoko Hirosue.
Discography
Singles
#
Title
Release date
Highest position
Weeks in charts
Sales
1

MajiでKoiする5秒前 (Maji de Koi Suru 5byou Mae)

1997.04.15
2
15
589,900
2

大スキ! (Daisuki!)

1997.06.25
1
15
475,220
3

風のプリズム (Kaze no Prism)

1997.10.15
6
12
265,610
4
1998.05.13
5
9
221,740
5

ジーンズ (Jeans)

1998.10.07
4
7
141,200
6

明日へ (Ashita-e)

1999.02.03
9
6
106,220
7

果実 (Kajitsu)

2000.11.08
20
3
31,190
Albums
Filmography
CM
[1995] P&G (Clearasil)
[1995] Glico dairy product industry (Glico Big yogurt is healthy)
[1996] Meiji Seika Kaisha (Kishirish, Garbo, and Meltikiss and others)
[1996] NTT DoCoMo (Pocket beeper and i-mode and others)
[1996] ASCII CORPORATION (Derby Stallion 96)
[1997] Honda (LiveDio)
[1997] Nintendo (Starfox 64 and others)
[1997] Ajinomoto (Knorr Cupasoup HOT!1 and others)
[1997] Asahi Breweries (Mitsuya Cider[1], Teao)
[1998] Sakura Bank
[1999] Shiseido (Proudia)
[1999] Haregi no Marushou
[2000] Kirin Beer (Kirin Lager Beer)
[2000] Efti Shiseido (Super Heart Shampoo)
[2000] Protocorporation (Goo)
[2000] Tamanoi Vinegar (Diet Honey Black Vinegar)
[2001] Nissin (Nissin U.F.O. Instant Noodles)
[2001] Morinaga Milk (Eskimo Corite[?])
[2001] Enix (Dragon Quest Monsters)
[2001] PADI
[2001] Japan Highway Public Corporation (ETC)
[2003] Life (Life Card)
[2003] Yahoo!BB
[2003] dip (hatarakonet[2])
[2006] Shiseido Tsubaki [3]
[2006] Keio Railway Line [4]
[2006] Coca Cola Japan (Meguri tea) [5]
Dramas
Movies
Awards
第10 回日剧学院赏 1996-09-25 - Best newcomer: Hirosue Ryoko/ Shota no Sushi
第14 回日剧学院赏 1997-09-24 - Best supporting actress: Hirosue Ryoko/ Beach boys
第26 回日剧学院赏 2000-09-27 - Best supporting actress: Hirosue Ryoko/ Summer Snow
第27 回日剧学院赏 2000-12-19 - Best supporting actress: Hirosue Ryoko/ Oyaji
第38 回日劇學院賞 2003-10-29 - Best supporting actress: Hirosue Ryoko/ Moto Kare
TODO: find more
Books
External links
Sources