Generasia would not be what it is today without the countless contributions by both staff and members alike! Thank you for all that you do!!
Ouroboros
Ouroboros (ウロボロス) is a manga by artist Kanzaki Yuya first published in 2009. It was adapted to TV dorama by TBS in 2015.
Synopsis
"Ouroboros" is an ancient symbol that depicts a snake eating its own tail - meaning infinity. Based on a popular comic, a clumsy detective and a cool gang stand up to true evil. Ikuo and Tatsuya grew up in a children's orphanage together. When their favorite teacher, Yuiko, is murdered, a policeman wearing a gold watch covers up the incident. Ikuo and Tatsuya promise each other to avenge their teacher someday. Twenty years later, Ikuo is a detective in Shinjuku second police station investigating various cases with elite detective - Mizuki, while smart and handsome Tatsuya has become one of the top members of a gang group.
Dorama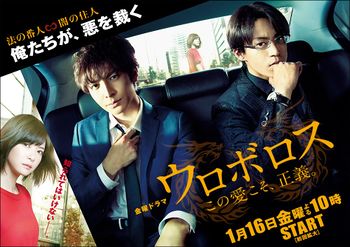 The manga was adapted to TV in 2015, main-casting Ikuta Toma and Oguri Shun. It aired from January 16th to March 20th and had an average viewership rating of 10.4%.
Main Cast
Main Staff
Screenwriter

Furuya Kazunao

Director

Music

Kimura Hideakira

Producer

Sano Ayumi
Episodes
Episode
Japanese title
English title
Airing date
Director
Rating
01
Kindokei no otoko
(金時計の男)
The men of the Kintokei
2015.01.16
Ishii Yasuharu
11.5%
02
Omurice no himitsu
(オムライスの秘密)
Secret of the omelet rice
2015.01.23
12.0%
03
Yakusoku da yo, Ikuo
(約束だよ、イクオ)
It's a promise, Ikuo
2015.01.30
10.4%
04
Yuiko-sensei no himitsu
(結子先生の秘密)
Yuiko-sensei's secret
2015.02.06
Yamamuro Daisuke
9.8%
05
Kimi wa boku ga mamoru
(君は僕が守る)
You'll protect me
2015.02.20
10.1%
06
Zettai zetsumei
(絶体絶命)
Desperate situation
2015.02.20
Ishii Yasuharu
9.2%
07
Nande da yo, Yuiko-sensei
(何でだよ、結子先生)
Why did you do it, Yuiko-sensei?
2015.02.27
10.6%
08
Mahoroba no Himitsu
(まほろばの秘密)
The secret of Mahoroba
2015.03.06
Ikeda Katsuhiko
9.6%
09
Kintokei no shoutai
(金時計の正体)
The Kintokei's true nature
2015.03.13
Ishii Yasuharu
9.4%
10
Tadaima
(ただいま)
I'm back
2015.03.20
11.3%
Music
Theme song
Soundtrack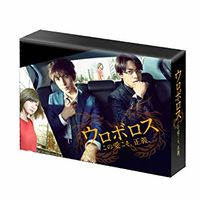 Releases
The dorama was released in a compiled box in both DVD and Blu-ray formats. It was released on August 5th, 2015.
Home-media Releases
Format
Release date
Catalog Number
Price
Oricon Charts
DVD
2015.08.05
TCED-2632
¥22,990
#12 / 2 weeks
Blu-ray
TCBD-0463
¥29,040
#17 / 2 weeks
Recognitions
84th Television Drama Academy Awards: Special Award - Talk Topic: Ouroboros
External Links