New user registrations have been disabled until further notice. If you would like to create an account, please message
Generasia on Facebook
. Thank you!
Ikuta Toma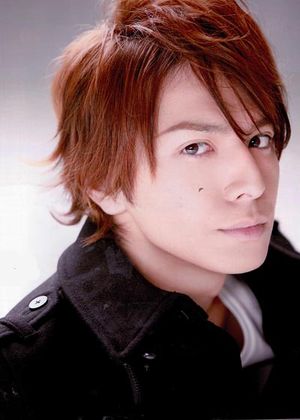 Ikuta Toma (生田斗真) is a Japanese talent artist from Johnny & Associates. His family consists of a father, a mother named Hiromi, a younger brother named Ryuusei, and a dog named JAM. His father wanted to name him Ikuta Tamegorou, but his mother changed it to Toma because it was easier to say. He used to be called Toma by his family and friends. His junior in the agency used to call him Toma-san that morphed to Tomasu, this name was used when he was hosting a corner Meitantei Tomasu in the Shounen Club program. In 2010, Ikuta had his first leading role in a movie named Ningen Shikkaku.
Profile
Name: Ikuta Toma (生田斗真)
Nickname: Touma, Thomas
Height: 176cm
Weight: 60kg
Birthdate: October 7, 1984
Birthplace: Noboribetsu, Hokkaido , Japan
Education: Horikoshi high school, Art course (graduated)
Family: Mother, father, younger brother (Ryuusei), and a pet dog named JAM
Horoscope sign: Libra
Blood Type: A
Hobbies: Listening to music, Eating
Charm Points: Eyebrows, Dancing
Best Friends: Yokoyama Yu (Kanjani8), Yamashita Tomohisa (NEWS), Matsumoto Jun (Arashi), Imai Tsubasa (Tackey & Tsubasa), Oguri Shun, etc.
Good Friends: Sato Atsuhiro (former Hikaru Genji),Akanishi Jin (KAT-TUN), Murakami Shingo (Kanjani8), Kamenashi Kazuya (KAT-TUN), Hasegawa Jun, Kazama Shunsuke, etc.
Favorite Food: Hamburgers, Curry Rice
Favorite Colors: Blue, Black and White
Favorite Music Artists: Backstreet Boys, X-Japan, GLAY, Metallica, Guns 'N' Roses
Favorite Movie: Toy Story
Favorite Actress: Matsu Takako
Best Subject: English
Worst Subject: Mathematics
Special Skill: Dancing, singing and acting
Groups: MAIN, Best Beat Boys, Bad Image Generation, Junichi & JJr, Four Tops, NO BORDER
Biography
Ikuta Toma first performed on a children's variety show and was in a kids' band with members such as Iida Mai before entering Johnny's Jimusho at the age of twelve on the 11th of February, 1996. His first group was with future members of the group ARASHI, Matsumoto, Aiba, and Ninomiya and was named M.A.I.N. This was soon followed by the group B.I.G. with Yamashita Tomohisa, where they became very good friends. When Tackey & Tsubasa graduated Johnny's Jrs, the Four Tops were formed to take over the leader position and host the show Shounen Club, and consisted of Ikuta Toma, Yamashita Tomohisa, Hasegawa Jun, and Kazama Shunsuke. When Yamashita Tomohisa was put in NEWS, Four Tops disbanded and fans called the rest as Three Tops when they performed together.
Ikuta later began his activity as solo artist. One of his biggest breakthrough was his first leading role in the Shinkansen*NEXUS stageplay Cat in the Red Boots, as TOMA-sama. Currently he writes in the group J-Web "Tomogato NEO" as well as the magazine Wink Up in a column titled "Ikuta Toma no Ikita Kotoba". He is also a member of the unofficial multigenerational Johnny's group NO BORDER where he came up with the name. Other members include Yamashita Tomohisa of NEWS, Murakami Shingo of Kanjani8, Sato Atsuhiro (former Hikaru Genji), Matsumoto Jun of Arashi, Domoto Koichi of Kinki Kids, Yamaguchi Tatsuya of TOKIO, and Takizawa Hideaki of Tackey & Tsubasa In October 2007, Ikuta performed in the Shakespeare stage play "The Two Gentlemen of Verona". He then scored his first leading role in the winter live-action adaptation of the popular manga Honey & Clover.
Next, Ikuta will co-star with Ohno Satoshi in the summer drama Maou, a remake of a popular Korean drama. He will also prepare to star in another stageplay, Grease, playing the title role of Danny Zuko and will work alongside Kanda Sayaka, Yara Tomoyuki (MA) and Fujimoto Miki.
Trivia
Toma is a huge fan of Backstreet Boys. Once he even begged Japanese Music Station's staff to let him in to the studio and watch Backstreet Boys doing a rehearsal.
He loves to collect many types of sunglasses and sneakers. Currently, he has about fifteen pairs of sneakers, and a cabinet full of his sunglasses collections. He also various toy figures like Gundam
He likes to wear jeans a lot. He feels that jeans are a sporting fashion. He wears jeans when the weather is hot and even when it is winter. That is why he is asked "Aren't you cold?" many times.
His ideal dream date is to drive at night to a hill top with his girlfriend, and watch a city view from there. He did that once with Yamashita Tomohisa when they were rejected, but it felt awkward because all of the people who were there were couples, so they pointed an infrared laser pointer to some couples and disturbed their dates. Toma apologized in a show later.
Toma is also a fan of X JAPAN, especially popular guitarist Hideto Matsumoto. He once talked an hour in the phone with Shibutani Subaru (Kanjani8) just discussing about X-Japan. He and his younger brother Ryuusei are fans of GLAY and always came to their concerts during their spare time.
He is a big fan of rock music and often listens to Metallica and Guns 'N' Roses.
He loves to read manga, including "One Piece".
He sometimes spends his time with his senpai especially Sato Atsuhiro, former Hikari Genji, who he calls "Atsu-ani" (which means older brother Atsu).
He looks up to Miyake Ken of V6. He was also the senpai he had a first encounter with when Ken was blocking the gym's door. Yokoyama Yu and Murakami Shingo even told Toma to imitate him when he was guessing Recommens.
He and Oguri Shun had to kiss 12 times for the drama, Hanazakari no Kimitachi e. Oguri Shun said that Toma's lips were very soft and it was actually the first time he encountered such lips.
He and Oguri Shun were the ones who made the nickname Horikitty for Horikita Maki.
He and Wentz Eiji used to be in a band called 'Strawberry Parfait' and a children variety show Tensai Terebi-kun together, but then when they were offered to enter Johnny's Entertainment, only Toma accepted it.
TV Drama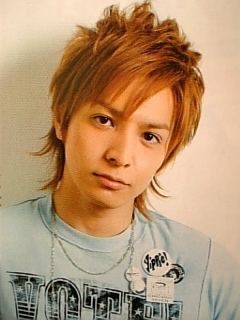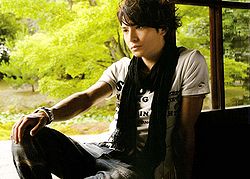 Movies
Musicals
[1997] Stand By Me (lead role as part of M.A.I.N)
[1997] KYO-TO-KYO (supporting Jr.)
[2000] MILLENIUM SHOCK (supporting Jr.)
[2002] Susanoo
[2002] Another (Kansai Jr. 2002 Version, guest)
[2003] SHOCK is Real Shock
[2003] PLAYZONE 2003 ~Vacation~ (2003.07, lead role)
[2004] Edgar-san Yukuefumei
[2004] Mama Loves Mambo III
[2004] WEST SIDE STORY (2004.07.02 - 2004.08.16) (Shonentai Version)
[2005] WEST SIDE STORY (2004.12.04 - 2005.01.09) (Arashi Version)
[2005] AZUMI on STAGE (Ukiha)
[2006] AZUMI 2 (Ukiha)
[2006] Cat in the Red Boots (Shinkansen*NEXUS volume 2) (TOMA-sama)
[2007] SHOCK~ENDLESS SHOCK
[2007] The Two Gentlemen of Verona
[2008] Grease (Danny Zuko)
[2011] Mishimadaburu Mishima X MISHIMA vs Ninagawa ~Sade Koushaku Fujin~Waga Tomo Hitler~ (2011.02.02 - 2011.03.02, lead roles: Higashiyama Noriyuki, Ikuta Toma)
Awards
External Links