Due to an influx of spam accounts getting through and joining the site, user registrations have once again been disabled until further notice as we work on a different solution.
NEWS (group)
NEWS (also seen as News and NewS) is a Johnny & Associates Japanese pop group composed of three members. NEWS stands for the four compass directions: North, East, West and South. The group was formed in 2003 as a nine member group under the label Johnny's Entertainment and released their debut single "NEWS Nippon".
Members
Former Members
Labels
Information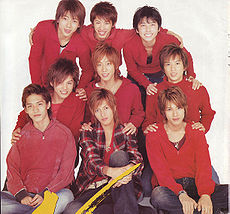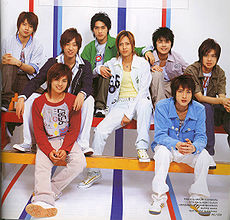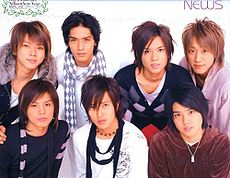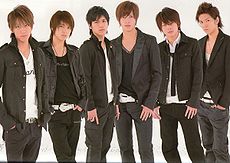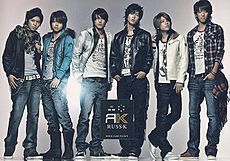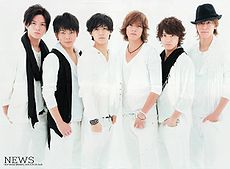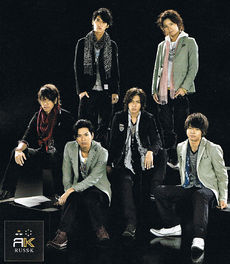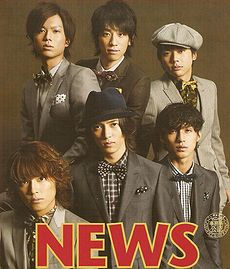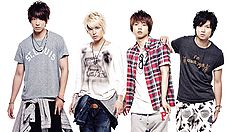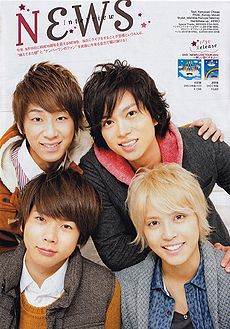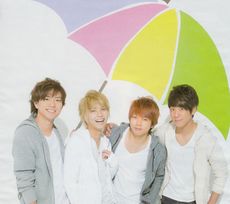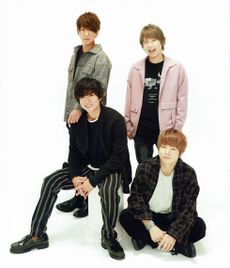 In September 2003, the group was formed as NewS and the original nine members were handpicked from the larger group of Johnny's Jr. and several smaller groups. Their first single, "NEWS Nippon", which was released in 2003, was only available in limited edition at Seven Eleven stores. At the time, the unit was only formed to promote the women's volley ball tournament, which is why their single "NEWS Nippon" was not their official debut single. However, because of the popularity of the unit, they released another single in May 2004. This single, "Kibou ~Yell~", became their official debut single and reached the #1 spot on the weekly Oricon charts. It then went on to become the 13th best selling single of 2004. The member count at the time of their official debut was at 8, with Moriuchi Takahiro leaving the unit and Johnny & Associates entirely in December 2003. He is currently working with AMUSE as part of the band ONE OK ROCK.
The unit highlights the connection between Kanto and Kansai Johnny's with two members, Nishikido Ryo and Uchi Hiroki, being Kansai Juniors. Even though the boys debuted with NewS, they did have a second debut with their Kansai unit Kanjani8 later that year. Since both boys frequently moved between the two units, NewS was often featured with only the 6 kanto members. In 2005, the unit did a collaboration with KAT-TUN and Junior units in the SUMMARY of Johnny's World. That year also marked their first member loss since December 2003. Uchi Hiroki, 19 at the time, was caught drinking in public while underage and was suspended from the agency.
In early 2006. Kusano Hironori, who was 17 at the time, was also accused of drinking but when questioned about it, he denied the accusation but still decided to withdraw out of his own accord. For a short term NewS performed with only six members, and they released the single "Sayaendou / Hadashi no Cinderella Boy". However, in May 2006, the group was temporarily suspended from further group activities so that they could reflect on the misdeeds done by some of its members. The group was expected to return in 2007 with all 8 members.[1] During the time of their suspension, the members each had their own activities; the duo Tegomass was created with Tegoshi and Masuda, while Yamashita performed alongside Golf and Mike in the unit GYM for the women's volleyball tournament 2006.
On December 30, 2006, it was announced that the group would be returning as a 6 member group and would be appearing on Johnny's Countdown 2006-2007. Since their comeback, the group name changed to NEWS. In March 2007, NEWS released their first single after the hiatus, "Hoshi wo Mezashite", as the theme song for the Japanese release of Happy Feet in which Tegoshi Yuya was the voice of the main character, Mumble. NEWS' studio album Pacific was released on the same day as their second single in 2007, "weeeek". The song "weeeek" was used in the CMs for the clothing brand RUSS-K. It was written by the pop/hip-hop group GReeeeN and is the only single that made it to the top ten of the Oricon Yearly Single Charts. 2007 ended with the concert tour "NEWS CONCERT TOUR pacific 2007-2008". They had their first live concert in Tokyo Dome in January 2008.
After three successful singles, an album, and a nationwide tour in 2008, it was announced in April 28, 2009 that NEWS would host the NTV charity program "24 Hour Television". The event was held at Tokyo Big Sight on August 29th-30th.[2] Apart from that, NEWS' activities slowed down considerably in 2009 and 2010. NEWS released just three singles in those two years. Appearances of all six members together became increasingly scarce. While Yamashita Tomohisa focused on his solo work and Nishikido Ryo on Kanjani8, Koyama Keiichiro, Kato Shigeaki, Tegoshi Yuya and Masuda Takahisa could be seen in their own variety show "Soukon" which ran from November 2009 until March 2010.
In May 2011, Koyama Keiichiro, Kato Shigeaki, Tegoshi Yuya and Masuda Takahisa were told that Yamashita Tomohisa and Nishikido Ryo would be leaving the group. Yamashita Tomohisa cited his wish to continue as solo artist while Nishikido Ryo referred to scheduling conflicts feeling he was at fault for the lack of group activities. Initially, it was unclear whether the unit would disband for good or continue with four members. Yamashita Tomohisa and Nishikido Ryo announced their withdrawal publicly on October 7, 2011. The remaining four members stated that NEWS would continue with the four of them after Tegoshi Yuya]and Masuda Takahisa agreed to stay in the group.
On April 15, 2012, a countdown appeared on the Johnny's Entertainment site revealing NEWS' outlines. After the initial countdown, another countdown started and the ending time coincide with Koyama Keiichiro's radio program "K-chan NEWS". With all of the members guesting, NEWS announced they will have a new single, best of album and a tour.
Their first single as a 4-member-group, "Chankapana", sold over 300.000 copies making it one of the most successful singles since their debut. During their tour in 2012, NEWS performed in open air stadiums for the first time. The second single release in 2012, "WORLD QUEST", established the connection between NEWS and soccer, being the theme song for the FIFA World Cup Japan 2012; other soccer related songs followed: "ONE -for the win-" and "SEVEN COLORS" in 2014 and "Anthem" in 2015.
In 2013, NEWS celebrated their 10-year anniversary with a Special Live Concert in Tokyo Dome. They also released their first original album as four, titled NEWS.
On March 28, 2016, NEWS were announced as the main personalities for NTV's annual 24HR TV charity event on August 27th. They also hosted the variety show "Hen Lab" which ran from March to October 2016. Koyama Keiichiro and Kato Shigeaki could be seen in their own show "NEWS na Futari" (premiered July 3, 2015). In April 2016, NEWS took over hosting "The Shounen Club Premium" after KAT-TUN.
On May 26, 2020, Johnny's Entertainment announced the suspension of Tegoshi Yuya from all activities due to violations of the stay at home guidelines in Japan during the COVID-19 pandemic. He ended his contract with Johnny's entertainment on June 19th. NEWS decided to keep going as three.
Discography
Studio Albums
Mini-Albums
Best Albums
Singles
Video Releases
Concerts / Live
DVD Singles
Concerts
[2004] A Happy "NEWS" year 2004
[2004] SUMMARY of Johnnys World
[2004] NEWSnowCONCERT ~NEWS no Konsatou~ (NEWSnowCONCERT ~ニュースのコンサート~)
[2005] NIPPON EAST TO WEST SPRING CONCERT ~Nihon Oudan Taisetsu na Hito e~ (NIPPON EAST TO WEST SPRING CONCERT ~日本横断 大切なひとへ~)
[2005] Johnnys Theater "SUMMARY 2005"
[2006] A HAPPY "NEWS" YEAR 2006
[2006] NEWS SPRING TOUR 2006
[2007] NEWS Concert Tour 2007
[2007] NEWS FIRST CONCERT 2007 in Taipei
[2007] NEWS CONCERT TOUR "pacific" 2007-2008
[2008] NEWS WINTER PARTY DIAMOND
[2010] LIVE! LIVE! LIVE! NEWS DOME PARTY 2010
[2012] NEWS LIVE TOUR ~Utsukushii Koi ni Suru yo~ (NEWS LIVE TOUR 2012 ~美しい恋にするよ~)
[2013] NEWS LIVE TOUR 2013 NEWS MAKES YOU HAPPY! MAKES THE WORLD HAPPIER!
[2015] NEWS LIVE TOUR 2015 WHITE
[2016] NEWS LIVE TOUR 2016 QUARTETTO
[2017] NEWS LIVE TOUR 2017 NEVERLAND
[2018] NEWS ARENA TOUR 2018 EPCOTIA
[2018] NEWS 15th Anniversary LIVE 2018 STRAWBERRY
[2018] NEWS DOME TOUR 2018-2019 EPCOTIA -ENCORE-
[2019] NEWS LIVE TOUR 2019 WORLDISTA
[2021] NEWS LIVE TOUR 2020 STORY
[2023] NEWS LIVE TOUR 2023 Ongaku (NEWS LIVE TOUR 2020 音楽)
[2023] NEWS 20th ANNIVERSARY LIVE 2023 NEWS EXPO
Filmography
Regular Shows
[2009-2010] Soukon
[2016] Hen Lab
[2016-2019] Shounen Club Premium
Commercials
[2007-2010] Crymson RUSS-K
[2008-] Lawson Genki ni Naro-son Campaign
[2008-2010] KOSÉ Happy Bath Day
[2010] Dwango
[2016] TOUCH'n
Trivia
The name "NEWS" was originally an acronym for "North", "East", "West" and "South". Later the letters were used to form the title of NEWS' first concert DVD Never Ending Wonderful Story. Since becoming a 4-member-unit, each member was assigned a letter:
During an interview on June, 27th 2016, Koyama Keiichiro used a different reading of the word "NEWS" hinting at the individual activities of the members:
Since 2009, NEWS have been using a constant color scheme for the individual members:
After the withdrawal of Yamashita Tomohisa and Nishikido Ryo, the group did not change their assigned colors but started to use them even more frequently in their costumes and photo shootings. Nowadays, a lot of articles in magazines and subtitles on TV are color coded in their respective colors.
With the release of Chankapana, NEWS have started to use certain shapes to indicate the members.
These shapes appeared most often during their 10th anniversary tour but keep recurring in various promotional material. They are also hinted at in the song Ai Kotoba which was written by NEWS.
Publications
Magazines
[2010.04.xx] POTATO 2010 May Issue (Feature)
[2010.07.xx] J Mania 110 (Feature)
[2010.09.xx] duet Ocotober 2010 (Cover & Feature)
[2010.09.xx] BEST STAGE 2010 November (Feature)
[2010.11.xx] J Mania 114 (Feature)
[2011.02.xx] Duet 2011 March Issue (Feature)
[2011.02.xx] Popolo April 2011 Issue (Feature)
[2011.04.xx] duet 2011 May Issue (Cover & Feature)
[2011.04.xx] Popolo June 2011 Issue (Feature)
[2011.05.xx] Wink up 2011 June Issue (Feature)
[2011.05.xx] Popolo July 2011 Issue (Feature)
[2011.05.xx] BEST STAGE July 2011 Issue (Feature)
[2011.06.xx] Popolo August 2011 Issue (Feature)
[2011.07.xx] Myojo September 2011 Issue (Feature)
[2011.07.xx] duet August 2011 Issue (Feature)
[2011.08.xx] duet September 2011 Issue (Feature)
[2011.08.xx] Wink up September 2011 Issue (Feature)
[2011.08.xx] POTATO September 2011 Issue (Feature)
[2011.08.xx] Myojo October 2011 Issue (Feature)
[2011.08.xx] Popolo October 2011 Issue (Feature)
[2011.09.xx] POTATO October 2011 Issue (Feature)
[2011.09.xx] Popolo November 2011 Issue (Feature)
[2011.10.xx] POTATO November 2011 Issue (Feature)
[2011.10.xx] duet November 2011 Issue (Feature)
[2011.10.xx] Popolo December 2011 Issue (Feature)
External Links