Due to an influx of spam accounts getting through and joining the site, user registrations have once again been disabled until further notice as we work on a different solution.
Question?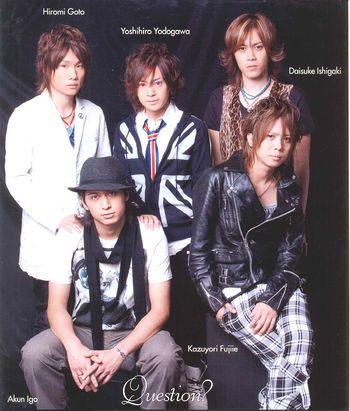 Question? is a Johnny's Jr. group composed of two members.
Members
Former Member
Information
Like sempai units Otokogumi, TOKIO and fellow junior unit FiVe, the members of Question? are known for their talents with musical instruments. The unit, modeled after TOKIO, started out on May 2004, with four members, lead by M.A.D. member, Noda Yuya as the lead guitarist, Yonemura Daijiro as lead vocalist and guitar, Fujiie Kazuyori as bassist and Yodogawa Yoshihiro as drummer. At first the unit played in senpai concerts and such, but soon started playing in Shounen Club for whenever FiVe members couldn't appear. Question? went ahead in early 2005 to replace FiVe in Shounen Club, and unlike FiVe, started with originals such as Holy Heaven, first sung on January Shounen Club. In Summer 2005, the unit welcomed FiVe's keyboardist, Ishigaki Daisuke, as their own, and the unit became a full unit just like their senpais before them. They brought out their second and third originals, Precious Memories and Kanjitemiro, where we see the talents of each member. On October 2005, after one last performance of Precious Memories, Noda Yuya left the unit to rejoin his previous unit M.A.D. which was reformed, alongside junior unit Kis-My-Ft 2. With him leaving, Igo Akun joined Question? and took his place as lead guitarist, but didn't appear with the unit on Shounen Club until April 2006.
Since then Question? has carried the same five members, where not only is Yonemura known for his singing talents, but so is keyboardist, Ishigaki and drummer, Yodogawa. The five boys have appeared in numerous senpai and junior concerts alongside appearing on Shounen Club and musicals such as Playzone and One! The History of Tackey. Members have also appeared on Hadaka no Shounen sometimes. They have numerous songs such as Time Slip, Bitter-end, Head Banging Boogie and also a collaboration with junior unit A.B.C. called Naked. The unit has also had live concerts, one with Noda Yuya in September of 2005 and three in 2007 called You Gotta Rock.
In December of 2007, it was announced that the group would make a collaboration with Kondo Masahiko, forming the unit MATCHY with QUESTION?. They released the single Mezamero! Yasei in January 23, 2008 to serve as the ending theme for the anime Naruto Shippuuden.
In 2009 Yonemura Daijiro decided to leave Johnny's Jimusho. Then Goto Hiromi, a violist, was added to this group replacing him.
In 2013 Yodogawa Yoshiro, Fujiie Kazuyori and Igo Akun left Johnny's Jimusho.
Original Songs
Holy Heaven
Kanjitemiro (感じてみろ)
Precious Memories
It's a party
O・B
Striker (ストライカー)
TIME SLIP
bitter-ender
Head Banging Boogie
Y's
Are you ready?
Bad girl
Star chop
Snow Mt.
To You
Naked (with A.B.C.)
Days (Daijiro solo)
Beautiful Mind
Dear
Parallel World (パラレルワールド)
Shake it
get over border
Bari3 (バリ3)
Gong (ゴング)
Side mirror
Mou Sukoshi (もう少し)
All devils
My Way
Yume no Tochuu (夢の途中)
Party Time
Lives
[2008] FiVe.Question? 2008 Nen WasureLIVE
[2009] FiVe.Question? 2009 Hatsuhi no DeLIVE
[2012] Question? LIVE TOUR 2012 (2012.03.08, 04.04)
External Links