Due to an influx of spam accounts getting through and joining the site, user registrations have once again been disabled until further notice as we work on a different solution.
Otokogumi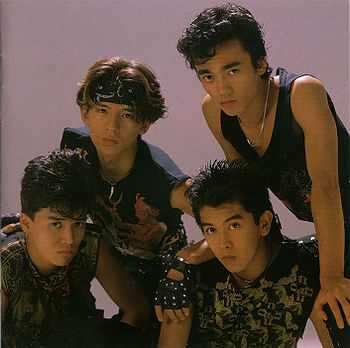 Otokogumi (男闘呼組) was a Johnny's Entertainment band that was active in the late 80s and early 90s. Like THE GOOD-BYE before them (and later TOKIO), Otokogumi was more a rock band than a boys band. Only Okamoto Kenichi remains in Johnny's nowadays.
Members
History
In 1984, a new group within Johnny's was created: Detarame Rock Band (でたらめロックバンド) with Narita Shouji (guitar) and Takahashi Kazuya (drums). In December of that year, they were paired with Okamoto Kenichi for a photoshoot and he was thus added to the group. In 1985, their band was renamed Tokyo (東京). Soon, two members were added to assist the band: Endou Naoto (keyboard, appeared with the group in a chocolate CM, the song for the CM, Makoto Horetaze was the group's first original song) and Moriya Jirou (drums). The group was renamed Tokyo Otokogumi (東京男組), though they were still seen as just Tokyo, and the last member, Maeda Kouyou was added to the group.
However, Moriya left the group and Johnny's in order to focus on his studies in March 1985. He was replaced by Tsuchida Kouyou (keyboard) who had just joined the agency. The group, without Maeda, became regulars on a Terebi Asahi show: Kin-chan no doko made yaru no!? as of April.
Then Tsuchida left the group to become an actor. The group then shot a new version of the chocolate CM with Maeda (drums). Finally, Endou removed himself from the group because he wanted to dance and was put in Shounen Ninja, another Johnny's group. The group was active with only 3 members for a while until Maeda became a regular member of the group.
When Maeda joined, Takahashi was forced to change from drums to bass but when Endou left, Maeda replaced him on the keyboard. During their performances, they had a back-up band (drums and keyboard).
In January 1986, Otokogumi got their first regular program: Aidoru Hanagumi Otokogumi (アイドル花組おとこ組) and in April of the same year, they held their first concert.
Finally, on August 24, 1988, Otokogumi debuted and released their first single: DAYBREAK and took the first place on the Oricon (and fourth place on the yearly chart). They went on to release 10 singles and 6 albums.
On June 30, 1993, all of Otokogumi's activities were stopped, despite having a summer tour planned and completely sold out, and Takahashi was fired from the company. Their last work as a group was the stage play Slub Boys (スラブ・ボーイズ). Neither the company nor the members ever gave an official reason for the break up. Finally, in spring 1994, Otokogumi's fanclub ceased to exist.
Narita and Maeda both left the company after the group broke up. Okamoto is the only member to remain in Johnny's to this date.
Discography
Singles
| No. | Title | Release date | First week sales | Total sales | Highest rank |
| --- | --- | --- | --- | --- | --- |
| 1 | DAYBREAK | 1988.08.24 | - | 1,300,000 | 1 |
| 2 | 秋 (Aki) | 1988.12.27 | - | 425,000 | 1 |
| 3 | TIME ZONE | 1989.02.28 | - | 354,000 | 1 |
| 4 | CROSS TO YOU | 1989.08.2 | - | 230,000 | 1 |
| 5 | DON'T SLEEP | 1990.01.24 | - | 168,000 | 2 |
| 6 | ANGEL | 1991.01.17 | - | 115,000 | 2 |
| 7 | 眠りつく前に (Nemuri ni Tsuku Mae ni) | 1992.06.03 | - | 41,000 | 24 |
| 8 | THURSDAY MORNING | 1992.07.01 | - | 31,000 | 25 |
| 9 | THE FRONT | 1992.08.05 | - | 23,000 | 35 |
| 10 | TOKYOプラスティック少年 (TOKYO Plastic Shounen) | 1993.08.21 | - | 5,000 | 68 |
Albums
[1988.09.26] 男闘呼組 (Otokogumi)
[1989.06.28] 男闘呼組 二枚目 (Otokogumi Nimaime)
[1990.03.28] 参 (San)
[1991.02.21] I'm Waiting 4 You
[1992.06.21] 5の1…非現実… (Go no Ichi... Higenjitsu...)
[1992.07.22] 5の2…再認識… (Go no Ni... Saininshiki...)
[1992.08.21] 5の3…無限実… (Go no San... Mugenjitsu...)
[1993.08.21] ロクデナシ (Roku de Nashi)
Best Of Albums
[1992.12.02] BEST OF BALLADS
[1994.11.23] NEW BEST 男闘呼組 (NEW BEST OTOKOGUMI)
[1999.11.20] HIT COLLECTION
Videos
[1986] Made in U.S.A
[1987] BEST FRIEND
[1988] Xing point
[1988] 少年武道館 (Shounen Budoukan)
[1989] 少年武道館II (Shounen Budoukan II)
[1989.09.06] ENDLESS TRIP
[1989] HELLO!! L.A. (Making of for the Glico "Almond Chocolate" CM)
[1989.11.21] 男闘呼組 BIG TOUR '89 in DOME (Otokogumi BIG TOUR '89 in DOME)
[1990.08.24] 男闘呼組 2,050,000秒の軌跡 (Otokogumi 2,050,000byou no Kiseki)
[1992.11.01] 彼らと僕・私と自分はみんな仲よし (Karera to Boku - Watashi to Jibun wa Minna Nakayoshi)
[2003.11.26] 男闘呼組 LIVE IN YOKOHAMA 1991 vol.1 (Otokogumi LIVE IN YOKOHAMA)
[2003.11.26] 男闘呼組 LIVE IN YOKOHAMA 1991 vol.2 (Otokogumi LIVE IN YOKOHAMA)
Photobooks
[1988] East meets West
[1988] ロック派宣言 LIVE ライヴ らいぶ (Rock Hasengen Live Live)
[1989] BREAK THE SILENCE
[1990] NON STOP GETAWAY
[1991] ROUGH EDGES
Trivia
The members of Otokogumi were nicknamed "Johnny's Jimusho no Ochikobore" (The students who couldn't keep up at school of Johnny's), probably because none of them finished high school.
Otokogumi, Shounentai and Hikaru GENJI were known as the Shounen Gosanke (少年御三家 - the "big" three)
Links