New user registrations have been disabled until further notice. If you would like to create an account, please message
Generasia on Facebook
. Thank you!
Narita Shouji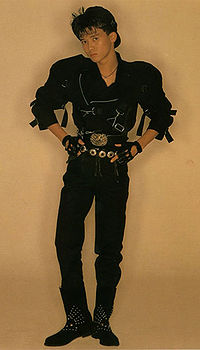 Narita Shouji is a member of SNAG, better known for being part of Otokogumi from 1985 to 1993.
Profile
Name: Narita Shouji (成田昭次)
Birthdate: 1968.08.01
Birthplace: Nagoya, Aichi, Japan
Nickname: Shou-chan, Nakkun
Blood Type: A
Hobbies: walks, guitar, baseball
Specialities: cooking (curry, spaghetti)
Favourite food: yakiniku and Japanese-style food in general
Disliked food: canned fish (sardines and pike)

History
Narita Shouji joined Johnny's Entertainment in 1983 with the help of his older brother Kenichi (成田健一) who was already a junior at the time. His brother took him to a Kondo Masahiko concert in Nagoya where he met the president and was scouted. In 1984, he was put in Detarame Rockband (future Otokogumi) with Takahashi Kazuya where he played the guitar. In 1985, he and Okamoto Kenichi were taught the guitar by Nomura Yoshio.
After Otokogumi was disbanded in 1993, he released a solo CD and appeared in live houses. In 1997 he created the band INORGANIC which was disbanded in 2001. The same year, he created a new band: What's. In 2004, he released a solo maxi single: Boku no Subete Datta no ni (ボクノスベテダッタノニ). In 2006, he changed his name to 成田昇司 (same pronounciation, different kanji) and created his current band: SNAG. In 2007, he changed his name back to its original kanji.
He got married in May 1992 because his wife was pregnant. They had their first daughter in October of that year.